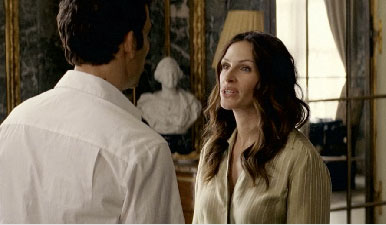 Everyone loves a good love story. How about adding some twists and turns as well as some tricks and tests between two star-crossed spies? That's the recipe for Duplicity, the sophisticated, cleverly written romantic thriller starring Julia Roberts and Clive Owen that doesn't disappoint.
Like most Hollywood love stories, the secret affair between Claire Stenwick (Julia Roberts) and Ray Koval (Clive Owen) begins with the guy spewing some clever pick-up lines -- which Stenwick denies at first. However, after a bit of back and forth between the two, they end up doing the horizontal tango in the most beautiful and luxurious of places -- a decadent hotel room in Dubai on Independence Day in 2003.
This chance encounter develops into a clandestine love affair that spans five to six years on screen -- although it's not told chronologically. Rather, it simply sets the stage and tempo for the espionage story that unravels. Duplicity takes the viewer on a seductive path to figure out who is going to win in a knockdown, drag out "corporate death match" between two battling pharmaceutical companies to develop a one-of-a-kind product first. Their longstanding competition and race to win requires teams of spies, double agents and former CIA operatives. And that's where Claire Stenwick, ex-CIA, and Ray Koval, ex-MI6, get a piece of the action. The two are hired to spy on each other's company but are secretly in cohorts. Because after all, says Stenwick, "All we have to do is find the product. If we get there first, we make a fortune." Their scheming and maneuvering takes the audience on a thrilling ride.
Written and directed by Tony Gilroy who worked his same magic in Michael Clayton and The Bourne Identity series, Duplicity delivers sophisticated, action-packed and perfectly paced scenes as well as sharp writing and well-timed comebacks.
In addition to the artful writing which leaves you on the edge of your seat attempting to solve the mystery (which you can't), Duplicity characters are cast flawlessly. The hilarious, ultra-competitive CEO, Richard Garsik, is played perfectly by the Sideways (2004) star, Paul Giamatti. And British actor, Tom Wilkinson (most recently seen in Valkyrie with Tom Cruise) carries off the calm, collected and scheming role of Garsik's arch nemesis. The opening scene with two characters locked in a physical, slow motion, middle-aged men fight is hilarious, unexpected and a pleasure to watch.
And of course, the pairing of Julia Roberts and Clive Owen, seen together before in Closer (2004), is pure genius. The two light up the screen with genuine chemistry that is both exciting, enticing and sexy. Roberts, who's an unbelievable forty-one years old, proves that she's still a knockout and a box office hit.
Although the relationship between Stenwick and Koval is full of sparks and lustful encounters, it's not for the lighthearted. The basic components of a good relationship -- love and trust -- are continuously tested on a personal and business basis for them. From worries about the other cheating while undercover to wondering if they are each keeping their part of the bargain, the mere concept of trust is never taken for granted. "Admit it. You don't trust me either," said by Stenwick to Koval, which just about sums up their liaison.
And if your eyes get tired of watching two of the hottest stars on the screen -- Roberts and Owen (which would be hard to believe) -- the beautiful Condé Nast Traveler-like locales are a feast to behold. Duplicity takes the viewer on a visual smorgasbord and broke-traveler's dream with scenes in Dubai, Rome, Miami, Zurich and London. The cobblestone streets, Roman architecture, and clear blue seas are just a few of the treats.
Suspenseful, sexy and full of espionage, Duplicity keeps you guessing right until the very end. The guy gets the girl, but do they pass go, reach the goal and collect their reward? Who gets gamed? You will definitely want to know. And besides, it's a lot of fun to watch.
SUBSCRIBE AND FOLLOW
Get top stories and blog posts emailed to me each day. Newsletters may offer personalized content or advertisements.
Learn more