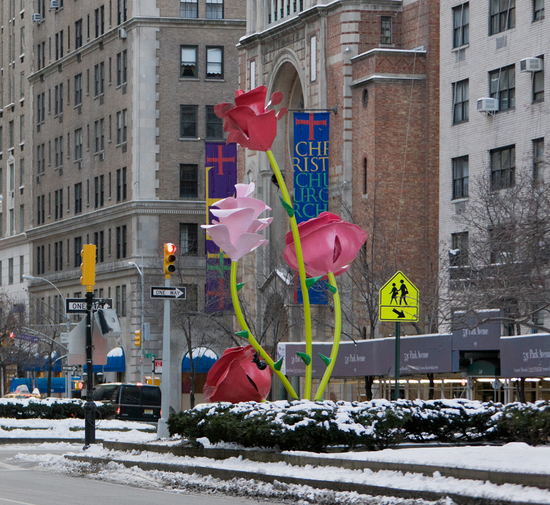 Will Ryman's "The Roses" (2011) on Park Avenue. Photo by Iwan Baan. Courtesy of Paul Kasmin Gallery
It's certainly not always easy, and often confusing, to sift through the multitude of fresh, genuine talent somewhere out there that is breaking through new ground like spring crotons pushing their colorful heads up along urban sidewalks to add an unexpected and enjoyable experience to our daily lives. This winter, young sculptor, Will Ryman, challenged the harsh colorless Manhattan winter by "planting" 38 larger-than-life painted aluminum roses in the middle of the frozen boulevard on Park Avenue, which was one of the best and most talked about public installations of the winter season and definitely impossible not to notice. His work is a perfect example of how art can stimulate our visual senses while increasing our appreciation of the intellectual forces behind genuine creativity and sheer invention. But most of the great new, underexposed innovative talent is usually not out on the street, but hidden from sight in the back room of a gallery, or gathering some dust in a distant artist's studio that may never literally see the light of day. Unfortunately, it would take years to unearth and evaluate much of the promising works that are somehow finding their way into galleries and faraway art fairs around the world.  This regular column investigates and recommends artists to watch that you may never have heard of before, but you will indeed be hearing a lot more about.
1. DAVID ELLIS recently stole the show on the top floor of the PULSE fair in New York with his "talking" installation of used paint cans, which seem haphazardly stacked in the corner of a gallery waiting for a janitor to hall them away. Ellis comes from a family of musicians, and he got a start that led to a streetwise hip-hop romance where he began to write rhymes and bang out beats on the desks at school. As he continued to pursue art and music, he began creating sound installations that were quirky and fun and seemed to employ a mysterious backstage magician who pulled invisible strings for unexplainable movements. In the aptly labeled True Value (Paint Fukette), the artist corrals his past experiences from pop musical rhythms and studio experiments, spinning out a drippy acrylic conceptual curveball that is both utilitarian sculpture and jury-rigged subway drum set. Your first encounter with the work feels like a Candid Camera moment that's hard to believe. Spooky, milky white and filled with obscure connecting metaphors that literally spill out onto the floor, True Value (Paint Fukette) pays an accidental poetic homage to early stain painters and a Pollock or two. Seeing is believing, but you have to hear it at the same time, so for a front row seat to the next performance check out The Art Economist.

2. KRISTEN MORGIN is an artist that I discovered quite by accident in celebrated collector, Blake Byrne's, home during a trip to Southern California. When you are out beating the bushes each day, looking to spot new talent, there are plenty of disappointing excursions where you see nothing of real, original value, and you wonder if all this explorative effort is really worthwhile, until you are confronted with something truly unique and derivative of nothing else. After circling around Morgin's surrealist, handmade earthy assemblage in the shape of an exhumed cello like a hungry wolf, I realize that this piece is a harmonic marriage of ingenuity and consistency. The artist deliberately "builds" her objects bit by bit, making it up along the way and portraying a delightful balance of refined character and toughness. The unplayable musical instrument, part of a series, is perfectly and imaginarily tuned, providing a certain overall rhythmic spirit and seems unearthed from the tomb of an unknown musician. Supported by wire and armatures with a temporary looking wooden lattice base to which Picasso could relate, the work appeared fragile yet mighty in its newfound home. Here is an artist who could construct an entire orchestra of appealing objects from scratch and on the spot, and keep your attention right through to the last curtain call. A similar work, titled Popeye, was just acquired by the San Francisco Museum of Modern Art.

3. Fortunately for KADIR LÓPEZ NIEVES, there are a lot of serious people out there who are betting on Cuban art as being the next big thing. After all, it makes sense, because comparatively very little art work over the years has floated over from this turbulent tropical island to the nearby American market due to severe restrictions, currency exchange and political roadblocks. Supply and demand have always been factors in an ever-changing art market, so this breath of fresh air without a Cuban cigar burning in the background is developing an enthusiastic group of collectors stationed mostly in Miami, but spreading quickly to New York and other art centers. As both a painter and a sculptor, it is Nieves' adaptive reuse of classic 1950s American advertising tin signs and the influence of many rusted vintage cars still on the streets of Havana that makes him unique. The roadside symbols are old, battered, tattered and on occasion, even bullet-ridden. The artist then paints, draws or prints historic photographic images of Cuba onto the enameled surface, which is already attractive and historic, sealing it with transparent images that seem to float on top. The artist feels that each work completes a cycle of the past, present and future, and also oblivion, recollection and memories of the past. The work certainly falls into a quasi-appropriation art category, but the final outcome develops into a profoundly unusual work. There are hints of Rauschenberg here with his found objects and "combines," and certainly Andy Warhol, with his silkscreened commercial imagery, particularly in the case of the piece illustrated here that is reminiscent of his Green Car Crash, 1963, an upside down repeat pattern work that sold at auction a few years ago for $71 million. Start your engines.

4. PETER BUECHLER is my favorite emerging artist discovered at SCOPE/Miami. His work was completely unfamiliar at the time, but literally grabbed me by the collar like an old friend at a high school reunion who you think you recognize, but can't quite place. It's the simple things in life that seem to make the biggest impressions. Uncomplicated and minimal compositions that can spark a fire and keep your eyes stimulated often come across as the most memorable. Buechler's work is no exception, and seems to take a cue from Duchamp, with altered states of manipulation. The works I reviewed while at SCOPE were filled with surprises and approaches to contemporary picture-making that is novel and risky. In the case of Untitled, the subject has literally lost his head--not to a guillotine--but to the whims of an artist who thought his subject was better off headless. Less is more, more or less, for this talented fellow who owes a little something to the pioneering spirit of the brave artists before him. During the last decade, artists had a field day utilizing and deconstructing existing paintings that were excavated from secondhand stores and then embellished, altered and repositioned. Buechler takes command over the past and spins it into the future with a new, albeit abbreviated look that leaves room for more.

5. MIKE ANDREWS is a young artist from Chicago, whose paintings and sculptures share a remarkable DNA that renders them so closely related that they could be mistaken for separated-at-birth identical twins. Andrews seems to jump effortlessly from flat surfaces to engaging, sculptural, interlocking materials, such as nets and rope, which are all visually connected and related with recognizable lines and odd-ball forms. The artist seems at ease moving in any direction, and is a first-rate explorer who needs no trail guide or maps to find his way. He is at his best when he twists flat works that seem sculptural and utilizes negative space for positive results. He "builds" his compositions on a shallow foundation section by section, without a blue print or plan of action, except to move forward in any direction. The real secret of his appealing freshness and intriguing wacky shapes is that he makes unconscious decisions on his own idiosyncratic private meandering road, with loaded brush in hand that could serve as a steering wheel, allowing Andrews to navigate abrupt U-turns and sharp left and right turns without directional signals. His strange original works change course like an unlicensed driver looking for a short-cut through rush hour for the first time, and with a determined smile and one arm out the window, the artist navigates a busy interstate cloverleaf as he inadvertently creates a scenic overlook. When it comes to maneuvering color and form, Andrews throws in everything, including the spare tire. When this guy finally takes off with a permanent license to create much larger paintings, look out for dangerous and enjoyable curves ahead.

6. HADIEH SHAFIE is a process-oriented artist who was born in Iran, where the bright-dyed colors of fabrics and paper of her native land have a strong influence on the artist's work. Her recent exhibit at PULSE/New York was an eye-catching web of mesmerizing circular shapes, wedged into one larger circle made from tightly rolled flat strips of vibrant combinations of pulsating forms. The eye popping variations start to develop as the artist methodically paints each piece of flat paper, and then cuts the large squares into smaller strips no more than about an inch. Each strip is then added to a core of other circular shapes that form an expanding rainbow. Hidden within each form is a single handwritten word in Farsi (Persian language), which is then bound tighter than a mummy's wrappings to protect its secret message for all time. In Shafie's "paintings," there are remote references to the famous targets of Jasper Johns and Kenneth Noland, as well as the Op art illusions of contemporary artists like Bridget Riley. A main ingredient of these paper scrolls, which may have a correlation to ancient manuscripts discovered in the Mid-East, is the significance of a time-consuming experimental process that involves animated repetition and time. There is a homegrown charm to these methodical, tightly knit and fit compositions that is an important part of the artistic method that is both performance and concealed document. If you can imagine drops of rain on a psychedelic pond hitting the water's surface all at once, it could serve as a backdrop to Sgt. Pepper's Lonely Hearts Club Band. Shafie is one of ten finalists for the prestigious Jameel Prize from the Victorian and Albert Museum (London).

7. REBECCA WARREN'S sculptural works are challenging, aggressive and often humorous in their left-footed proportions and abstract cartoonish silhouettes. Her largest and best known body of figurative work, articulated in a highly unusual, robust abstract manner, is sculpted in unfired clay and on occasion, cast in bronze. These figures are obviously female, with a mother-earth feel and sensibility (the raw material comes directly from the earth like the biblical proclamation of the book of Genesis), which the artist freely allows to "drip" off the forms and onto a sculpture stand preserving a kind of freshness and evidence of process that give the work a totally unpretentious look of na

8. PETROS CHRISOSTOMOU'S recent display of photographs at The Armory Show on Pier 94 in Manhattan offered the viewer a magical and theatrical twist on the depiction of common everyday objects that are positioned surrealistically out of scale in a simple context that makes it difficult to separate reality from staged illusion. Which came first, the kitchen or the egg, begs the question in the wonderful C-print illustrated here, which leaves us scratching our heads for clues that a young Sherlock Holmes might find an impossible challenge without Watson's second opinion. The handmade architectural setting turns out to be a scale model of the artist's own kitchenette, complete with convincing but poorly constructed and laminated cabinet doors that don't close. Like the celebrated photographer, Laurie Simmons, who builds funky little dollhouse sets that provide a backdrop for her plastic subjects, Petros has developed a powerful photographic sleight of hand with his prints that are clever and convincing all at once. The artist challenges the viewer's natural familiarity with a normal domestic environment by offering two misleading viewpoints of what might be real and what might not. There is a strong aesthetic weight added to the photographs' inventiveness by the artist through the use of these convincing pictorial juxtapositions that portray the impossible circumstances of proportion. With everything ready for opening night, Chrisostomou adjusts special lighting and off-Broadway conventional stage sets that spin around our perception and reversal of the recognizable spaces that we take for granted. Often the artist takes a disorienting, humorous approach to the placement of his unbalanced compositions, which adds yet another welcome dimension. Another mysterious image on view was that of the white interior of a mansion's great hall, complete with small fireplaces that hosted a swirling, vertical contrapposto golden wig fragment as a sculptural centerpiece, which seemed to take over the room's undivided attention like a living, pole-dancing smoke signal. In these works, deliberate fiction is stranger than fact.

9. RON VAN DER ENDE is a Netherlands-based sculptor who turns the great tradition of collage into recognizable three-dimensional objects with a grand scale that are wall-mounted as bas-reliefs, meticulously pieced together from bits and pieces of salvaged wood, which are intertwined and nailed down tight, like a complicated permanent puzzle. Color applied from a conventional palette is non-existent, and is only found, not handmade or mixed. His work utilizes a medium adaptively reused from another time and place and purposely adds another creative and self-imposed high hurdle, which some artists use to challenge further their intuitive creative skills and heighten the works' unusual qualities. In this case, the challenge is well worth the effort. These handsome, patched arrangements are convincingly real, except for their supermarket banner-scale and their out of context placement. The artist seems to be able to capture any object, from a stand-up piano to a pile of logs, and like a contest of wits, recreate and painstakingly reassemble it into a mosaic with his own signature slant. Lady Gaga may have received a lot of attention from her skirt steak outfit, but Ron van der Ende drew one of the largest crowds on opening night at The Armory Show with his own interpretation of a reincarnated, super-sized, red-blooded Porterhouse fillet. This work, a wooden recreation of a carefully trimmed piece of prime beef, is gracefully presented as a de facto advertising illustration, like a vintage sign over a butcher shop that is symbolic of the Pop-inspired images converted to canvas by Roy Lichtenstein and Andy Warhol. These are complex and intriguing works that need to be viewed in person. The raw nature of the work is difficult, if not impossible, to fully appreciate from photographs, as the three-dimensional illusion created becomes weakened and the exquisite craftsmanship of onsite construction goes undetected. One of the most fascinating aspects of these wall sculptures is the manner in which they are put together. The technique celebrates the grand tradition of a complex theatre backstage rigging of supports and frames, or a movie set of false fronts on Main Street reminiscent of a recreated ghost town. With van der Ende on the loose, where there's a whim and a will, there's a way.

10. JOSE ALVAREZ began his artistic career as a performance artist who "channeled" a spirit named Carlos as a way of exploring and critiquing religious and scientific belief systems. After a world tour with appearances for large audiences and on television, he made a smooth transition to visual interpretative statements that retain a spiritual contemplative harmony. Ideas that he brought with him and incorporated into his work were based on previous investigations during his mystical explorations, which were later translated into bursts of Technicolor patterns and ripples of transmitted vibrations. In creating these collage-based pieces, the artist employs a unique combination of rich materials, such as feathers, quills and crystals, with watercolor, acrylic, enamel and resin (as well as computer-based images and tools) on paper. The genesis of his abstract shapes can be found in science and nature. The bright fascinating paper construction illustrated here employs a discrete layering technique of laser cut board with bright ink jet saturation of mystical Technicolor. The circular "blossoms" take their cue from '70s-inspired hybrid designs that explode on the surface like psychedelic snowflakes and could serve as a backdrop for a Grateful Dead poster. Eye-catching and thought-provoking, these daisy chains of flowering shapes continue to ignite a brilliant personal interpretation of supernatural, supernova-like extrasensory and extraterrestrial patterned constellations, which are recognizable up close without a telescope. In this series, the artist explores a make-believe, hypnotic palette that forms a galaxy of pointed blooms that could also be electrified starfish, pulsating alongside a Jules Verne voyage to the bottom of the sea. Alvarez's mesmerizing double billboard printed installation in the grand lobby of the Norton Museum of Art, West Palm Beach (concurrent with his group show there), is a tempting invitation to hitch a ride and slip inside a reverberating vertical rainbow, creating a narrow space window as a guide to a comfort zone that may be light years away.
-----------------------------------------------------------------
The Art Economist analyzes the art market and individual artists who are among the top living and earning artists in the world. In addition to news, art market updates and features on artists, collectors and dealers' activities, the publication offers analysis on "Artists to Watch" and profiles on prominent artists. Please visit The Art Economist for additional information.