Since last month's shocking news that a giant private equity firm had seized control of Santa's Workshop in a historic leveraged buyout -- and now that the formerly jolly St. Nick, like so many Americans, has been left jobless -- media organizations worldwide have been clamoring to land an interview with the reclusive and now job-seeking Father Christmas.
Claus has repeatedly rejected interview requests by all major newspapers, as well as broadcast and cable networks (though Fox News opted to forego any attempt to contact the Claus camp, instead producing its own "special investigation").
All of that changed yesterday when Santa Claus agreed to sit down with the godfather of talk TV, Phil Donahue.
"He's the only man I could trust to let me tell my side of the story," Claus said in a brief press conference after the interview. "He's interviewed Kings, Queens and other heavy, festively-dressed people. I think I fit that bill. And besides, our coloring is eerily similar."
The interview will air this week in a hastily produced edition of "Phil Donahue Special Investigations," to be broadcast without interruption opposite the holiday special, "Khristmas With the Kardashians." TV analysts expect a ratings dogfight.
With the Donahue sessions now securely under his size 56 belt, will Claus be granting any more media interviews?
"No, I'm done," St. Nick stated emphatically. "I told Phil everything I had to say. Look, my family and I have been put through a terrible circus in the past few months-- Mrs. C in particular -- and I think it's time for us to be left alone. Let history be our judge."
"Besides," he added, somewhat emotionally, "I've written a book about the whole awful experience, and it will be on sale through..." -- and then he burst into tears -- "...Christmas."
Here's a sneak peek at Donahue's Santa Claus exclusive.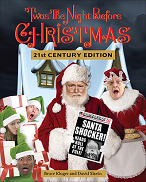 FOLLOW HUFFPOST