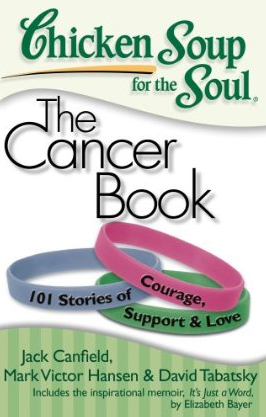 When Taylor Gettinger, a high school junior from Dwight, Illinois, learned that she had brain cancer, it seemed as if the entire community showed up to support her and her family. Small-town America can be like that.
Barry Katz of Sudbury, Massachusetts, had a similar encounter with kindness. While struggling to care for his two daughters as his wife fought ovarian cancer, Barry's neighbors--some of whom he didn't even know--streamed to his doorstep, carrying casseroles and comfort. For Barry, that kind of community support was nearly as vital as his wife's medical treatment.
And for Daniel Burns, a fifth-grade teacher from Hopkins, Michigan, whose wife was battling breast cancer, it was his students who taught him about compassion, lending him a shoulder a lean on, lifting his spirits, and reminding him of how good and decent others can be in times of crisis.
All three of these individuals--and 98 more--have written about their transforming experiences in the face of cancer in the newly released Chicken Soup for the Soul: The Cancer Book: 101 Stories of Courage, Support & Love (Chicken Soup for the Soul Publishing). I know, I know--Chicken Soup. An odd choice for bedtime reading these days, right? Not really. Repackaged and reconceived under new owners, the iconic franchise has begun trotting out fresh editions that, in a way, are the perfect antidote to the wearying doom of 2009 America.
After all, as the nation continues to be humbled by its embarrassing vulnerability to economic chaos and plummeting home property values, doesn't it make sense to remind ourselves about our safety in numbers, our common humanity, and the way in which our survival ultimately depends on our shared compassion?
The Cancer Book, in particular, packs on oddly political punch. Cancer remains the second greatest killer in the country (after heart disease), claiming about 560,000 lives annually. And yet our representatives in Washington have been, at best, sluggish in their response to this notorious scourge. Why else would Barack Obama's recent pledge to seek "a cure for cancer in our time" immediately make headlines? Like John Kennedy's challenge to land a man on the moon nearly half a century ago, President Obama's bold promise to eradicate cancer offers an unexpected glint of sunlight on the horizon, even as it underscores America's trademark stubbornness about taking on the impossible.
"It's like a dam breaking," said Hester Hill Schnipper, Chief of Oncology Social Work at Beth Israel Deaconess Medical Center in Boston, Massachusetts (and a contributor to The Cancer Book). "We're hopeful that Congress will get behind the President and turn his vow into a reality."
To be sure, the fight against this deadly disease has made great strides in recent decades, dating back to the "war on cancer" declared by Richard Nixon in his State of the Union address in 1971. But in recent years, federal support has begun to sputter. Since 2003, the National Cancer Institute, part of the National Institutes of Health, has watched its funding drop by nearly 17 percent, receiving only $4.8 billion in fiscal year 2008. This is why President Obama's economic stimulus package has attracted the attention of cancer specialists: the president's plan includes a windfall of approximately $10 billion for the NIH, $1.26 billion of which has been specifically targeted at cancer research.
Still, many wonder why a solution has been so long in coming. "Does it take a politician directly affected by cancer to pay attention to the problems of inadequate funding for research and second-class treatment for low-income patients?" asks David Tabatsky, co-author of The Cancer Book. "Are Senator Arlen Spector, a two-time cancer survivor, and President Obama, who lost both his mother and grandmother to cancer, the only ones who really get it?"
This empathy is precisely what the Chicken Soup folks are hoping to foster. "Anyone who reads these stories of courage, support and love," continues Tabatsky, "will have a much better understanding of the human face of cancer. Let's just hope that the people who contributed to this book-- fighters like Taylor, Barry and Daniel--won't merely be supported by their friends and neighbors, but by a nation committed to obliterating cancer once and for all."
SUBSCRIBE TO & FOLLOW LIFESTYLE
HuffPost Lifestyle is a daily newsletter that will make you happier and healthier — one email at a time. Learn more