"Verizon's McAdam: 5G speeds will be up to 1 Gbps and will be live at Verizon HQ in January (2016).

"Verizon's 5G service to go commercial in 2017 and beyond.

"Verizon CEO Lowell McAdam said that the carrier expects to be able to offer 5G wireless speeds up to 1 Gbps, and that he expects the carrier to begin a commercial test of the technology as early as next month at the carrier's Basking Ridge, N.J., headquarters."

"AT&T Labs VP of Architecture Hank Kafka told us that 'peak speed for LTE in 10 MHz is about 140 Mbps and peak speed in 20 MHz is about 300 Mbps'."

"Verizon Wireless: 4G LTE trials showing 50 to 60 Mbps download rates

"Verizon Wireless said Wednesday that it is testing 4G Long Term Evolution (LTE) service with the aim of launching commercial service in 2010. Verizon Wireless said the 4G LTE network in field trials has demonstrated download rates of 50 to 60 megabits per second, but the final speeds are to be determined."




"Early tests of Verizon's 5G technology show that it can achieve connection speeds 30-50 times faster than 4G/LTE - above the speeds offered by Google Fiber's gigabit wired broadband."
"Verizon & AT&T's Wireless Broadband: $1,125.00 for One Month of Cable TV; $375.00 to Watch Netflix -- and that's Not Even 'HD'.

One Month of HD Viewing: $1,050.00 for Netflix: $3,225.00 for Cable TV.

Do the Math:
• The average Netflix customer is watching 46.5 hours a month. (TDG research)
• The average cable viewer is watching about 142 hours a month. (Nielsen)
• According to Netflix, the video programming uses 1GB per hour for "standard definition" video and 3GB per hour for "HD".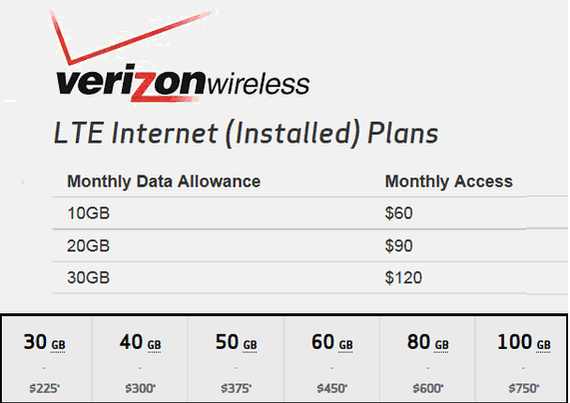 $1,050.00 one month of HD viewing of Netflix on Verizon or AT&T Wireless.
$70.00 a month for Google - unlimited quantity so far.
"Available to 100 Million Americans in 25 to 30 U.S. Markets by End of 2010

"BASKING RIDGE, N.J., March 8 /PRNewswire/ -- Verizon Wireless announced today that its 4G Long Term Evolution (LTE) network field trials in the United States have demonstrated wireless data speeds that are significantly faster than today's 3G network speeds. Trials in Boston and Seattle indicate the network is capable of peak download speeds of 40 to 50 megabits per second (Mbps) and peak upload speeds of 20 to 25 Mbps. The speeds are significantly faster than Verizon Wireless and other wireless providers' current or promised 3G network speeds."
"Although, as we said, true 5G is still five years away, there is an emerging trend towards releasing "pre-5G" technologies, to ease the transition towards the radically new 5G architectures of the next decade (as well as generate revenue to offset R&D and perhaps influence the standards work - key patents are going to be extremely valuable).

"As we move into 2016, when we should start to see the beginning of standards work and get a better idea of the key components of 5G."
FOLLOW HUFFPOST