"Strikingly, if you look through that document, it is amazing how many Biblical clauses appear in Constitutional clauses. Biblical verses and phrases -- you'll find them throughout -- so many concepts, the founding fathers pointed to bible verses as the source of those concepts."
"half of what is taught in American colleges and universities is false, it is a lie and I think we ought to take it head on... I'm talking about the academic left, which dominates American history, dominates American social studies, and is determined to propagandize our children with values and ideas alien to the American tradition and alien to American civilization."
"In 1974 I wrote this speech for his opening night kick-off. I come from a Southern Protestant background, and Southern Protestants quote the Bible. Newt had me take out all the references to God, because he was not very religious -- and isn't very religious. He went to church in order to get a nap on Sunday morning. He became a beacon because of who he was, not what he believed. He did not like us to use God in his speeches; he didn't want people to think he was using God, because he said that would be hypocritical. He said, 'I'm not a very strong believer.'"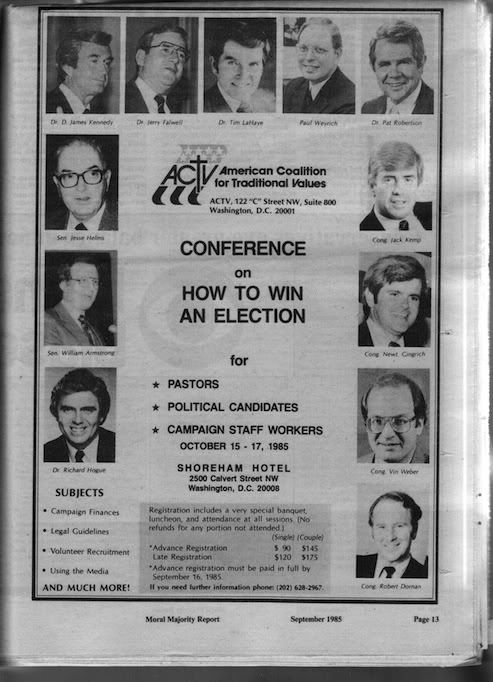 "Now, after you get the Constitution done, you got the first congress, now you need a Bill of Rights. And so we come back with the Bill of Rights -- those first ten amendments to the Constitution... they gave us the First Amendment, not because it guarantees separation of church and state -- there's no such thing -- it guarantees the free exercise of religion. They weren't trying to secularize the public square. They wanted to make sure that you could include God in those areas... Now, we don't teach that much in history anymore, but the documents are really clear."
"It is a lie to teach American history as though this is a secular nation in which God did not reappear, again and again and again for every generation...

Frankly, we should be very direct about this fight. I, for one, am tired of the long trend towards a secular, atheist system of thought dominating our colleges, dominating our media."
"Should we be surprised that -- after 50 years of driving God from our schools, our history and our public lives -- America is facing some of the most devastating crises we have ever faced...

...an economy (driven by socialist schemes) on the brink of collapse, the threat of violent death by radical Islamic terrorists that grows every day, crime, abortions and drug use more rampant than ever?"

"If you fully believe as Newt Gingrich and I do, that the Founding Fathers fully intended for expressions of religious belief to be incorporated into American life, then I ask you to join in the fight to defend our values.

The stakes are immense; imagine a crippled, socialist, bleak, anti-God America. Is this the nation we want to bequeath to our children, or will you stand with me and Newt Gingrich and fight to preserve America as that "shining city on a hill, one nation, under God?"

Any support you can send to ReAL today is tax-deductible.

And as a personal "thank you" for your gift of $35 or more today, I will send you a copy of Newt's wonderful book Rediscovering God in America."
The notion that America was founded as a Christian nation is a central animating element of the ideology of the Christian Right. It touches every aspect of life and culture in this, one of the most successful and powerful political movements in American history. The idea that America's supposed Christian identity has somehow been wrongly taken, and must somehow be restored, permeates the psychology and vision of the entire movement. No understanding of the Christian Right is remotely adequate without this foundational concept.

...The contest for control of the narrative of American history is well underway.
SUBSCRIBE AND FOLLOW
Get top stories and blog posts emailed to me each day. Newsletters may offer personalized content or advertisements.
Learn more