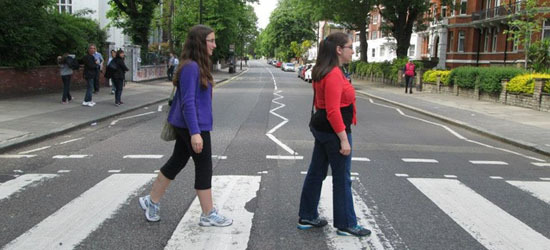 Make the pilgrimage to Abbey Road Studios for a chance to make the iconic album cover your own. Photo courtesy of Kaeli Conforti. Article by Kaeli Conforti of Budget Travel.
Sunday, Feb. 9, 2014, marked the 50th anniversary of the Beatles' legendary appearance on The Ed Sullivan Show, a moment that CBS commemorated with a night of performances by Paul McCartney, Ringo Starr, Stevie Wonder, Maroon 5, Katy Perry, Brad Paisley, Keith Urban, John Mayer, and special appearances by widows and family members of John Lennon and George Harrison. If you're a die-hard Beatles fan or just becoming aware of the musical genius that is the Beatles, we've got six places every Beatles fan should visit, whether you're planning a trip to London, a pilgrimage to Liverpool, or happen to be in the New York City area.
IN LONDON
The British Library
When I went to London a few months ago for Contiki's London and Paris tour, we were given some free time the first day to check out the city. My first stop? The British Library, one of London's best -- and free -- attractions, where you can view napkins and old birthday cards covered in scribbled lyrics to now-famous Beatles songs that John, Paul, and George had jotted down whenever inspiration hit them. Stop by the Sir John Ritblat Gallery to view lyrics from "Help," "A Hard Day's Night," "Yesterday," "Michelle," and "Ticket to Ride," among others, and to view photos of The Beatles with original bandmates Stuart Sutcliffe and Pete Best. You can also see an original Beatles fan club membership card, a 1963 Christmas record cover, and listen to your favorite Beatles songs via headphones while you check out the memorabilia -- just don't try to take any photos. Unfortunately, photography is not allowed inside the Gallery, also home to popular British artifacts including The Magna Carta. Free.
Abbey Road
There comes a time in every Beatles fan's life when this photo just needs to be taken. Grab your friends, hop on the Tube's Jubilee line to the St. John's Wood station, and take a 5-10 minute walk down Grove End Road to Abbey Road Studios, the place where the magic happened. Chances are you'll spot the crowd lined up to cross the street long before you see the Studio, so join in the Beatles-inspired merriment and help a fellow pilgrim get the perfect shot (they'll most likely assist you as well). A word of caution: this is an active street and there are cars full of people going about their day who will honk at you for blocking the road, so work together and wait for gaps before jumping into the middle of the road. No photo is worth compromising your safety, but with a little patience and creativity, it works. After your moment of Beatles-fan glory, walk by the Abbey Road Studios entrance gate to read song lyrics and graffiti messages left by thousands of fans from around the world, all lovingly written in sharpie along the front wall. Free.
IN LIVERPOOL
The Beatles Story
If you're making a Beatles pilgrimage day-trip to Liverpool and short on time, The Beatles Story is the perfect way to get your fix before heading back to London. Located along the Liverpool Waterfront's Albert Dock, the museum offers several exhibits that let you look behind the scenes of Beatlemania -- view 38 black and white images taken by photographer Paul Berriff between 1963 and 1964, the height of Beatlemania; view 4D versions of characters from popular Beatles songs in Fab 4D; learn about the lives, music, and history of the Fab Four; and discover how Elvis influenced their music in a special exhibit co-curated by Graceland, Elvis and Us. Open from 10 a.m. to 6 p.m. from Nov. 1st thru Mar. 24th; open from 9 a.m. to 7 p.m. from Mar. 23rd thru Oct. 31st. The Ultimate Experience Ticket, including access to The Beatles Story Exhibition, Elvis and Us, Discovery Zone, and the Fab 4D Experience, start at $26 for adults and $12 for children ages 5-16.
The Magical Mystery Tour
Another great option of you're only in Liverpool for a limited time but want to get in on all the Beatles fanfare is The Magical Mystery Tour, a two-hour guided bus ride through the streets of Liverpool and through Fab Four history. View Ringo Starr's childhood home, St. Peter's Church Hall -- where John and Paul first met -- John Lennon's childhood home, and schools like the Art College and the Liverpool Institute where the lads were educated. You'll also be able to stop for photo-ops by the Penny Lane sign, outside George Harrison's birthplace, outside Paul McCartney's childhood home, and in Strawberry Field. The tour ends with a trip to the legendary Cavern Club and your ticket includes admission to an evening show. Tours take place at 11:30 a.m. and 2 p.m. every day except Dec. 25th and 26th. Tickets are from $28 per person. If you wish to see the inside of John and Paul's childhood homes, please consider this National Trust tour of the Beatles' Childhood Homes.
IN NEW YORK
The New York Public Library for the Performing Arts
If you happen to be in the New York City area from now until May 10th, stop by the New York Public Library for the Performing Arts, Dorothy and Lewis B. Cullman Center, for a peek at Ladies and Gentlemen...The Beatles!, a joint-exhibit brought to you by the Library and the Grammy Museum. You'll be able to see more than 400 items including the Fab Four's original instruments (on display as you enter the exhibit), as well as photographs, tickets, programs, newspaper clippings, gold records, iconic jackets and glasses worn by the Beatles, as well as memorabilia from other 60s stars like Bob Dylan, Elvis Presley, Ray Charles, and Buddy Holly. The New York Public Library for the Performing Arts is located at 40 Lincoln Center Plaza in New York City; from Times Square, take the 1 train to 66th Street Lincoln Center and walk one block west. Free.
The Imagine Plaque in Strawberry Fields, Central Park
One of my all-time favorite spots in the Big Apple is Strawberry Fields in Central Park, home to the Imagine plaque, a must-see for anyone who is a Beatles fan. Located across the street from the Dakota, the former home of John Lennon and current home of Yoko Ono, the Imagine plaque can be found along Central Park West between 71st and 74th Streets, just inside Central Park. Fans can be seen daily leaving flowers on the plaque, taking photos of it or on it, and otherwise paying homage to the legendary Beatle. For a special treat, visit the site on December 8th, the anniversary of John Lennon's death, to see hundreds of people -- New Yorkers and tourists alike -- gathering with instruments to sing and play Beatles songs day and night in John Lennon's honor. Truly an amazing experience. Free.
More From Budget Travel:
Vote Now: America's Coolest Small Towns 2014!
10 Best Budget Destinations for 2014
40 More Passport Stamps Worth Bragging About
13 Travel Products You'll Need This Winter
11 Bucket List Adventures You Can Actually Afford
Want the inside scoop on the hottest travel deals? Sign up for our free e-newsletter and follow us on Twitter, Facebook, Pinterest, and Instagram.