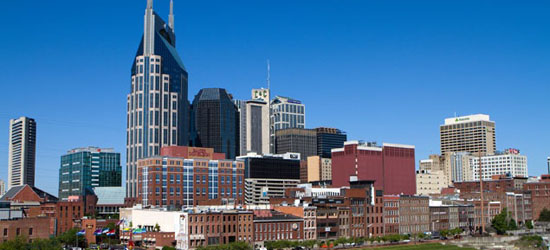 Photo Courtesy of Dreamstime. Article by Robert Firpo-Cappiello of Budget Travel.
Sure, Nashville has earned its rep as Music City. Where else can you kick back and enjoy a family-friendly show like the Full Moon Pickin' Party, featuring country headliners plus bluegrass and roots artists in a public park under a full moon? Or Bluegrass Nights each Thursday through the end of July at the legendary Ryman Auditorium? But there's another kind of jammin' going on in the country music capital. Imaginative chefs are transforming the city's food scene -- check out the James Beard nominations and placements on top American restaurant lists. From upscale eateries to buzzy food trucks on the streets of hip nabes like East Nashville and The Gulch, here's what's cookin' in Nashville:
Lockeland Table. This upscale kitchen serves up contemporary riffs on classic Southern cuisine by chef Hal Holden-Bache, a West Virginia native and 12-year veteran of the Nashville restaurant scene. Its menu, including crab and corn fritters, wood-fired pizzas topped with housemade sausage, and main courses such as Niman Ranch bone-in pork loin or Carolina Mountain trout with honey bourbon glaze, earned it a James Beard nomination for 2013 best new restaurant. 1520 Woodland St., lockelandtable.com, pizzas from $11
Margot Cafe & Bar. Inspired by her Tennessee childhood and training in New York City, chef Margot McCormack specializes in rustic French and Italian fare, focusing on the freshest, highest quality seasonal ingredients. The menu changes daily and may include simple but elegant choices such as green garlic risotto or housemade linguini with pickled ramps, crimini mushrooms, and parmesan. 1017 Woodland St., margotcafe.com, entrees from $16
Hoss' Loaded Burgers. C'mon -- sometimes you just want to bite into a ginormous burger, right? Hoss' Loaded Burgers brings the beef right to you. Well, sort of. You can find out where this popular Nashville food truck happens to be parked by texting "burger" to 88000 and flag down a stuffed burger like The Big Easy, a 1/3 lb patty of local grass-fed beef crammed with creamy melted provolone and topped with Cajun spices, Creole remoulade, and red onion. hossburgers.com, burger from $7, fried $2
More From Budget Travel:
One-Tank Escapes From 8 American Cities
Six Great American Wine Regions
10 Restaurants That Started a Food Movement
12 Restaurants With Spectacular Views
15 International Food Etiquette Rules That Might Surprise You
Want the inside scoop on the hottest travel deals? Sign up for our free e-newsletter and follow us on Twitter, Facebook, and Pinterest.