McDonald's Corp. says it will more sharply focus on the value end of its price spectrum following disappointing Q3 results. That means a heavy marketing push behind the new Dollar Menu + More and a likely parade of new McDouble burger variations, as reported earlier. Much of that will come through new media channels: CEO Don Thompson told analysts the chain intends to ramp up its "digital engagement" with consumers.
For the three months ended Sept. 30, 2013, McDonald's global same-store sales rose 0.9% with U.S. comp sales up just 0.7 percent. That less-than-1 percent gain came despite McDonald's firing some heavy marketing guns during the quarter: the return of Monopoly and the introductions of steak breakfast sandwiches, the Quarter Pounder BLT and, most of all, Mighty Wings, in September.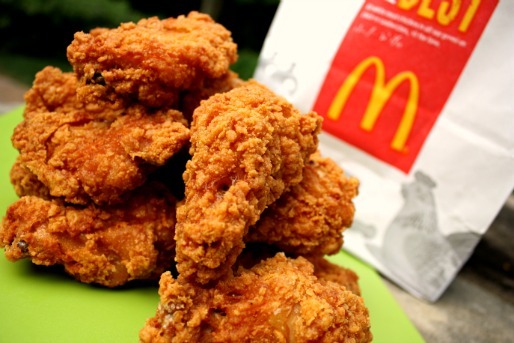 Thompson said Mighty Wings sales were at "the low end of our expectations." September comp sales were up just 0.4 percent. He conceded that the wings might have been too pricey for the market at $1 apiece, as franchisees have complained. Although the wings may have been too spicy for some, McDonald's will sell 35 million pounds of wings, Thompson said. He denied there is a significant rift between operators and headquarters, saying he has "never seen as strong an alignment in years" between franchisor and franchisees.
The real problem, Thompson insisted, is not with the McDonald's brand but with tight economic conditions and heightened competitive pressures that are hampering all Informal Eating Out market players' growth. Consumers simply are spending a little less at QSRs, he conceded. In particular, McDonald's customer base has "bifurcated," with the mid-to-lower-income part of the base "more stressed on discretionary spending" and more value conscious, he said. Given that, the chain says it expects October sales to be flat despite the rollout of the Southwest Premium McWrap.
The Dollar Menu + More is designed to appeal to that large group of "stressed" consumers. Most products will be priced from $1 to $2, although some items, such as 20-piece McNuggets will be as high as $5. McDonald's has been testing several new items for this menu including a Southwest McDouble burger topped with tortilla strips, a Bacon McDouble (below), a McChicken Deluxe and others. These give McDonald's operators "pricing flexibility" and gives consumers "varying levels of affordability" and a "value ladder" they can climb as desired.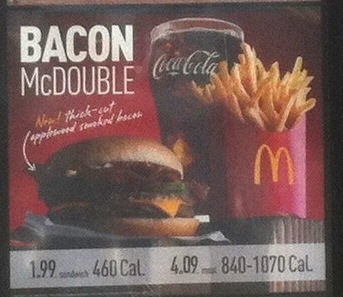 The new arrangement expands on the 10-year-old Dollar Menu that Thompson says accounts for 13-15 percent of sales. One third of all customers leverage the Dollar Menu in some way, he added. McDonald's pricing is up 2.6 percent this year, lower than the food-away-from-home component of the Consumer Price Index.
In the third quarter, comp sales in Europe were up 0.2 percent thanks to strong performances in the UK and Russia and solid results in France that partially offset a decline in Germany. Continuing sales weakness in China, Japan and Australia dragged down Asia/Pacific/Middle East/Africa (APMEA) sales 1.4 percent.
McDonald's Corp. will lower capital expenditures in 2014, primarily by slowing expansion. Almost all of the cuts will be in developing markets overseas. Still, the chain plans to open 225 units in the U.S., 300 in Europe and 750 in APMEA.