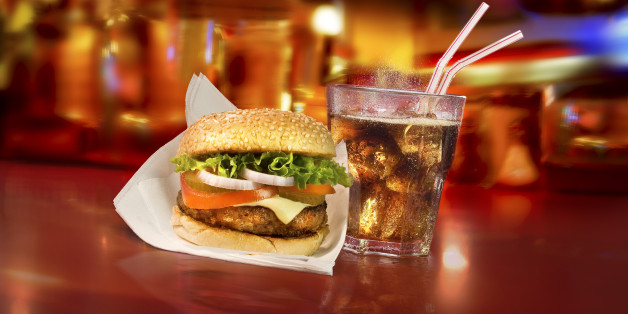 The burger boom continues to be a global phenomenon. You can get a "Brooklyn Burger" at joints in Cairo, Egypt, and Dunedin, New Zealand. A burger bar in Estonia is talking smack, saying it's better than anything in New York City. A place in Beijing has a Country Fried Burger and a Lebanese concept has opened in London. This is global dining at its best.
This look at 29 top new burger concepts that have opened in the past 12 months outside the U.S. and Canada proves that the burger-bar concept is one of America's most popular exports and one that fits with cultures from Croatia to Peru to Singapore. It has never been truer that everybody loves a good burger.
This list is neither definitive nor closed. If you know of a new overseas burger concept that we should know about, please add details in the Comment box.

3sums Burgers & Bar
Beijing
Burgers meet dim sum with craft beers, cocktails and wine.
Burger choice: any of the mini burgers served (see above)
Alibi Bar & Restaurant
Beijing
Burger choice: Country Fried Burger (ground beef topped with romaine lettuce and house-made cheese salad)
American Burger House
Nitra, Slovakia
Burger choice: Bacon Egg Burger (beef, BBQ mayo, lettuce, onion, cucumber, fried bacon, egg and BBQ sauce on a sesame-seed bun)
Beef & Liberty
Shanghai
"Our modern homage to the original beefsteak clubs. 100% Certified Australian Angus beef burgers, ground in-house with minimum fuss yet maximum obsession."
Bobo's Gourmet Irish Burgers
Dublin
Burger choice: The Dubliner (Prime beef burger with beef tomato, iceberg lettuce,
Old Dubliner Cheddar cheese, fried onion, gherkins, tomato relish, and BoBo's special sauce)
BRGR.Co
London
A concept from Beirut, Lebanon, open its first UK outpost in London's Soho. A Chelsea unit is in the works.
Burger choice: 8 oz. Masterpiece ("A culinary work of art containing delectable cuts of beef that carry the flavors of well-marbled steak. This meat lover's dream is best served medium rare to medium.")
Buddy's BBQ & Burgers
Glasgow, Scotland
Burger choice: Triple Bubba (three beef patties topped with American cheese, coleslaw, American mustard, lettuce and burger sauce on a toasted bun)
Bunsen
Dublin
The menu's limited to a hamburger, cheeseburger and doubles but it's Black Aberdeen Angus beef ground fresh in the restaurant every day.
Burgastronomy
Adelaide, Australia
Burger choice: The Trucker (beef, lettuce, bacon, egg, cheese, caramelized onion, tomato ketchup & mayo)
Burger Addiction
Adelaide, Australia
Burger choice: Shotgun Wedding (beef patty, chipotle peppers, whiskey BBQ sauce, Cheddar cheese, sliced tomato, mesclun greens and chipotle aïoli)
Burger Brothers
Brighton, England
Burger choice: Bennetton Burger (house-ground beef, Tuxford & Tebbutt Blue Stilton cheese, portobello mushroom,pancetta, wasabi mayo, caramelized onion and balsamic vinegar glaze)
Burger Joint
Palermo, Argentina
Burger choice: La Mexican (with jalapeňos, guacamole, cheese, onion, hot hot sauce and tomato)
Burger Meets Bun
Glasgow, Scotland
Dedicated to local sourcing and international inspirations.
Burger choice: The Harissa Explains It All (pork belly with almond, apricot and harissa stuffing; arugula; carrot; beet root salad and hummus).
Chosen Bun
London
A fleet of motorbikes delivers Chosen Bun burgers across London.
Burger choice: The Viking (beef patty, caramelized red onion and garlic chutney, lettuce, American or Cheddar cheese, ketchup, mayo and Nicks pickles)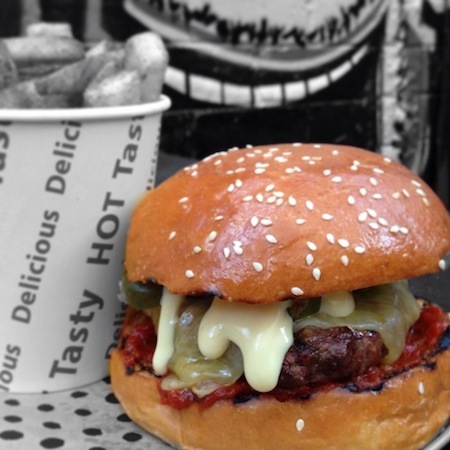 Chur Burger (above)
Surry Hills, Australia
Bouncing back better and bigger after a fire, Chur Burger offers a lean lineup of $10 burgers
Burger choice: Lamb burger (grilled lamb, mint sauce, feta, red onion, aïoli)
Cocktail & Burger
Glasgow, Scotland
Locally sourced 100 percent Aberdeen Angus beef served on toasted brioche plus hot dogs direct from London.
Burger choice: The C&B (6 oz. beef patty with cured bacon and mature Cheddar)
Daniel Thaiger Burger Truck
Bangkok, Thailand
Burger choice: Jalapeño Bacon Mac n Cheeseburger
Dereku Burger
Kuressare, Estonia
"I know our non fast food approach, 'all fresh-all natural gourmet burger' here in Kuressaare is better than anything coming out in NYC," proclaims the website.
Burger choice: Mushroom Gouda Burger
Gourmet Burger Cairo
Cairo, Egypt
While everything around it has been up for grabs, GBC has focused on serving great burgers. We salute you.
Burger choice: The Brooklyn (a super sized patty stuffed with cheese, honey mustard, mushrooms, blue cheese and our very own pickled pink onions)
Ketchup
Dubai, UAE
Burger choice: The Stack (double burger patties (700 grams), crispy bacon, Cheddar cheese, sautéed mushrooms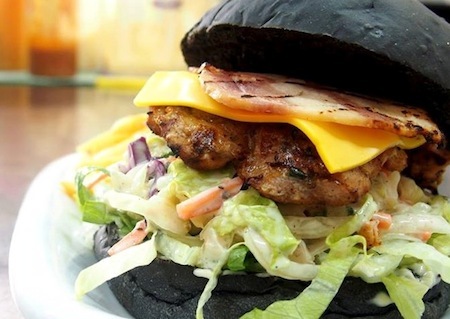 New York Burger Time
Georgetown, Malaysia
Burger choice: Liberty (shown above: grilled chicken patty, chicken bacon, cheese, lettuce and house-made coleslaw on a black bun)
New York Style Brooklyn Burger Co.
Dunedin, New Zealand
It hearts New York. The menu also includes a Bedford Ave. burger and a Coney Island chicken sandwich.
Burger choice: The Brooklyn (beef, lettuce, tomato, red onion, BBC Burger Sauce on sourdough)
NYC Burger, Coffee & Ice Cream
Warsaw, Poland
Burger choice: Pierwszy She Burger (with Jim Beam Spicy Bourbon BB Sauce)
O'Buns Burger
Paris
Burger choice: Le Triple Steak (three patties, three cheeses, egg and ham)
Psychic Burger
London
You have to love a British burger joint where the house beer is Huber.
Burger choice: Lamb Franko Burger (spiced lamb patty with almonds, smoked yoghurt, Psychic Salsa and fresh cilantro)
Rocket Burger Café
Zagreb, Croatia
"Rocket Burger is an American Style Diner, bringing burgers back to their basic form before fast food chains took them over."
Burger choice: The Fiesta (bell, green and red peppers with onions, Gouda cheese, chipotle sauce, lime juice and cilantro)
Streetsoul Burger Bar
Randwick, Australia
"We bring street-style gourmet burgers using only ethically farmed animals. Live the Street, Eat with Soul!"
Burger choice: Beef Man Aussie Style (grass-fed seasoned beef patty, baby cos lettuce, tomato, Spanish onion, house-made aïoli, house-made tomato relish, beetroot and pineapple)
Twist Burger Bar
Lima, Peru
A Peruvian burger bar with house-made hash browns and fries, and a Philly burger with cream cheese.
Burger choice: Alpaca Burger (alpaca-meat patty with onions and peppers)
Yes Burgers
Sao Paulo, Brazil
Burger choice: Cheese Burger Egg Bacon Salada
SUBSCRIBE AND FOLLOW
Get top stories and blog posts emailed to me each day. Newsletters may offer personalized content or advertisements.
Learn more