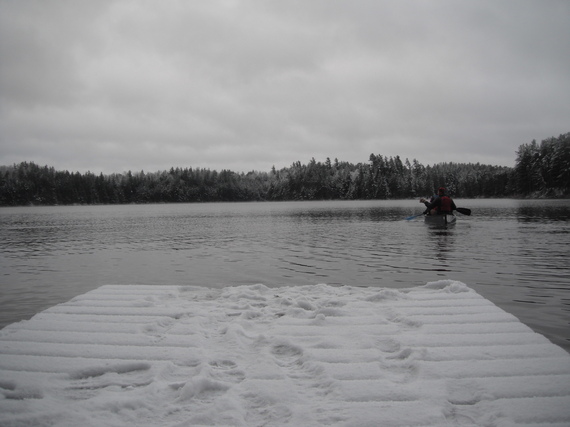 Photo Credit: Dominic Brennan
It's early November, and I sit perched on the edge of a remote Adirondack lake. The afternoon sinks into evening much like it has for weeks, but faster, a sobering reminder that the crisp autumn air will soon give way to the bite of winter. Fat flakes of snow sift through the white pine, American beech, and yellow birch canopy above. The shore where the woods meets the lake looks like a black and white photo that stirs memories of this twilight that slips between autumn and winter and an innate familiarity with this shift that makes these woods feel like home.
Here in the woods, I have learned the subtleties of the seasons. So have my classmates. Together, we live with minimal possessions and share everything: our classes, our meals, our stories, and this small, secluded yurt village where St. Lawrence University hosts its Adirondack Semester, a nature immersion program dedicated to providing students with hands on experience studying human relationships with nature.
Fast forward to the following semester. Out of the windows of a Boston high rise I struggle to see the small trees that have just come into bloom dotting the sidewalks below. I imagine the cool ocean breeze that must be meandering through the narrow streets. Spring is here, but I can't feel it. I file into the conference room with the other students on St. Lawrence University's Sustainability Semester, a program that allows students to explore the topic of sustainability in the context of today's environmental concerns.
Tonight we present our study of urban sustainability in Boston to SLU alumni. We tell them about the community gardens and green roofs. We tell them about the actions local government and businesses have taken to reduce their environmental impacts. We tell them about the strides that Boston non-profits have made in making streets safer for cyclists, pedestrians, and others that seek low carbon transportation. We tell them that cities are at the forefront of finding sustainable living solutions. We tell them these things, and I long for the woods.

I have dedicated my undergraduate education to better understanding human interaction with the natural world. In both the woods and in the city, this course of study has made clear that the world faces the relentless destructive forces of climate change, pollution, development, irresponsible farming practices, industry, and countless other dangers. As such, I have been grappling with what has become the big question that all environmentally minded students ask themselves: What can I do to live as sustainably as possible?
The world is abuzz with suggestions, lists, products, and steps you can take to green your life. Take public transportation, recycle, carpool, bring your own shopping bag, refuse bottled beverages, take shorter showers, go to a farmers market, and, to the surprise of many, move to a city. In Boston, crossing items of this sustainable living checklist was easy, so easy I didn't even have to think about it. I stayed in a LEED certified building, I either walked or used public transportation, my basic needs were just minutes away and didn't require long drives in private vehicles.
My carbon footprint during my time in Boston was certainly smaller than when I was living in the woods and relied heavily on my needs being brought to me by car from great distances, but in the woods I never took my actions for granted. I never forgot why I strive to live a low-impact life. How could I? I was immersed in the kind of wildness that has inspired both fear and reverence for its power and beauty, but most importantly for how it transcends us, reminds us of where we came from. In the woods, we hauled every bit of water we used ourselves. We butchered our own meat in deep appreciation.
We carried every bit of waste that we produced out of the yurt village on our backs. We were intimately connected to the bloody, sweaty, tearful work of truly knowing what sustained us. At the end of my time in the woods, I was cold, worn, and dirty, but also strong and deeply in love with the woods in a way previously unknown to me.
Maybe we've been asking ourselves the wrong question. We ask ourselves how we can live as sustainably as possible, oftentimes forgetting to ask what it is that sustains us. All the little things that we can do to lower our impact on the environment are important, but our journey to sustainability cannot go un-sustained. So set down the sustainable living checklist for a moment, let go of the fear and guilt that is all too often the motivator of change, and find that part of the world, that experience that sustains you. Find it, hold it, and embrace that nagging answerless question of "how can I live as sustainably as possible" with the confidence, clarity, and drive that comes with knowing that there is no end or limit to protecting what you most deeply love.
SUBSCRIBE TO & FOLLOW THE MORNING EMAIL
Start your workday the right way with the news that matters most. Learn more