This year I joined the ranks of co-op preschool parent. I don't think it truly dawned on any of us newbies the full definition of 'co-op' until that first monthly parent meeting. We flipped and served crab cakes at the annual art show and diligently signed up for chores but on a cool September night the idea of parent-led involvement took on a whole new level of commitment. You are no longer sending your child to school, you are a part-owner and have a responsibility to them as well as that of all their classmates.
A co-op preschool is a challenging yet highly rewarding undertaking. You volunteer once a month during school hours, you clean up, do yard work, do laundry, help to raise funds for the upkeep and maintenance of the school and most importantly, help with the administration and operations.
Naturally the flip side makes it all worthwhile. From seeing your child interact with others, getting to really know your neighbors to learning a thing or two from the kids on handling issues such as sharing, collaborating and the value of play.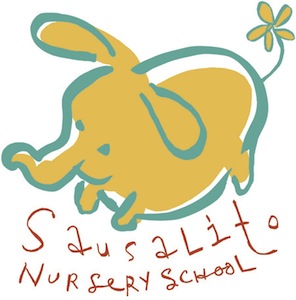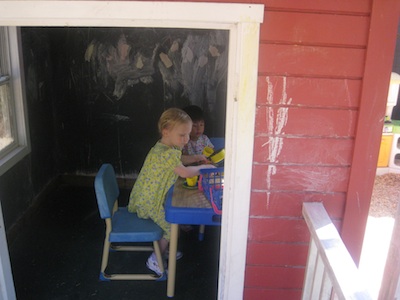 The Sausalito Nursery School, the co-op I'm now a part of, began during the tail-end of tough economic times and is one of the oldest in the country. Opening in 1939, for 70 years it has continued it's mission for family-focused, play-based education in Sausalito, a small town just on the north side of the Golden Gate Bridge.
Most of the families have both parents working long hours and a number, like myself, travel internationally for business on a regular basis. So it would seem counter-intuitive for these parents to send their kids to a school that require such heavy involvement. What I've found is a remarkable group of parents, most of whom have found themselves in an ever-digital, ever-disconnected world where community means updating your facebook status, tweeting your lunch or making sure your LinkedIn profile is up to date. I can attest to the fact that 3 year olds can open and use Skype Video on a regular basis. The desire for genuine human interaction seems to be at an all time high and co-ops are a great anchor for understanding true community.
Our '70th Anniversary' fund raising drive this week was a perfect example. Over the past week dozens of parents met to print, stuff, stamp and lick hundreds of letters to local residents, create window decals for local stores that support the school, set up the ability to take online donations and participate in social network giving campaigns. That was just 'after-school', add in a Thanksgiving feast for families and prepping for the upcoming Sausalito Ferry carol singing - you've got a busy week. Most importantly is the ability to re-engage with the simple idea of community as a collection of people coming together for the betterment of others.
Earlier this year I spoke with Education Secretary Arne Duncan about the need for better educational facilities. His response "education is really about the kids". Having just started my tour of duty I can inform him that's it is not just 'about the kids', but the teachers who inspire, the parents who go well above and beyond the call and the whole community that supports its' future generations.
---
Great primer on whether a co-op preschool is right for your family.
FOLLOW HUFFPOST