Four-and-a-half years ago I stood up on the stage at TED with a crazy idea to create an open-source platform to improve the living standards of communities around the world. Thanks to the support of a rag-tag group of believers, the site, the Open Architecture Network, launched in February 2007 and has since become the largest online repository of humanitarian projects, with more than 27,000 members.
The heart of the site is a project management system that has been used to manage the construction of thousands of homes, community centers, schools and health clinics. Additionally, more than a dozen open-source design competitions have been hosted, from the classroom of the future to low-income LEED certified housing in New Orleans. Yet two key pieces were missing -- to enable crowd transparency and accountability for projects and the ability to push projects and embed them in sites (think YouTube of sustainable design).
There are a million ideas to change the world, but unless we build them it doesn't matter. Unless we can see real progress, it doesn't inspire. Therefore it is not only important that projects get completed, but are readily seen.
Crowd Transparency Becomes Real
Last month we rolled out the latter through a new slideshow mechanism (above), and the former was released today -- an iPad application that will inevitably change the way the world looks at design and building for communities in need. The app is the first of its kind, a tool built for designers and community groups in the field that connects with donors and supporters around the world. Already more than 2,500 Creative Commons licensed projects are in the app, and it's growing every day.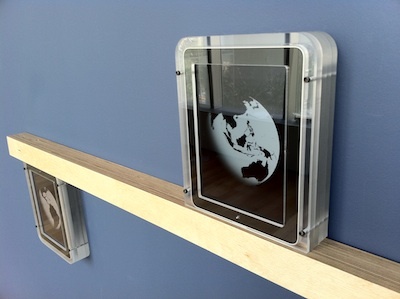 Tell Your Momma, You're in MoMA
As it was being built, the iPad app was previewed at the 2010 Clinton Global Initiative and the USAID Science and Technology Forum before being included in the Small Scale, Big Change: New Architecture of Social Engagement exhibit at the Museum of Modern Art (until January 2011). Anyone with a project on the Open Architecture Network with six or more images and geo-data will now be on display in MoMA. So yup, you can tell your momma you made it to MoMA.
Putting Credit Where It Is Due and Finding Innovation Deserts
All the proceeds of the application are being placed towards projects that are improving lives and selected through a virtual credit system by app owners. The first three projects to be funded will be a youth technology center in the slums of Nairobi, housing for those displaced by floods in Pakistan and a cultural center in New Orleans. As each project is funded, Architecture for Humanity will build those buildings, and additional structures will be added to the app, creating a unique ability to support and track projects in real time. Think Farmville, but you are actually supporting farms that are feeding real families! Think SimCity but you can rebuild after Godzilla has wrecked havoc!
As important it is to see where work is being done, it is just as enlightening to see where work is not being done and how we can respond to innovation deserts around the world. Now anyone can see projects in real time, creating a new paradigm of crowd transparency as a mechanism development and disaster response accountability. We are now looking to scale this idea to other agencies.

140-Character Collaboration and Crowd Funding
The application originated when I connected with O2 Creative Solutions through Twitter and, after being turned down by foundations, we seed funded the idea with dozens of individuals through Kickstarter. This online collaboration shows the ability to use online social networking to build an innovative product in less than a month.
After four-and-a-half years I'm proud to say, wish granted. Thank you to all the crazy believers and supporters.
Now it's time to build a better world. Together.
SUBSCRIBE TO & FOLLOW THE MORNING EMAIL
The Morning Email helps you start your workday with everything you need to know: breaking news, entertainment and a dash of fun. Learn more