Camille Warmington has lived most of her life in Texas. She graduated from Kansas State University with a Bachelor of Interior Architecture in 1984 and worked for design firms in New York City and Dallas, then for herself. While raising her three children, she began studying painting in earnest at the MFAH's Glassell School in the mid 1990's. After taking a few years off to empty her nest and finding herself suddenly single, she returned to the Glassell School in 2011 to continue her studies in painting, drawing, digital and mixed media. Camille can be found making art daily at Winter Street Studios in Houston, Texas.

"Terrain in Turkey Umber II" is part of a series of abstract landscapes that I am working on. As we look at landscape and terrain, each of us bring our own memories and experiences, so it possesses a common thread that we all are a part of.
My work is informed by my life experiences, family, and the passage of time. It usually begins with specific references -- a photograph, memory, emotion, or experience. These source materials provide me with a departure point that I translate into form, color, and mark making. The painting is oil on canvas, 48" x 36" and was completed in 2013.
Continuing my studies in painting and other types of art represents a choice to live the second 50 years of my life as wholeheartedly as possible. I am blessed to have three amazing adult children and to be able to spend this time of my life learning and painting. I totally agree with Rita Wilson that the 50s are absolutely awesome!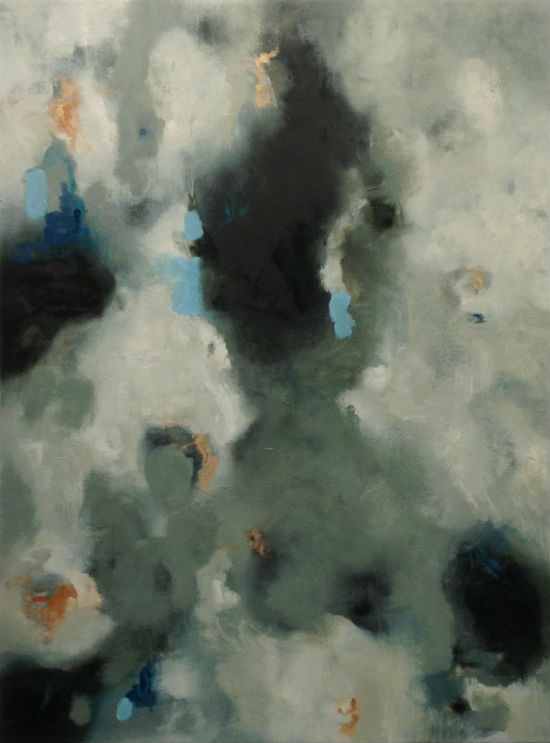 Terrain in Turkey Umber II