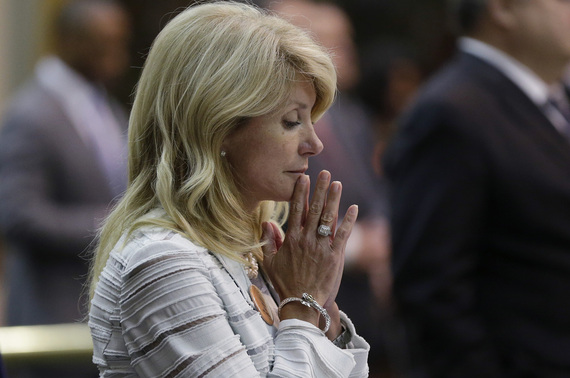 It's been almost a year since the day Wendy Davis arrived on the senate floor in her now famous pink sneakers to bravely filibuster a bill that if passed would have huge implications on reproductive health care in the state of Texas. Almost a year since Senator Davis became a hero and the unruly mob became a headline. Our fight wasn't new, but suddenly it was a national issue, our outrage shared by millions. The eyes of the world were all fixed on what was happening in Austin and everyone wanted to know what they could do to help. The public outpouring for those of us gathered at the Capitol was nothing short of amazing, and I will never forget the feeling of being supported and cared for by so many.
But I was also angry. Angry because suddenly the same people who had months before responded to my Facebook posts regarding the anti-choice legislation being presented in my state with "Well it's Texas, who do you expect?" were now wearing orange and praising Wendy Davis and posting about how they were standing with Texas women. Angry that the sweat and tears and countless hours of organizing that had been done by Texans over the weeks and months leading up to the filibuster had been reduced to some kind of political Internet meme. Where were my progressive West Coast friends before this? Back before Obama tweeted #standwithwendy, before the unruly mob was featured on Rachel Maddow, before photos of the rotunda were on the cover of the New York Times; where had their support been then?
Weeks went by and the Twitterverse moved on to another trending topic. Everyones default pictures changed from burnt orange declarations to vacation selfies and cat photos, and Texas once again became the punchline of the joke. Only the people truly impacted by the passing of that bill were not laughing. While the folks that had been so supportive weeks prior pondered if there was any way for Texas to secede without the nation losing Austin and good BBQ we were still organizing, still showing up to hearings, still fighting. Our battle didn't end when the national spotlight disappeared. Our war wasn't over when our champion announced her gubernatorial run and suddenly became afraid of the word abortion. Just because the world was no longer listening doesn't mean we stopped shouting.
On June 25 the unruly mob will be gathering in Austin to mark the anniversary of that monumental night on the Senate floor during two separate events, one hosted by the Davis Campaign and another that's a joint effort put together by a group of activists and organizers who spent the summer of 2013 at the Texas Capitol. It will be a night of celebration and storytelling and more than a few tears. And as we all once again don our orange to reflect on the last year and plan for the days ahead I wonder if any of the voices that pledged their solidarity all those months ago will be doing the same. Do you remember what you felt the night when the world was glued to that livestream? Are you just as outraged on our behalf now that we aren't some bandwagon issue, the sexy political hot button?
It's been almost a year since that night in the Capitol. A year that has seen clinic closures and revoked admitting privileges and multiple lawsuits aimed at undoing the damage caused by the passing of terrible legislation. Texans are still working tirelessly to defend ourselves from the attacks made to our health and reproductive rights. Our state isn't a joke, the people who live here aren't anecdotes, and the impact of what happened in the rotunda that night is much too large to be summed up by a single hashtag. Though the last year has left many of us tired, the people of Texas are still standing strong. My question to the rest of the world is this: are y'all still standing beside us?
SUBSCRIBE AND FOLLOW
Get top stories and blog posts emailed to me each day. Newsletters may offer personalized content or advertisements.
Learn more