Today marks the second entry in my series of interviews targeted to an actor's work in a specific show. In this installment, you'll get to know Andrew Jackson, er, Benjamin Walker. Walker plays the title character in Bloody Bloody Andrew Jackson, currently enjoying a return engagement at the Public Theater. A comedian and actor, Walker first played the founder of the modern Democratic Party in the musical's Los Angeles premiere nearly three years ago. Since then, a lot has happened in his life--he had a major role in the Broadway revival of Les Liaisons Dangereuses, proposed to his Liasons costar, Mamie Gummer (perhaps best known for being the daughter of Meryl Streep), and built up his film resume. But one thing that has not changed is his love for this raucous, loosely-historical show.
In the musical, there is more than one mention of your pants. Are you a fan of tight, tight jeans?
I've got to say they are really uncomfortable. I am a fan of how they look, not how they feel.
What are your feelings about populism?
It's a double-edged sword. I am a proponent of citizen involvement in government,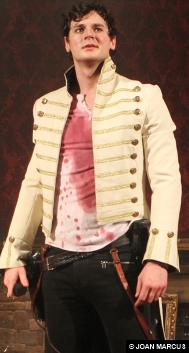 but, at the same time, mob mentality is a bad idea.
How are your fighting skills?
I like to think I'm a very adept ninja. I had some good training in school; I like to think I am pretty strong. I might have given Andrew Jackson a run for his money. He might have out-dueled me, but I think I could run faster. I could run away from him!
If someone said to you: "We need your help. We need you to lead us!" What would your reaction would be?
It depends on where they needed me to lead them. I'd like to think I could rise to the occasion. But if they asked me to lead them off a cliff or something, I would try not to do that.
What is your opinion of assimilation?
We should be able to co-exist. I live in New York, where everyone can find their own space. If we have enough compassion to be tolerant of other people's ways of living, we should be able to live together.
Are you a democrat?
I'm neither. I'm an issue voter.
Rachel really doesn't want Andrew to go to war or to run for president again. Is there anything your fiancée would not let you do?
No, she is completely supportive. If I were going to slaughter an entire race of people, she'd probably have some negative things to say about it. But, as of now, we're a pretty good compliment to each other.
What would your answer have been to "the Indian question?"
I haven't the slightest idea. It was an insanely complicated time for America and for Jackson.
Some people think of Andrew Jackson as an American Hitler. Do you agree?
I personally do not. Hitler was a motivating force. I believe Jackson had his hands tied, the American people were the motivating force. That doesn't in any way diminish the suffering of the Native Americans. I just don't think Jackson set out to kill them.
Do you think there is a difference between the governing and the governed?
I don't think there is a difference. I think it's everyone's civic duty to contribute to the governing of the US.
In the show, Jackson says he hates the Spanish, the British, Washington aristocrats and the Indians. Name four things you hate.
People who won't move in on the subway and let other people get on, lip gloss, sunburns and banana flavored ice cream. Anything with banana flavoring makes me want to puke. I like bananas, but banana flavoring is a no.