While we're no longer in the age of David Merrick, producers continue to have a tremendous impact (for better or worse) on their shows. They put together the money and can completely steer the ship. Being a producer is often not an easy job; I sometimes wonder why the majority of them do it. But I thank them all because without someone to produce the theater there would be no theater. This fall/winter the producers presenting work run the gamut from newbies to vets. For example, Broadway neophytes Rich Entertainment Group and John & Claire Caudwell are taking the lead on Chaplin. Debbie Bisno, whose name has appeared on many shows previously, will for the first time act as lead producer when Craig Wright's Grace, starring Paul Rudd, Michael Shannon and Ed Asner, kicks off. And veteran lead Jeffrey Richards, who found some success last spring with Gore Vidal's The Best Man (which recouped) and Porgy and Bess (which won the Tony for Best Revival), is lead commercial producer on a whopping three shows before spring begins: the acclaimed Steppenwolf Theatre Company production of Who's Afraid of Virginia Woolf?, David Mamet's Glengarry Glen Ross with Al Pacino and Mamet's The Anarchist with Patti LuPone and Debra Winger.
Instead of doing a normal fall preview where I weighed in on the upcoming shows, I figured it was time to let all the producers show their stuff. I gave the producers of shows slated to open before March a strictly enforced 20 words or less (exclusive of show title) to sell their shows to readers. I allowed each producer to write anything s/he wanted to.
"Chaplin is an original musical blending theatrical and cinematic elements, creating an entertaining, moving look at the genius Charlie Chaplin." -- The Producers of Chaplin on Chaplin, which opened Sept. 10 at the Barrymore Theatre
"A brilliant play that is vital, funny, scary, and ripped from today's headlines - you won't stop talking about it." -- Manhattan Theatre Club Artistic Director Lynne Meadow and Executive Director Barry Grove on An Enemy of the People, opening September 27 at the Samuel J. Friedman Theatre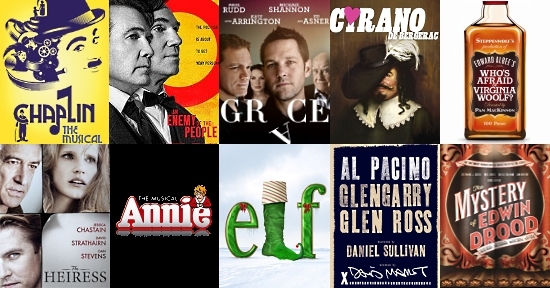 ""A love triangle tempts Faith & Fate in this provocative dark comedy -- you'll be on the edge of your seat!" -- Debbie Bisno on Grace, beginning previews Sept. 13 and opening Oct. 4 at the Cort Theatre
"Cyrano de Bergerac is a timeless comedy & love story infused with sparkling new life by Tony-winning star Douglas Hodge." -- Roundabout Theatre Company Managing Director Harold Wolpert on Cyrano de Bergerac, beginning previews on Sept. 14 and opening Oct. 11 at the American Airlines Theatre
"Steppenwolf does Albee. A historic 50th anniversary production. A dynamic new staging. Clybourne Park's Pam McKinnon directs Letts and Morton." -- Jeffrey Richards on Who's Afraid of Virginia Woolf?, beginning previews Sept. 27 and opening Oct. 13 at the Booth Theatre
"The Heiress is an intoxicating theatrical cocktail: a dazzling blend of celebrated actors, director and a classic American play. Don't miss it!" -- the producers of The Heiress, beginning previews Oct. 7 and opening Nov. 1 at the Walter Kerr Theatre
"Our Annie will be the classic musical everyone knows and loves, but told in exciting, surprising and magical new ways." -- Arielle Tepper Madover on Annie, beginning previews on Oct. 3 and opening Nov. 8 at the Palace Theatre
"Do me a favor this holiday season. Go ELF yourself -- at the Hirschfeld Theatre," -- Buddy the Elf, who the Elf producers elected to speak on their behalf, on Elf, beginning previews on Nov. 6 at the Al Hirschfeld Theatre
"Mamet-Pacino-Cannavale-Sullivan. Theatrical fireworks. The dog-eat-dog world of real estate. A modern classic." -- Jeffrey Richards on Glengarry Glen Ross, beginning previews on Oct. 16 and opening Nov. 11 at the Gerald Schoenfeld Theatre
"The Mystery of Edwin Drood has a dozen musical theater stars & hundreds of possible endings. Roundabout subscribers see this & Cyrano for 50 percent less." -- Roundabout Theatre Company Managing Director Harold Wolpert on The Mystery of Edwin Drood, beginning previews on Oct. 19 and opening Nov. 13 at Studio 54
"The Performers is the funniest play ever about relationships, set at the
Adult Film Awards. Size matters... but love matters more." -- Robyn Goodman on The Performers,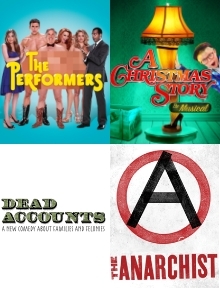 beginning previews on Oct. 23 and opening Nov. 14 at the Longacre Theatre
"America's #1 holiday movie comes to life as a new Broadway musical ... flagpole, bunny suit, leg lamp and all!" -- Gerald Goehring on A Christmas Story, The Musical, beginning previews Nov. 5 and opening Nov. 19 at the Lunt-Fontanne Theatre
""Theresa's plays are always entertaining. With Jack directing Norbert, Katie, and this incredible cast, Dead Accounts will be a must-see new play." -- Jeffrey Finn on Dead Accounts, beginning previews Nov. 3 and opening Nov. 29 at the Music Box Theatre.

"Mamet directs Mamet. Passion. Deception. Redemption. Intrigue. Lupone. Winger. Watch the sparks fly!" -- Jeffrey Richards on The Anarchist, beginning previews Nov. 13 and opening Dec. 2 at the John Golden Theatre
"Clifford Odets is one of our great playwrights and Golden Boy, his biggest success, is a vibrant and crackerjack play." -- Lincoln Center Theater Artistic Director André Bishop on Golden Boy, beginning previews Nov. 8 and opening Dec. 6 at the Belasco Theatre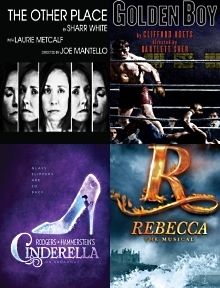 "An extraordinary performance by Laurie Metcalf, in a fascinating new American play by Sharr White, helmed by the terrific Joe Mantello -- a great way to start 2013." -- Manhattan Theatre Club Artistic Director Lynne Meadow and Executive Director Barry Grove on The Other Place, beginning previews on Dec. 11 and opening Jan. 13 at the Samuel J. Friedman Theatre
"Romance romance romance. The world's most treasured fairytale, Rodgers + Hammerstein, plus some humor for everyone. It's Possible!" -- Robyn Goodman on Cinderella, beginning previews Jan. 21 and opening Feb. 21 at the Broadway Theatre
"Romance, mystery, suspense, gorgeous score, fantastic cast, stunning design, and we're going to burn down Manderley 8 times a week." -- Ben Sprecher on Rebecca, dates TBA at the Broadhurst Theatre
Also coming this fall is the musical Scandalous, beginning previews on Oct. 13 and opening Nov. 15 at the Neil Simon Theatre. A spokesperson for Scandalous did not return requests for a quote for this piece. You can read more about the producers of Scandalous in my earlier post.
SUBSCRIBE AND FOLLOW
Get top stories and blog posts emailed to me each day. Newsletters may offer personalized content or advertisements.
Learn more