The Bahamian capital is also the capital of Caribbean cruising, thanks to the popularity of three- and four-day cruises calling at this iconic port. Ships line Prince George Wharf, in the heart of downtown Nassau, making it one of the most conveniently located piers in all cruisedom.
A short walk or quick jitney bus ride from the gangway puts you in the middle of the action, with all the fun of neighboring Paradise Island just across the bridge. Here's our five can't miss shore excursions for your Nassau visit.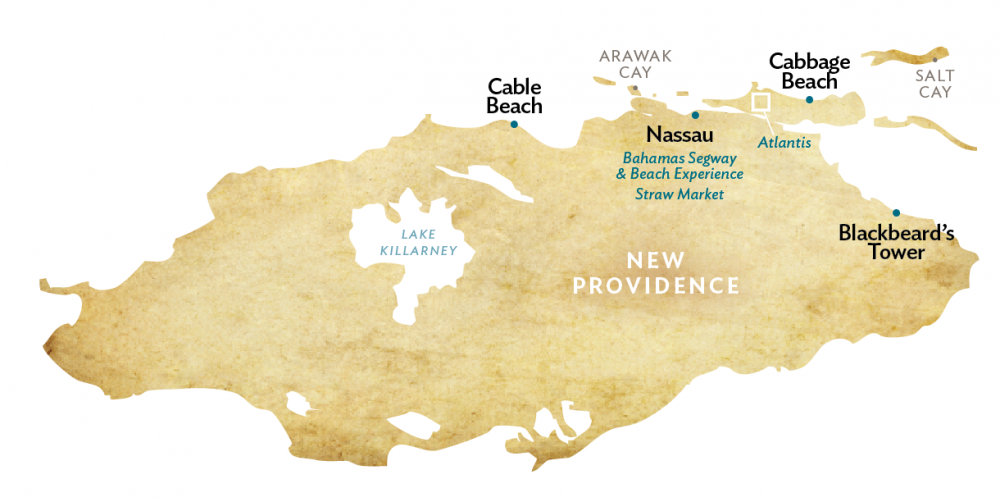 1. Cable Beach
This lengthy strand fronts Nassau's bustling hotel zone, but what it lacks in solitude, it makes up in atmosphere. The resorts' amenities are reserved for their guests, but the Sheraton offers a $25 day pass that includes access to its pools, towels and nonmotorized water sports; call 242-327-6000 for details.
2. Bahamas Segway & Beach Experience
Touring an island paradise while perched on one of those goofy scooters mall cops use might not seem like a must-have experience, but the five-star rating on TripAdvisor begs to differ. Once you've mastered the technology (it's not hard), you'll tool around some eco trails, take a beach break and maybe do some snorkeling. Will you feel silly? Probably. Do it anyway.
3. Straw Market
Nassau doesn't offer the duty-free extravaganza you'll find in ports like St. Thomas, USVI, but if you're looking for kitschy souvenirs (admit it -- you are), the Straw Market is the place to go. Though not the market of legend -- it burned to the ground in 2001 -- the new market houses 400-plus vendors, making it a great place to pick up lightweight presents for everyone on your list, plus an embroidered straw tote to carry them in.
4. Arawak Cay
If you've never tried conch -- and even if you have -- it's a must when visiting Nassau, and your best bet while in port is to hit Arawak Cay, aka the Fish Fry. Locally owned eateries painted in breezy pastels serve up fresh platters of conch fritters, cracked conch, conch chowder and more, along with frosty Kaliks and other libations to wash it all down.
5. Atlantis
There's enough to do at this mega-everything resort to fill a week, but you can easily sample the highlights in a day. Chief among these is Aquaventure, the resort's water park, featuring eight water slides (including one ominously named the Abyss), a lazy river, a mile-long river thrill ride, pools galore and a splash area for tinier tots. Most cruise lines offer a daylong excursion that includes access to the water park -- it's expensive, but you're guaranteed to experience the best of Atlantis. (Day passes are also available through the resort, but they can be hard to come by.)
Plan your trip with our Nassau destination guide or check out more of our Best Shore Excursions at the Top Cruise Ports. For more articles like this, visit Caribbean Travel + Life or join in on the conversation at our Facebook page.