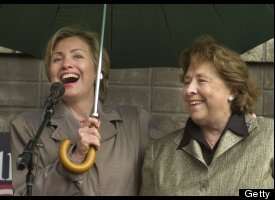 By 2005, Dorothy Rodham didn't need to walk to the national zoo alone. After all, her son-in-law had been president and her daughter was then a United States senator -- an aide or companion could easily have been hired. The mother of Secretary of State Hillary Clinton, who died at age 92 on Tuesday this week, liked her time alone, she once told me, "just to think." Even though she termed her walking by then "labored," in one of the letters she wrote me over the years, she'd determined to make her trip a daily goal and kept at it steadily. Her treat in going to the zoo, however, was not in observing the exotic beasts behind bars: "I find myself watching the people more than the animals."
We first met at the Brooklyn Botanical Gardens where I, writing a forecast of what sort of history her daughter might make as a potential first lady, interviewed her briefly the day before the July 1992 Democratic National Convention. Without pause, she predicted that Hillary would most be like Eleanor Roosevelt, the former first lady whose global humanitarian work led to her being called "First Lady of the World." Mrs. Rodham then seemed pained she might be bragging and added humbly, "Of course, I am her mother."
Despite our multi-generation gap, we hit it off -- because we were both Gemini, she said. I visited her home in Little Rock, Ark. (where she lived during the Clinton gubernatorial and White House years), doing research in preparation for Hillary's upcoming 50th birthday celebration, she guided me down the cellar stairs, the wall lined with old family pictures, each with a story. I'd called an airport cab but the mother of arguably, by then, one of the world's most famous women, insisted I stay for cake after which she drove me herself.
Ultimately, she extended an incredible trust of discretion, not naively, but with the best hope it would be honored, and which effected the ensuring of it. Often, she offered astute observations on the feigned persona of political figures she'd met, expressing "disappointment," yet always balanced with a grounded understanding for their perspective. She saw people as people, regardless of their status. No matter her access to power, Mrs. Rodham lacked presumption or entitlement, and her emotions ranged from strength to sentimentality. While in Chicago to celebrate Hillary's birthday in 1997, she didn't trust her emotions to join her children in their first nostalgic visit back through the rooms of the house where they'd grown up. Later in the day, after being hailed to great applause with Hillary on the Oprah Winfrey Show, I asked how it felt to be glorified a bit by the great one. I got a classic Mrs. Rodham response -- a big-deal shrug, a smirk of a smile and a roll of the eyes.
At the White House Millennium New Year's party, I introduced my friend Peter McManus, who'd just completed a round-the-world tour, to "Dorothy" and they chatted amiably about foreign countries. When I later referred to her as Mrs. Rodham, he was shocked. "Hillary's mother? But she's like everyone's mom!" In fact, I saw that maternal nature in action that night when a guest spilled some raspberry sauce on their tuxedo and she fretted until getting her hands on a damp napkin to help. She wrote me with congratulations when I permanently quit smoking and never failed to ask about my old dog. She began one letter by apologizing for writing on yellow legal lined paper, "but I haven't bought any stationery lately."
To read the rest of this article and see previously unpublished pictures of the Rodham-Clinton family go to: http://carlanthonyonline.com/
SUBSCRIBE TO & FOLLOW POLITICS
How will Trump's administration impact you? Learn more