According to Wikipedia, thankfulness, gratitude, gratefulness, or appreciation is a positive emotion or attitude in acknowledgment of a benefit that one has received or will receive.
Personally, we also believe that being thankful can come from the actual act of giving and not only receiving. It comes in the form of "I'm thankful I have the opportunity to make a difference in the life of someone less fortunate than myself."
First let us take you back two years in our PROUDgirls journey. Who would have thought that a 17-year-old from Smithtown, NY, would open the doors to a relationship that would help change the lives of so many people two years later. You see, Allison McCann had just joined PROUDgirls on the MOVE because she wanted a way to give back alongside a group of her friends. Her team already had success since they started, feeding the homeless and mentoring less fortunate girls. But on that spring day, her mission was to take the next PROUDgive to a higher level. Showing leadership and guts at just 17, she took to the street and approached retailers for their support in planning and hosting a fashion show for under privileged girls so they would feel beautiful about themselves. As fate would have it, her idea became a reality when Old Navy of Riverhead, NY, welcomed her ideas.

Last weekend, Old Navy hosted the third annual PROUDgirl on the MOVE fashion show. This time it took place in three Old Navy locations in NY on the same day. Sixty PROUDgirls from Long Island walked the runways in the Riverhead, Deer Park and Bayshore on November 21 to make a HUGE difference in the lives of girls living in foster care at Madonna Heights and Little Flower, as well as for families living in shelters through the Mary Brennan INN. This proving that thankfulness is a two way street.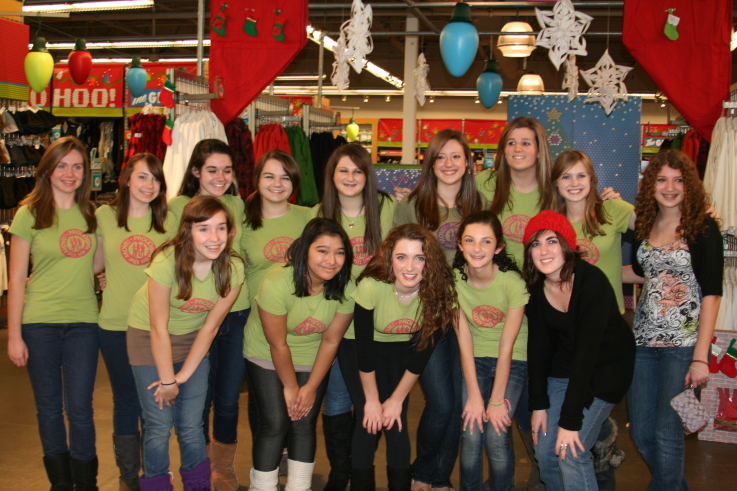 Tie-Dye Sizta's and Project: Inspire at the Old Navy Riverhead store which supported the girls living at Little Flower.
We were so thankful to have the support of Old Navy, which allowed us to make such an impact and outfit the girls and families who need our help. We were thankful for all the people who came out to support PROUDgirls in their efforts and who purchased what they could afford to do their part. Because of the generous coat discount coupon Old Navy offered for the event only, we were able to sell over 70 brand new coats, as well as full outfits and accessories, for all of the recipients.
So while it is obvious that the girls and families in need who will be receiving the coats and clothes with be very thankful, our thanks goes as deep or deeper for the opportunity to make a difference like this.
"Blessed are those who give without remembering. And blessed are those who take without forgetting." --Bernard Meltzer
FOLLOW HUFFPOST