Can you even imagine a mother telling her child she didn't want her?

It's hard to believe, yet it's something children in the foster care system know all too well.
If you ask most people, regardless if they've ever even had firsthand experience, they'd give the generic (and some would say, closed-minded) answer that raising adopted children is hard, and foster care kids, even more difficult. But, would the answer remain the same if all people had Ubuntu in mind?
Ubuntu, a traditional African philosophy, explains how we are bound in each other's humanity. Translated as, "I am because you are," Ubuntu describes a sense of unity between people through which we each discover our own strengths and virtues.
When brainstorming options with one of our PROUDgirls on the MOVE teams, we shared the meaning of Ubuntu and decided to make this a focus of our PROUDgives to come.
When we set out to visit Little Flower Children's and Family Services Facility in eastern Long Island, we went with Ubuntu in mind. We piled into two cars with the same 15-17-year-old girls and took the drive out east into uncharted territory. The ride was similar to the ride to the soup kitchen with a lot of chatty and giddy conversation. Little did any of us know what to expect when we got there.
All we knew was that there was anywhere from 9-15 resident girls about the same age, awaiting our visit. These girls were all from different backgrounds and all had different family circumstances. Most were either awaiting placement in Foster Care or waiting for their parents to be rehabilitated from substance abuse. Some families just needed help getting stability at home so they could properly care for their children.
Once we arrived the vibe was a bit more anxious (I can actually feel the nerves as I write this) As the founders of this group, we were prepared with ice breaker activities to be able to merge the gap between the two groups of girls. You could cut the air with a knife. It was challenging at first to get either of the groups to open up, especially teenage girls from different worlds, but soon the mood shifted and became "cautiously" light-hearted.
The beauty was that after 20 minutes, the girls broke out into small mixed groups to just talk, play games and connect. The Little Flower girls shared their intimate stories about the violence they had experienced at home. One teen spoke of how her own mother told her that she had never wanted her. These were stories that the PROUDgirls could not fathom; yet they were real. It would bond them for months to come.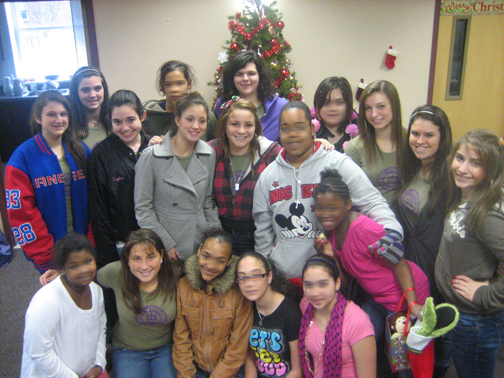 There was laughter in the room and lots of dancing, but before you knew it, it was time to go. The mood completely changed. The PROUDgirls were heading back into their cozy worlds, leaving these girls to live their lives there, without a choice. It was hard to go and we all felt a sense of sadness and guilt. The last thing we remembered as we left the facility was glancing back to see nine girls peering at us from inside the doorway, " When are you coming back to see us, can you come next week?" were the last words we heard as we piled into our car.
Our girls were incredibly humbled and realized the good fortune they all were blessed with. They felt simpatico with the LF girls. Their lives were intertwined in just two hours. They could not wait to go back.
And this began the most unlikely of friendships. With many more visits, and special events and holiday parties, their divide was non-existent. None of these girls see the differences anymore, but rather friends enjoying life together regardless of their circumstances or good fortunes.
With this example in mind, think twice about adhering to formulaic perceptions, and reach out with an open mind. With Ubuntu in your heart, imagine the possibilities of sharing and receiving love with an abandoned child. Remember it's not their fault their mother doesn't want them.
"A person with Ubuntu is open and available to others, affirming of others, does not feel threatened that others are able and good, for he or she has a proper self-assurance that comes from knowing that he or she belongs in a greater whole and is diminished when others are humiliated or diminished, when others are tortured or oppressed."
-- Desmond Tutu
FOLLOW HUFFPOST