As talk turns to hurricanes, I thought about good will toward one another, and that we Americans often rise to the occasion (or not) in times of trouble.
As Arianna pointed out recently in Yale President Rick Levin's welcome speech to the incoming class at Yale, I couldn't help but to see the connection.
"He spoke of the 'emerging burden of citizenship,' and of responsibilities beyond 'self-gratification and personal advancement.' He urged the next generation to 'raise the level of public discourse.'
He's right.
My first visit to a soup kitchen came when I was 46-years-old. Hard to believe I waited that long. I harbored a lifelong desire to work in a soup kitchen and give back to those in need. Yet, for one reason or another, it never materialized. I just needed that little push to help make that goal a reality. I think we all need that moment when you stop thinking about it and just do it.
It was my first visit to the Mary Brennan Inn in Hempstead with seven teen girls in tow that I understood the true meaning of gratitude.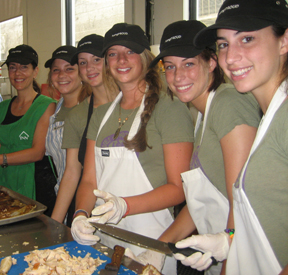 Three years ago, my friend and now business partner and I set out on a mission to change the lives of girls and women. We understood from our own experiences early on, that females tend to focus too much on what they think they are lacking, rather then being grateful for the unique beauty, gifts and inner strength they possess. We wanted to teach girls to redirect this negative inner dialog in positive action because when you do something to help others, you feel good about yourself. We launched PROUDgirls on the MOVE, a contemporary relevant leadership and community service program that does just that -- teaches girls to feel beautiful and powerful while doing good things for others.
As we drove to the soup kitchen that warm summer morning, I listened to the girls laughing and gossiping, sipping their fancy iced coffee drinks with their music blaring in the background. They had no idea what they were about to experience. They too would know the feeling of gratitude first hand. We were greeted by a wonderful crew of people and put to work immediately in the kitchen. As lunchtime approached we could see the lines of men, women and children wrap around the building awaiting their one hot meal for the day. There was an abundance of food, and clearly I thought there would be enough to feed the 500 or so guests who come to eat here on a daily basis. As the hours went by, food began to disappear, yet the guests continued to enter the kitchen. Thankfully we managed to feed everyone that day. I observed as our team of PROUDgirls served each guest, that there was mutual respect and a genuine feeling of hope in the room.
These teens were not thinking of themselves that day. They were caring for others and experiencing a feeling that transcends a day shopping at the mall or worrying too much about how bad their hair looked that day. On our drive home that afternoon, the car was quiet -- a much different energy than that morning. I know that each one of the girls quietly reflected on the many people they had helped that day and understood how blessed they were.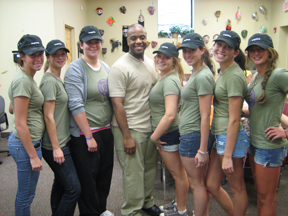 What a life changing experience. One that everyone should know, even if it takes 46 years to get there.
"I have found that among its other benefits, giving liberates the soul of the giver."
--Maya Angelou
Please inspire us and share your first experience making an impact on those in need.
SUBSCRIBE TO & FOLLOW MUST READS
The internet's best stories, and interviews with the people who tell them. Learn more