What were you doing when you were 12 years old?
If you're a part of our generation, you were probably thinking only of your friends, watching the Brady Bunch on TV and hanging out at the mall... and THAT'S IT! Did you consider using your voice to stand up for what you believed in? If you did, would anyone have actually listened?
Well, times have certainly changed since the days of Marsha's famous line, "Ouch my nose". Today tweens and teens are using their voice, taking action and creating change. And they're being heard loud and clear.
Coming off the 2nd annual Tween Summit In NYC, it was apparent how girls of all ages are motivated to create positive change. We heard from girls ranging in ages of 8-14. When asked the question, "What one thing would you do to change the world?" answers ranged from small gifts like "be nice to each other" and "stop bullying" to large ideas like "I want to start my own foundation to end homelessness" or "end world hunger" and "judge people equally regardless of social status" as well as "I would work to stop sex trafficking of women in Asia".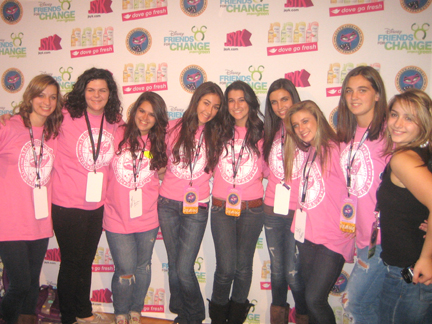 This is a generation that's on a mission to make our world a better place and they're putting their beliefs into action. From soup kitchens to mentoring girls in foster care, and to effecting girls as far as Africa and Haiti, PROUDgirls are doing their part too. They volunteered at the event and through their efforts to create change big and small, they inspired other girls to do their part as well. By the excitement and turnout at the Summit, it looks like they have lots of girls following their lead.
There were more "Change Leaders" attending and being honored, like the girls from One is Greater Than None, who started their own foundation to save children from slavery in Africa. Project Heal was honored. This organization was started by three girls who met in treatment, and supports other people struggling with eating disorders to get the care they need. Katie's Krops was started by a 9-year-old-girl and a 40-pound cabbage and has now grow to numerous gardens that donate thousands of pounds of fresh produce to help people in need.
Hearing these stories motivates us to think more about all the many things, large or small, that we can do to take a stand and create change. Even small acts of kindness make a huge impact.
It was not too long ago that one of the PGOM teams decided to give back with a small gift that helped change the outlook of one local family.
A 15-year-old boy at their school had cancer. His family was going through hell, as you can imagine, fearing the worst and trying to care for him, as well as their two other small children at home. Brian was about to undergo a bone marrow transplant that would put in him in the most vulnerable condition possible. His mother never left his side once during his month long stay in isolation.

Knowing that they could not cure Brian's cancer or ease the financial burden that the family had to endure the girls found yet another way to bring some light into this home. They simply gave what they could -- support, friendship, love and kindness and not to mention the biggest basket of goodies we had ever seen.
They took to the street PROUDgirl style and collected gift certificates from local restaurants and stores. They also collected old video games that they turned in for cash and were able to give Brian $150 gift certificate for more video games. As well as the items they collected, they made up babysitting coupons that the family could use for free if they needed support for the other children while Brian was still in the hospital. Small gestures like these always lead to positive change.
We are humbled to know that our future lies in the hands of all those young voices that are speaking passionately, taking action and being heard. Listen and learn from this generation of Change Makers.They are here to teach us all that gestures large or small can impact our neighbors and our world for the better. Take a stand, use your voice and you too can be heard.
"Do what you can to show you care about other people, and you will make our world a better place."
- Rosalynn Carter
SUBSCRIBE TO & FOLLOW MUST READS
The internet's best stories, and interviews with the people who tell them. Learn more