Think the recession is over because you keep hearing so-called "experts" debating endlessly about the impending recovery? With the jobless rate still stuck in double digits and most businesses still unwilling to hire anytime soon, the recovery still seems like a distant mirage. So for many people, the search for alternative forms of income may begin with converting that den, playroom or extra bedroom into what's become a staple of today's employment landscape, the home office.
I recently had a good friend approach me who had just lost his job. He wanted to take charge of his own financial destiny, but he seemed paralyzed with indecision on how to go about creating their perfect home office. So if you want to work in your pajamas all day and you're not Hugh Hefner, here are a few simple tips to get you started:
First identify all the activities that will occur in that space. For example, will it also be used as a guest room? Will kids be doing their homework in there too? When you envision your space, remember that if you want to use your new home office as a tax write off, the IRS requires that it must be a dedicated space used only for work. So if you want the tax write off, don't put the 50-inch TV, the popcorn machine, the pony keg and the giant overstuffed couch in the same room.
Next check the electrical: you're going to have to power a computer, printer, fax machine, lighting etc. Whenever possible plan the placement of furniture around your electrical outlets, so you can hide the tangle of power strips and extension cords. One of my favorite solutions for hiding unsightly cords is a privacy panel. This is a simple hinged cutout along the base of the wall that can open and close, creating a "secret" space where you can hide your wires, power cords, etc. Adding a touch latch keeps the look clean and also provides easy access.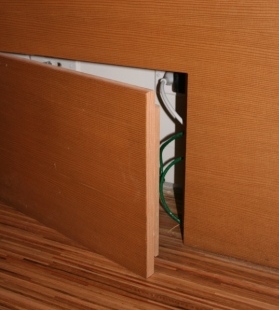 Always run everything through a surge protector and make sure you have good incandescent lighting. Stay away from fluorescent unless enduring hours of hideous skin tone and eye strain is your bag.
Also think about going wireless with all your equipment. If you're tech savvy, great, but if you're like me and still think the cordless phone is breakthrough technology, invest in a computer guy to set up your system. Eliminating wires is a nice clean look for your office, and also allows complete freedom in placing your equipment when you plan your space. I love using a wireless keyboard and mouse for my computer, which removes a lot of needless clutter from my desk.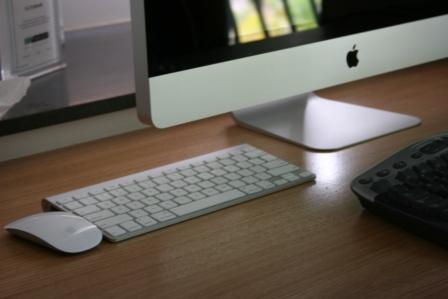 Remember, your printer doesn't have to be a monstrosity! Most printers are compact, and are excellent multi-taskers, so get an all-in-one model that can double as a scanner and a fax machine as well.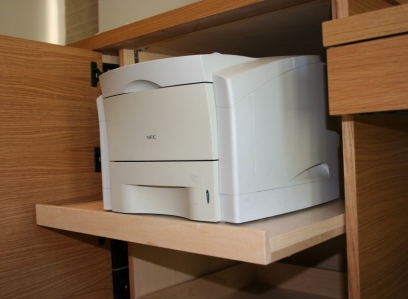 When choosing your desk, make sure you have checked that it's an ergonomically correct height for your keyboard, and if it's a small room consider a table desk to give the illusion of more space. A solid desk can cut a room in half and make your space feel cramped.
And don't scrimp on your desk chair - yes, I know the good ones are expensive, but think about how many hours a week you'll be spending with your butt and back in that seat. Be kind to yourself and get a chair that makes you happy. And don't forget to choose one with wheels and a swivel so you can move easily around your space.
Clutter is the root of all evil when it comes to a home office, so a well organized filing system is a must. Some creative ways I like to keep piles of paper off my desk is to install a hotel style shelf system that hides all your files and also prevents you from having to constantly bend over low drawers to find what you need.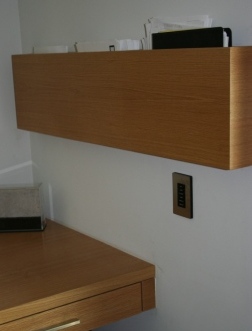 Another way to avoid those ugly metallic filing cabinets is to use other materials to house your filing system. For example, our company designed and built a gorgeous leather cabinet, trimmed in metal, that includes a magnetic lock that will keep all your important papers, such as financial records, safe and sound.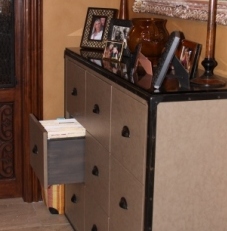 Other creative filing techniques that I recommend include nifty leather boxes that pull out for easy access and cork board on the inside of your cabinets, so all your to do lists, phone rosters and reminders can stay hidden, again reducing the feeling of clutter in your office.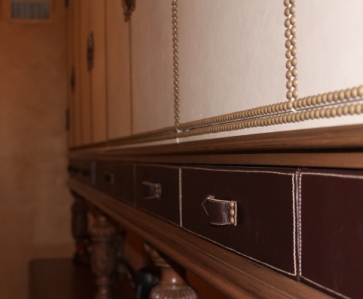 &nbsp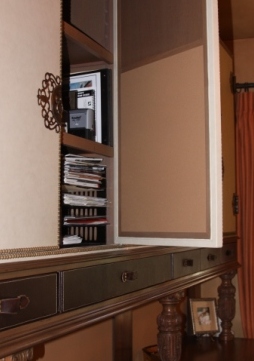 Since you will be spending a lot of time in your new home office, I suggest you paint your office a color that reflects your work personality. If you like energy, paint it red, if you prefer a more chill atmosphere, a nice serene green might be to your liking. And if you need shelf space, take off those closet doors and convert your closet into a recessed credenza with bookshelves. Looks cool and saves a ton of space!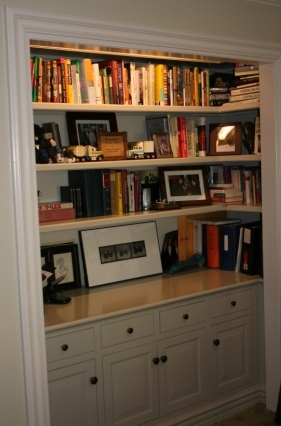 So get to it and make your dreams come true! Remember, Steve Jobs started Apple in a converted garage, so don't be afraid to reinvent yourself with a fun and functional home office!
And P.S., buying lottery tickets does not count as a business plan.
SUBSCRIBE TO & FOLLOW THE MORNING EMAIL
The Morning Email helps you start your workday with everything you need to know: breaking news, entertainment and a dash of fun. Learn more