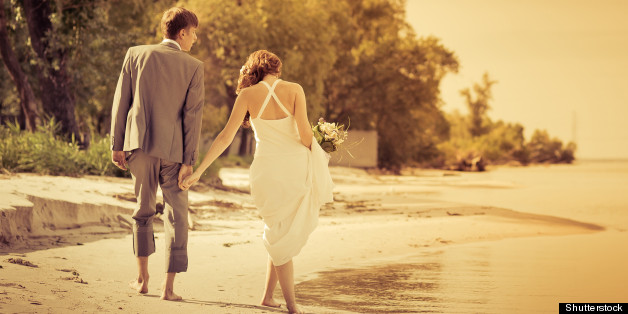 I'm at that age where everyone around me is getting married. Save-the-dates are arriving in my mailbox in cute little monogrammed envelopes, and of course, there's the classic magnet with the smiling couple looking at me with adoring eyes. I actually really like those.
Personally, I love going to destination weddings because it's like a forced vacation, and you know that at least on the night of the wedding you'll be eating and drinking well. Plus, there's the time-off factor. Oh, I can't make it into work this week, I've got a wedding. You want me to go to your boyfriend's cousin's sister's bachelorette party that I've met once and really can't stand? Oh sorry, I have a wedding. You know how it goes. This forced vacation will cost a pretty penny though. Between the dress, the flight, the shoes, the underthings, the food, the hotel, the planned three-day activities (you know how those destination weddings are), the hangover brunch -- it adds up. And if you're a bride, having a destination wedding can be stressful when you're not planning on your home turf, and can add up real fast. So here are my tips for both sides of the party:
Bride:
Being a vendor myself, I'm a huge fan of planners no matter what, even for a small local wedding. It helps to have that person coordinate the details, bounce off ideas, and be the point person the day-of. For a destination wedding, a planner is a must. In the long run you'll save money by having the planner negotiate with all of the vendors on your behalf. Referrals are always best, so ask other vendors who they like to work with, research online using review sites like
The Knot
, and make sure to have a consultation. It matters more that you two click, and not their huge client list.
Have an Inspiration/Vision Board:
I love
Pinterest
for the ease, plethora of ideas, and because it is so user-friendly. Make sure your florist has access to it so that you're on the same page as far as your "look" or vision goes. If you're getting married in a remote place, then the florist will use what is available, so as long as they're on the same page as you, you'll end up with something similar to what you imagined for your big day.
Be open to substitutions too! Weather plays a huge factor in availability when it comes to flowers. Have a back-up plan with your florist. Sometimes year-round flowers won't be available the week-of, so be sure to ask what the substitution alternatives will be, especially in another country. It's not necessary to have a mock-up for a destination wedding, but if you are going to the venue beforehand, then ask to have one made if your design is something unusual.
Bridesmaids/Guests:
No one wants to be stressed at the wedding because they spent so much to get there! I always look for the best deals possible so that I won't feel so bad splurging on a nice dinner at the destination. And since it is a forced vacation, you should look into extending your trip after the wedding -- I mean, you're already there, right? I use sites like
Expedia
for
packages
(hotel plus flight, car, etc). Always do a package because it's usually cheaper, especially if you're traveling with another person. And always look at the Deal section first! I don't think I've ever paid full price for a hotel or flight.
When you're in the wedding, it all adds up, as I mentioned above. If you have a certain skill, like baking for instance, offer your time or craft as the gift. Create salted caramels as favors, or as a treat for the couple to come home to. If you cook, offer to help with a family-style meal for the rehearsal dinner. If you're an artist, create a keepsake for the couple, like a custom sign-in book that they'll have forever. You can also find cute and custom gifts on sites like
Etsy
that are more personal than what's on the couple's registry. I love custom initial necklaces and cufflinks. Plus they can be shipped directly to the couple.
For Both:
There's only one thing I suggest for all involved -- enjoy your time! As you know, the planning is a long process and can often feel all-consuming. Enjoy the planning, enjoy all of the stages, enjoy the day. All of the memories will make all of the stress worthwhile. Cut corners where you can, splurge on what's important to you, and surround yourself with people you love. That's all you need!
This Blogger's Books and Other Items from...
SUBSCRIBE TO & FOLLOW LIFESTYLE
Get top stories and blog posts emailed to me each day. Newsletters may offer personalized content or advertisements. Learn more