I recently found myself involved in a discussion with a 20-year-old friend about how striptease could be an empowering experience for a woman and how it could also be completely free of sexual content. My friend didn't buy it; she was into feminism and allowed no room for grey areas on the subject. A woman taking off her clothes or posing scantily clad is an object deprived of dignity and self-respect. "It's simply degrading," she insisted, which made me smile. "I speak from experience," I replied.
While telling her my story, a whole range of forgotten emotions and details came back to life. It happened in Romania, a month after the coup d'etat that passed as a revolution, twenty years ago to the day. The long oppressed population initially had high expectations; those who ventured into the streets to protest Ceausescu's regime were convinced, for that short interval of time, that a real revolution was taking place. Drab existences were experiencing color for the first time; nothing compares with the exuberance of breaking free from a dictatorship - it's one of those things one has to experience personally in order to fully understand it.
All of a sudden everything was possible, even the craziest ideas.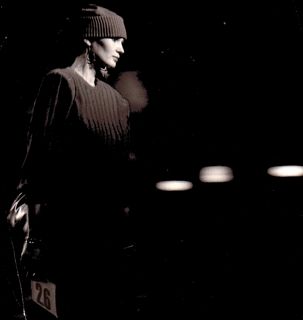 That's why, when I was asked to join a group of well-known comics at the time for a televised show filmed entirely inside Ceausescu's private conference room at the Presidential Palace, I eagerly accepted. I was a well-known model in Bucharest and they told me that my part was to strip on top of Ceausescu's desk. I said "YES," without giving a second thought to the fact that I never saw, let alone performed, a striptease in my life.
I had little time to prepare and I was given complete creative freedom. This was to be the first televised striptease in Romania.
I considered the whole thing a burlesque performance, theatrical, to be done on my own terms. The idea of complete nakedness never entered my mind. I went to some trouble to find a beautiful bathing suit - Romania was a very deprived place - and got to work to create the rest of my look. I rehearsed down to the tiniest detail my movements in front of a mirror. The way I saw it, this was not about sex, but about a subversive dialogue with the public about misguided politics and false social morality.
Feminist ideas were unknown to me at that time and to be honest I wouldn't have cared anyway. This was not about losing my dignity, but about finding it.
Once on top of that desk, in front of the rolling camera, I was creating art. This was my liberty dance, my welcome to the new life I was never allowed to have before. I felt beautiful - like a beautiful human being, not the robot I had been meant to become. That moment became my private revolution, my empowerment and what I felt was pure pride.
If some feminist would have challenged me at that moment I would have laughed and pitied her for not understanding.
I didn't initially consider what my parents would think when they'd see me later on TV, but eventually I became concerned about it. My parents were both teachers, living in a small town full of provincial people. I started to feel a little nervous at the thought that my actions might hurt them somehow, since people in their parts were quick to judge, especially things they didn't understand.
I was told that the show was to be broadcast the coming Saturday night, prime time, and it was being advertised extensively in the meantime. I decided to leave things to chance and not mention anything to my parents in the hope that they would somehow miss the show.
That Saturday I watched "the first Romanian striptease" alone in my room in Bucharest, on a black and white TV. It was a resounding success. My parents, who saw it in spite of not being informed by me, took things differently at first, after being subjected to many nasty comments from people in their town, but in due time they came to admit that they actually liked my performance and thought it was "very classy." They showed touching curiosity about the makings of the program and the location. I provided them with all the details they wanted. They particularly appreciated my descriptions of the massive oak desk, with its shine slightly worn out where the dictator's hands had rested, and its massive drawer with a pure gold handle. They would ask me innocent questions, like "Did you touch it?" and I would nod, feeling moved by their love and respect.
My young friend predictably and obstinately hung on to her position, but I decided to let it be. I was once that age too.
SUBSCRIBE AND FOLLOW
Get top stories and blog posts emailed to me each day. Newsletters may offer personalized content or advertisements.
Learn more