Those "community organizers" that Rudy Giuliani mocked at the Republican National Convention proved to be a uniting force here in Delray Beach this past weekend -- a city that has twice been named an "All America City" by the National Civic League (1993 and 2001).
And when Sarah Palin said that small town mayors are just like community organizers except that they have "real responsibilities," Republican crowds loudly applauded her. But Delray Beach' community and neighborhood organizers showed that their work brings people together. Consider it a tribute to "community organizers" everywhere.
The Delray Beach Multicultural Festival on Sunday, October 12th, drew a record crowd of more than 2,000 people (of all shades and persuasions), said Carolyn Gholson, 66, a Delray resident who helped organized the affair with her daughter Paula Phillips, 36. The party included free barbeque and entertainment including singers, dancers, mimes, deejays, contests and games for kids. Gholson said it started 11 years ago, the brainchild of a Delray police officer, and is sponsored by several local neighborhood associations, businesses and merchants who contribute time and services. It's fully staffed by volunteers.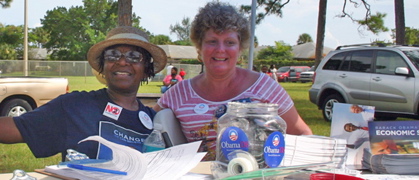 "We have so many different and beautiful people living here that we wanted to come together for a day to share our lives and experiences in a celebration of diversity. Everything has always been free, thanks to the many wonderful businesses that help us out," said Gholson.
The 2000 census placed the population at 60,020 people, with 26,787 households. The racial makeup is 66.49% White, 26.63% African American, 6.97% Latino, 0.17% Native American, 1.08% Asian and 0.08% Pacific Islander. That diversity has surely grown in the years since, said Delray Beach Public Information Officer Rosanne Dechicchio.

The Festival is a showcase for various groups, including church organizations, that work together to promote harmony and lessen the perceived differences between races and nationalities, Gholson said. Environmental groups are there (Sierra Club) and political organizers with the Barack Obama Campaign for Change (the Florida Democratic Party).
Asked about the specter of racism injected by John McCain's Campaign, Gholson said optimistically, "We're hoping that Barack Obama's candidacy shows the promise of equality in America. After all, we all want the same things for our families and our nation, don't we?"
Bunny Elrod, 67, and Lindsay James, 27, were having fun at the festival. Elrod said she was undecided until recently. "But when McCain picked Sarah Palin, that sealed it for me. She's a poor pick and certainly a bad representation for Republicans." James likes the diversity and decidedly 'unposh' attitude in Delray, compared to nearby Boca Raton. "Really, Palin wants to take away a woman's right to choose, and what about making rape victims pay for their own rape kits in Wasilla?"
"I think Palin and McCain have now just appealed to the lowest common denominator and awakened racial divides we haven't seen in years-and perhaps thought were finally fading away."
Shirley Johnson, working the Obama booth at the festival offered that racism seemed always to be just "below the radar in this campaign. And Barack Obama knew it would be thrown at him. When that woman at the rally said he was an Arab I was surprised. I was expecting her to say, 'he's Black.' So, since when have Arab-Americans not been eligible to run for office or considered less than other people? That was just awful. Listen, everyone has helped to build this country. It doesn't matter what color you are and it should never matter. This is America. And when Sarah Palin kept saying that Obama's been 'palling around with terrorists,' well, that unleashed the hounds."
It must frustrate the Republicans, Johnson said, that "Barack Obama is not an angry Black man. Right now, we need someone who shows a presidential presence, is respectful of others, and he's done that. I think that's why he's gone out far ahead in the polls."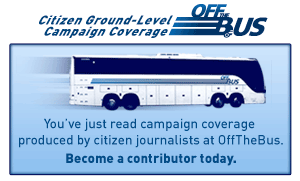 SUBSCRIBE TO & FOLLOW THE MORNING EMAIL
The Morning Email helps you start your workday with everything you need to know: breaking news, entertainment and a dash of fun. Learn more