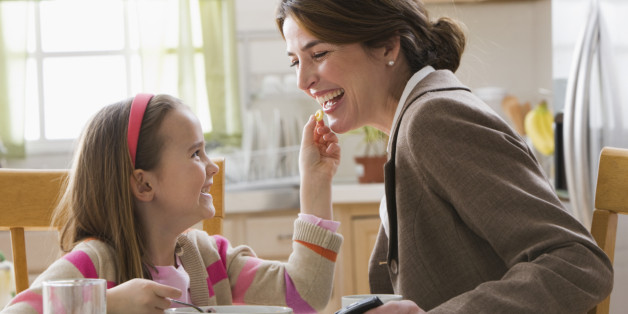 I've been a breadwinning mom -- out-earning my husband, Bob -- for most of our 28 years of marriage. In 1988, this was such a novelty that Oprah invited us on her show to ask how our marriage could survive this upending of the usual male/female relationship. Being on Oprah put us in hot demand on the media circuit, because husbands who earned less than their wives were embarrassed and refused to go public. Bob, always an independent thinker, was proud to be on national TV with our atypical story.
Still, I was surprised when the 2013 Pew Report revealed that so many moms were now in this previously embarrassing position: In 40 percent of U.S. households with kids, women are the primary breadwinner (almost two-thirds of those are single moms).
Our role reversal deepened as my career took off. Bob grew roots that wrapped around the community, volunteering for the fire department, ambulance corps, PTA and New York Guard. He revitalized the ambulance corps by recruiting mom volunteers and was named Citizen of the Year by the PTA. I was proud to rush home to attend the ceremony in his honor. His volunteering kept me grounded in the community while I focused all of my home time on our kids. At work, I felt I could go at the intense pace I enjoy, eagerly following the career path that twisted and turned ahead of me. The obligation to "bring home the bacon" felt heavy when things went wrong on that career path, and the stress was high when Bob and I disagreed on how to parent. Yet the choices we made were genuine to our personalities and needs. Every decision was incremental to the last one. We didn't have a grand plan. We just followed our deep inclinations without being constricted by ingrained gender rules.
As you can imagine, I am very proud of the research we conducted in partnership with PwC, on breadwinning moms. Released this week, the Working Mother Research Institute Breadwinning Moms report has some fascinating findings: 29 percent of the primary earner moms surveyed deliberately planned to be the breadwinner in the family, and those moms were significantly more satisfied with their status than those who fell into the role by accident (like me) or by necessity (partner lost his job). Breadwinning dads report being far more likely to be pleased by their status than breadwinning moms (75 to 46 percent, respectively). And 70 percent of both mom and dad breadwinners say they believe society is still more comfortable with men as the primary earners, even post-recession.
The red flag flies over the difference between moms' and dads' satisfaction with the way housework tasks are divided-there's a 16 point gap (60 vs. 76 percent) and yes, it's moms who are much less satisfied than dads about who's doing the housework. Even as they have spar over housework, both breadwinning moms and dads report a high satisfaction level in their partner relationship: 80 percent for the dads and 72 percent for the moms.
The slow but steady advancement of women into higher paying positions and careers means that breadwinning moms will most likely continue their current growth trajectory. This can be a win/win social development if dads continue to take more responsibility at home and if society catches up to support the reality of the career mom phenomenon. From one breadwinner to all the others, I want to shout: be proud of your accomplishments and your role in your family!! You are saving the American economy and you are trailblazing for generations to come!