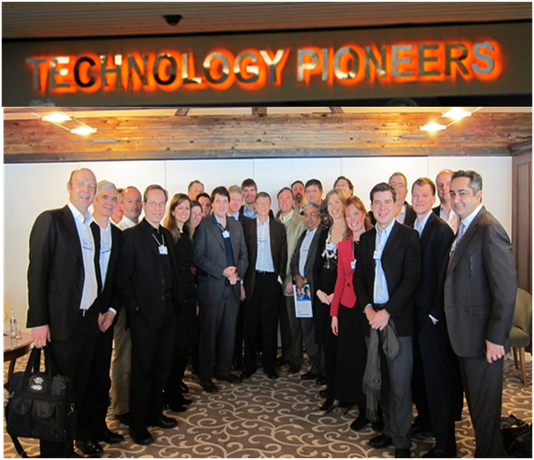 When I looked at the recent Business Insider's top 25, I realized that Davos is a different experience for each attendee. My experience is jaded by the fact that I am a Technology Pioneer. We are not your typical Davos attendees; we are not elected officials or top government leaders; we don't run major organizations like the World Bank or the UN; we aren't CEOs of the Fortune 25 companies. Yet we have the "white badge" and for one week we mingle with all of the above.
So I thought I would create my own list of "bests" for Davos. Not to contradict the top 25 award, but to see Davos through a different lens. So here is one Technology Pioneer's Top 10.
Best Presentation - We thought we would get a lecture, but we really had an intimate chat with Bill Gates. He spent one hour with the Technology Pioneers. No presentation, just talking. My favorite part was Bill's stories about his passion and dedication in the first years of Microsoft.
Biggest Surprise - Awareness of the potential for mobile banking to change the world. At almost every session on growth and social issues, Mobile Banking was discussed. Half the world lacks basic affordable access to banking. It cripples the poor and keeps them from participating in economic development.
Best Host - Olivier Schwab who now leads the Technology Pioneer program at WEF. He and his team supported our participation before and during the Davos conference. They paid attention to numerous details, arranged our Bill Gates private session, and made sure we got invitations to key evening parties and events.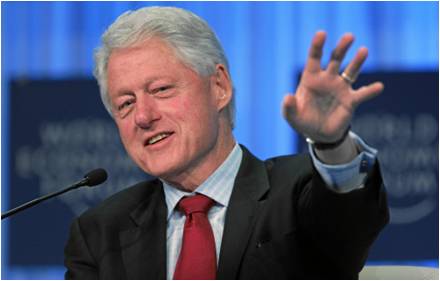 Most Inspiring - Bill Clinton! His world attitude is contagious: optimistic; informed; and passionate. I couldn't help but fight the secret serviceman who tried to keep me from talking to Bill about Mobile Banking. I made it through the crowd and we talked about mobile banking for 5 minutes. Bill was informed and passionate about the potential, especially because of his work in Haiti.
Biggest Impact - The relationships we built at Davos. A founder of an emerging tech companies is sometimes a lonely life. We built deep connections this week which will expand what is possible for each of our businesses. Including the connection we made with other technology pioneers. Two special new connections for me are Elisabeth de los Pinos and Brij Kothari .

Biggest Thanks - Each year there is a soiree sponsored by one country. This year India sponsored and the theme was "Inclusive India". It gave attendees a glimpse of the beauty and diversity of India.
Most shocking - Egypt turning off the internet. I still haven't heard from my friends in Cairo - I'll never take the internet for granted again. A runner up: finding out from conservation international chief scientist, Dr. Gregory Stone, how much plastic waste is damaging our oceans. I'll never buy a plastic water bottle again!
Biggest shift - increasing my voice. All the discussions about inclusive growth and global threats got me going. I chose not to stay silent when my knowledge and experience could have an impact on discussions. I sought out leaders, no matter how powerful, to inform and advocate about Mobile Banking. I blogged on Huffington post, tweeted on @DAVOS, asked my supporters to post to their communities. There is too much potential to stay silent.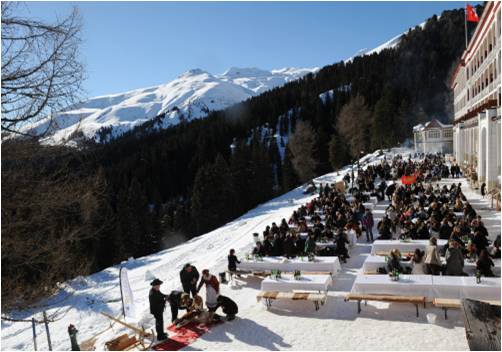 Best Party - I have to vote for the brunch on the last day. The funicular ride takes those who stay to the end of DAVOS up to a former sanitarium with the view of a lifetime. We ate incredible food and had our final conversations. If you ever go to DAVOS, it is a "must do".
Best Gift - Hands down, the best gift I got in Davos was the gift of inspiration from other participants. Runner up was the gracious treatment from the people of Davos.
This gift will last a lifetime.
SUBSCRIBE AND FOLLOW
Get top stories and blog posts emailed to me each day. Newsletters may offer personalized content or advertisements.
Learn more