We, the crew, would be staying at the Hotel Du Ministre, a tiny hotel on the Right Bank. Though I had recently quit being an art teacher to become a stewardess, I longed to see the Left Bank and its bohemians. It was 1966 and I was sure we were sleeping on the wrong side of the river.

Paris smelled of petrol and hummed even as inexpensive Deux Chevaux backfired in the distance.

As our crew bus drove past the Arc de Triomphe and down the Champs Elysees, I gazed in amazement. I was really here. The city of Marie Antoinette and all those Louis's and Balzac and the Louvre, Fontainebleau, Notre Dames and chateaubriand. So much sightseeing to do, and as my escort I had a date with a man I'd met in Rome. He was a Count who looked a bit like Oleg Cassini, grey haired and mustached. We had planned a rendezvous in Paris. He had wanted to take me to a club called New Jimmy's. He was enamored of me but I was cautious of him as he was much older.
After I slept to try to adjust to the time change, about 9 p.m., Albert met me at my hotel.
"Have you ever heard about Regine?" he asked.
"No," I said.
"She is the toast of the jet set. Tonight you will see glamour that you do not have in America."
When we walked into New Jimmy's, a red-headed, plump Regine was leaning with one elbow on the bar, smoking. "Darling, Albert, when did you arrive?" she said, while kissing him on both cheeks.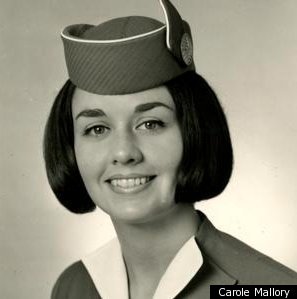 After he introduced me to the legendary "the Queen of the Night," we sat at a small table by the dance floor. We sipped Dom Perignon by candlelight as we watched Brigitte Bardot dance. "There's Alain Delon," Albert said. I wasn't sure who Alain Delon was, but I assumed he was a film star. Then we danced to Sinatra and French pop singers Johnny Hallyday, Francoise Hardy and to their disco rhythm under flashing lights amidst the beautiful people, Albert made me feel beautiful and so did Paris. About 1 a.m., he dropped me at my hotel.
On Day Two after a croissant and du café, I jumped in a taxi to meet him for lunch on the Left Bank at La Coupole, the epitome of the grand brasserie in Montparnasse. It was a big restaurant. Filled with artists, I was told. Albert was a restaurant buff and told me former patrons were Picasso, Hemingway, Josephine Baker, Dali, Calder and Fitzgerald. Its interior was nothing to write home about and resembled an enormous rail-station waiting room, but its charm was its heritage. The tables were covered with paper while crayons were in a holder.
Albert drew my portrait on the paper table cloth then wrote a note, "'Til Rome. When, my petite?"
"Next month. I promise," I said.
He then ordered bouilliabaisse while I ordered steak frites. I could never get enough pommes frites!
As I glanced at the patrons at La Coupole, I was glad I had chosen this restaurant filled with artists instead of going to the Tour d'Argent or Maxim's which Albert had suggested but felt were bourgeois. "Regine's was bourgeois so, my Carolina, I have shown you enough of that lifestyle for your first trip to Paris. It is important that you see both the bourgeois and the bohemian which together make Paris the most wonderful city in the world."
After lunch Albert took me to San Germain des Pres, the Sorbonne, which dated back to the 13th Century, and the Jardin du Luxembourg, then we strolled across the Seine to the Iles de la Cite, the epicenter of Paris, and took in a view of Notre Dame.
Now famished, Albert hailed a cab to drop us at his favorite restaurant, Le Grand Vefour tucked away in the Palais Royal near the Louvre.
"This is the perfect blend of bourgeois and bohemian, my Carolina. It boasts one of the most beautiful restaurant interiors in Paris and has been around since the reign of Louis V." Albert always the historian, told me Napoleon, Colette, Hugo, Cocteau dined here. We began with pate and truffles and sea urchin, not my choice.
"I'm going to try the pigeon and suggest you try the oxtail," Albert said. "Then we can have a chocolate soufflé and profiterolles which we can share if you like." I was not going to disagree with Albert as I was not a connoisseur of French cuisine.
When Albert held me and we said our "au revoirs," I was also saying goodbye to Paris. The next morning, I boarded our 707 to fly to Tehran.
Onboard, I pulled out the crayon note Albert had written on the paper table cloth at La Coupole and wondered if I would still feel this love for Paris in years to come.
I do.
SUBSCRIBE TO & FOLLOW LIFESTYLE
We're basically your best friend… with better taste. Learn more