It's a little over a month since I was last in Niger, West Africa. The rainy season is well underway and it has transformed this landlocked country, bordering the Sahara.

Just a few weeks ago, I drove through arid landscapes where spiky trees and shrubs were the only patches of green punctuating the bleached desert terrain. It was hard to imagine that anything could grow in such inhospitable conditions. But now regular rains have allowed desperately hungry families to begin planting their crops and praying that this year's harvest, due in two months' time, will be better than last year's.
Driving towards Filingué department in Tillabéri region, about four hours north of the capital, Niamey, I marveled at how green the land looked. Tens of thousands of animals have died in the last few months -- leaving families, who lost their prized livestock, questioning their future and entire way of life. But now pasture is growing back, animals that did manage to survive are regaining their strength and gaining weight. Waterholes are full and in some areas, millet has grown to peoples' head height.
You'd be forgiven for thinking all was well. But the greening of Niger only masks the food crisis which is now at its peak, affecting more than seven million people, about half the population. While animals are now recovering; families are still desperately hungry. Hundreds of thousands of children face starvation. 17 percent of children under five are classified as acutely malnourished; above the 15% threshold which is considered a global emergency.
As I arrived in the village of Sabongari, where Oxfam and its partner, Timidria, have been carrying out relief activities including distributing cash vouchers so villagers can buy food basics and providing subsidized animal feed, a large group of villagers soon gathered around.
"We saw your cars driving to the village and came running here from the fields, where we'd been picking wild leaves to eat" said mother of nine, Maimouna Saidou. A few minutes later, some children arrived with plastic sacks full of the wild plant, known as "gassiya", which, families explained, they would cook and mix with manioc flour so they could at least have one meal a day.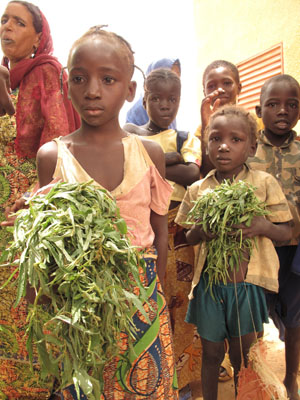 I asked Maimouna if she was more hopeful now that the rains had come and crops were growing.
"What crops? We haven't planted anything. We ate the seeds because we were so hungry", she said. "What is our future? Its all up to Allah".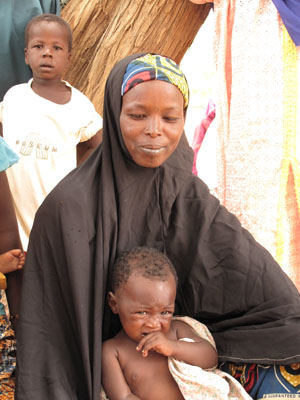 But Basira Abdoukarim, who'd planted some millet, was more optimistic.
"We think everything will change when we can start to harvest in two months' time", she said. "But still, for now, there is nothing to eat. It is a struggle. You can see my son...he is malnourished", she said pointing to 11 month old Anas.
"The days are long; there is so much suffering. The only hope we have is with Timidria and Oxfam. They help us a lot; they help to ease our suffering".
Her neighbour, mother of ten, Sahiya Hamza, nodded her head in agreement. "The hunger is still very bad. I have no milk to feed my child.
"My husband isn't here in the village anymore. He left three months ago to go to Niamey to find some food and work. But he hasn't sent us anything. And I cannot feed my children."

Emergency aid funding for the worsening crisis is still insufficient and slow to arrive. And time is running out.
And if things weren't bad enough, flooding caused by heavy rains in several parts of the country, including several villages in Filingué, are causing more misery and uncertainty for people; washing away houses and crops that had been planted.
Further flooding will only hamper aid distribution and increase the risk of the outbreak of water-borne diseases. Urgent help is needed now - and fast - before its too late.

SUBSCRIBE AND FOLLOW
Get top stories and blog posts emailed to me each day. Newsletters may offer personalized content or advertisements.
Learn more