Mother of three, Louise Blagnon, sits with her extended family in the open air of the grounds of an abandoned school in the south-eastern Liberian coastal city of Harper. The sun beats down on us as we talk; and the only shelter is provided by some leaves which form a makeshift roof on the hastily-erected wooden structure that the family now sits and sleeps under.
Louise's face is etched with anxiety. She's clearly traumatized by the events of the past week -- which saw her husband, Jean Toto Blagnon, an agricultural expert, beaten to death with sticks and the family forced to flee their home in Tabou city, in the Ivory Coast, and seek sanctuary in neighboring Liberia.
"The war made us flee. I was running with my husband and children, but they caught my husband. The rebels caught him and killed him," she told me.
"We went from village to village. Then we crossed the river and they brought us here. They killed my husband and I came here with all my family. Now, we have nothing. We have lost everything."
Like many new arrivals in Harper -- which saw an influx of more than 9,000 refugees in the space of just a few days last week -- Louise tells a story of her village coming under attack and many deaths. Now, frightened and without any possessions, she is seeking shelter and help in Liberia, which is housing more than 100,000 refugees.

"Now, we have no food, there is nothing to eat; we have no mattresses; we have to sleep outside here and it rained on us", she said. She worries about the future -- especially for her children.
There are more than 4,600 refugees staying at the transit site in Harper. Its estimated that more than 4,000 others are staying near the border in Liberian villages, where local communities have been providing some food and shelter.
Most walked several days before arriving in Liberia, having fled for their lives. Oxfam has been helping to provide some of their basic necessities: clean water, washing facilities, toilets; as well distributing hygiene items such as buckets and jerry cans. The site, designed for just 1,500, is overcrowded. Not everyone can sleep in a tent; many, like Louise and her family, sleep outside; other families have occupied bare rooms in the derelict school, sleeping on the floor.
Most refugees here have experienced and seen violence -- some of it extreme. They speak of villages being burnt; looting and fighting.
Whatever the political developments of the past few days, none I spoke to were ready to return home any time soon, such was their fear of further retributions and revenge attacks.
Driver, Katchi Remi Moulehi, a 47 year-old father of four, is among them. His house was burnt down and two of his brothers were brutally killed with knives. He said he has "no reason" to return.
"There is no security and I have no confidence that it's safe to go back", he said. "I don't think I can go back to the Ivory Coast because of what happened."
Gnepadé Se, a mother of five, lost her youngest daughter, seven year-old Hie Gnabe, and her husband, Koutie Se, who worked on a rubber plantation, as her village came under attack.
"The rebels entered our village. My husband wasn't involved in politics. We don't get involved in politics. I don't understand why my husband is dead."
Gnepadé Se and her family sleep on the floor with hundreds of others in the abandoned school building. She looks dazed and exhausted.

"My spirits are all mixed up; my soul is disturbed. I don't know why my husband is dead and why my child died.
"I'm in Liberia now. I'm in the hands of those who can help me. I have nothing. I am a poor woman. I have nothing."
Aid agencies are doing what they can. But funding to tackle the emergency is still woefully inadequate. The UN emergency appeal for Liberia is only just over a quarter-funded. The humanitarian crisis is far from over. It will take months, possibly even years, before those displaced by the violence in the Ivory Coast and Liberians, who are hosting them, can start to lead normal lives again.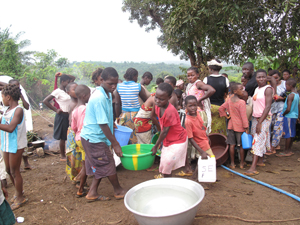 FOLLOW HUFFPOST