Simiri commune, in Ouallam district, about an hour and a half drive from Niger's capital, Niamey, is by no means one of the worst-affected areas of the country which is currently hit by the worsening current food crisis. There areas further north in the district where the situation is said to be very serious.
But even in Simiri, things are dire.
I meet a group of men sheltering in the shade. "It's a catastrophe" they tell me as I ask them how things have been.
More than 80% of Nigeriens live in rural areas like this, depending on farming and stockbreeding for their livelihoods. It is often said that for most people, livestock are their bank accounts. If times are good they'll buy more animals, which is seen as an investment in the future. But now times are bad
Most of the men in Simiri commune, who used to have animals, have been forced to sell them in order to buy food to feed their families.
Two men told me that their cows had died within the last 9 days. There was no food or pasture for them and little water; they'd simply collapsed from starvation. Oxfam had distributed animal fodder in the commune, but the men tell me it has all been finished.
Father of four, Djibri Daouda, showed me his cow. "Last year, I had to sell two cows so I could buy food for the family," he said. "This was my last one", he gestured, pointing to a drying carcass in the sandy ground which surrounded by flies. "It died nine days ago"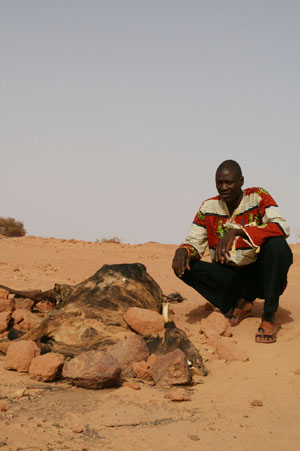 Djibri Daouda and his dead cow
He showed me the family's empty granary. The small harvest of millet was finished many months ago. "Only mice come here now," he said wryly.
Apart from the cows, he used to own goats, sheep and several chicken. But his only remaining hen is sick and no longer lays any eggs. The family mainly survives on a diet of wild leaves mixed with cassava flour.
"I just pray to God that we can get through these difficult times. If we can survive this, then maybe we can start to have hope again."

These are worrying times. And it's just the beginning of the most critical time in Niger, known as the hunger gap season, with several months to go before the next harvests in September. People have already exhausted most of their coping strategies -- selling livestock and family assets.
"People here face death, that's all," said father of eight, Moussa Kolikoye. "We are just surviving on wild leaves".
Moussa once owned more than 30 goats, 13 sheep, 9 cows, a donkey and two horses. But over the years, he's had to sell his precious livestock. And his last sheep died late last year.
"This year, I have nothing. But I have two wives and eight children to support. Sometimes, I can earn a little money, but I don't have much strength. I'm so weak from hunger. People here face death, that's all. We can go for 3-4 days without eating properly; just surviving on wild leaves."
A short drive away, I stop at the village of Zontondi. Men are selling firewood they've collected at the roadside -- one of the few activities that can earn them any money. Even so, they have to walk by foot for nine kilometres or more to find any wood, leaving early in the morning and returning at night.

"There's been no rain and no millet. I can't even remember the last time I ate meat" said 32 year old father of three, Moussa Moumouni.
"These are the worst times I can remember", said 50 year old father of 12, Younoussa Mahmoudou, "far worse than 2005." That was the last time Niger faced a serious food crisis. This year, people say, hunger is more widespread. And they can only pray for help to arrive to get through the next few months.
Oxfam has launched an emergency appeal for its work in Niger and other countries affected by the food crisis across West Africa's Sahel region.

www.oxfam.org.uk/emergencies

SUBSCRIBE AND FOLLOW
Get top stories and blog posts emailed to me each day. Newsletters may offer personalized content or advertisements.
Learn more