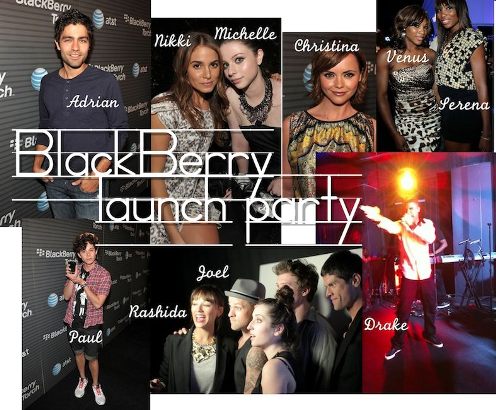 Adrian Grenier is a trooper: he was the first person I saw (giving interviews on the red carpet), and last person I saw (mingling on the curb in front of BlackBerry's free hot dog truck) at the party tonight while leaving the party. Despite the swarm of paparazzi 30 feet downwind of the exit, they, for some reason, didn't seem to notice.
Lots of LA Natives tonight including Rashida Jones (actress & daughter of Quincy Jones) who was hanging out with Joel Madden, Anthony Mandler (music video & commercial director, also produced the Snoop Dogg Show), Zelda Williams (daughter of Robbin Williams and budding actress), Katie Danza (daughter of Tony Danza who was also at Nylon party last night), RJ Williams (Young Hollywood), who brought along his new brand strategist Tracy Behr, and moi!
Nothing turns out a party better than giving away free BlackBerrys ... Other celebs include: Venus & Serena Williams, Christina Ricci, Gloria Votsis ("Alex" on White Collar, my favvvvorite show), Mario Lopez with a very very pregnant Courtney Mazza, Amber Valletta, Anna Kendrick, Christian Serratos (Twilight), Mark Saling, Lea Michelle (Glee), Felicity Huffman, Paul Iacano (from RJ Berger), Gina Gershon, Rachel Hunter, Jessica Lowndes, Shenae Grimes, Amber Lancaster, who was with her buddy and friend of the Truffle Angie Banicki.
I am GIVING AWAY my BlackBerry Torch here on The Daily Truffle as I do not have AT&T. Check back soon for details :)
Read the rest of this story on The Daily Truffle.
Sent from my Verizon Wireless BlackBerry ;)
This story was re-published courtesy of The Daily Truffle. It was written by Caroline M. Roman, owner of The Daily Truffle. The Daily Truffle is a Los Angeles social diary written by a circle of high school friends who grew up together in L.A. View more society, fashion and party writing on The Daily Truffle.