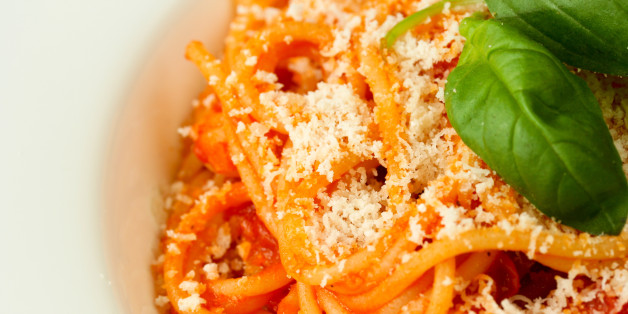 Sometimes pasta is a necessity. Maybe you're carbo-loading for a marathon, or maybe you just need a little taste of Italy as a wistful reminder of that carefree, sun-drenched trip you took up the Amalfi Coast after a grueling eleven-hour-day under the fluorescent lights at the office. Regardless of your reasoning, pasta is pretty darn amazing in my book. Here are five simple and delectable recipes to consider next time you feel like slurping some noodles!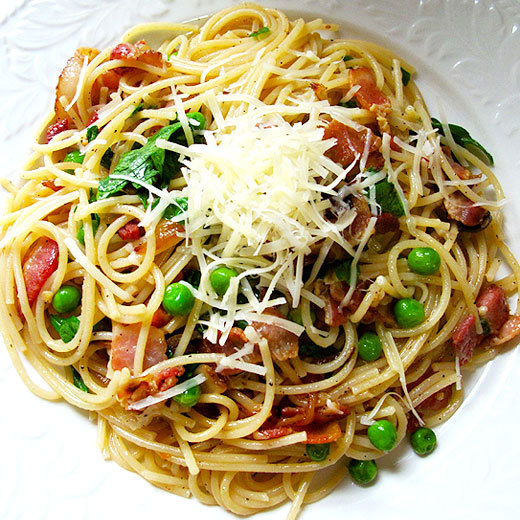 Rough day spent staring at the computer monitor as time stood still for eight-hours? Fix it right now with a plate of pasta that has more than just a little pop of spice. We all know bacon, peas and Parmesan go well together. But the addition of a couple potent Thai chilis puts the whole classic combination over the top.
GET THE RECIPE
This is one of my favorite treatments for noodles. Thick Udon noodles with butter, soy and a liberal dusting of dried seaweed and bonito flakes is a must-order any time I take a trip to a yakitori bar. The result is umami personified - and makes a great plate of food to share (right along with that huge, cold can of Kirin).
GET THE RECIPE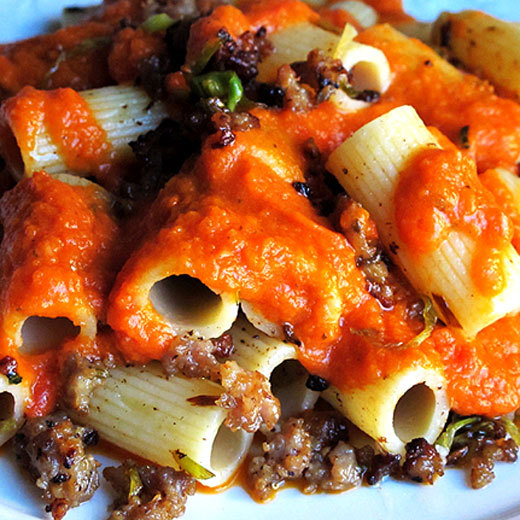 The key to this dish is twofold. 1) Make your own tomato sauce if you have the time. It's simple and tastes deeper and sweeter than store bought jars. 2) Cut the sausage meat out of the casings and get a bit of char on it for a depth of flavor that is unreal. A third - and very obvious - step is to eat with reckless abandon.
GET THE RECIPE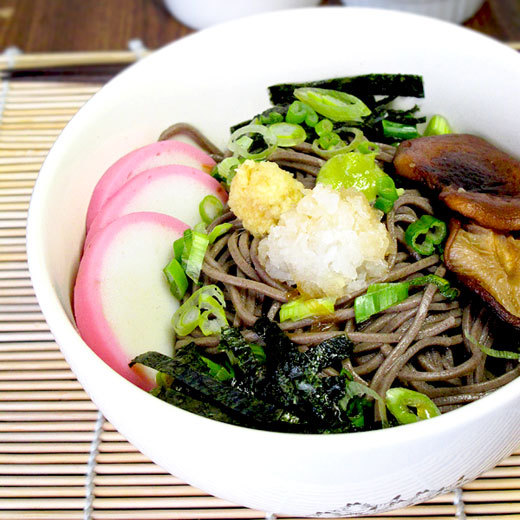 Buckwheat noodles just feel healthy going down. Fortified with a toothsome chew, these bad boys go well with pretty much any treatment you throw their way. Go to town with shiitake mushrooms, grated daikon, shredded nori and fish cakes for a crowded, insanely flavorful bowl of Japanese noodles.
GET THE RECIPE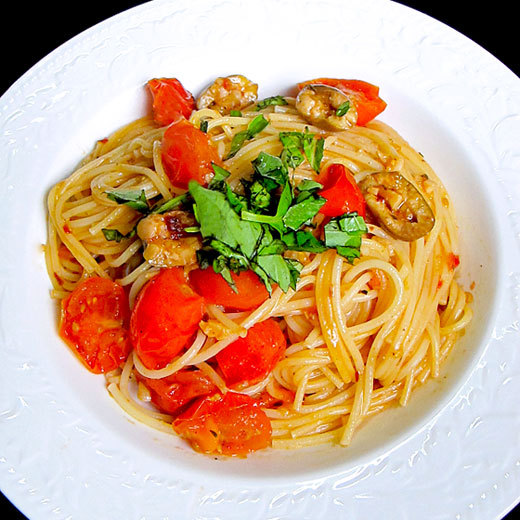 Sketti-Butter-Ketchup? Almost - but not quite, Honey Boo Boo. This simple pasta preparation is elevated by roasting cherry tomatoes for a little caramelization. Add some chili flakes for zing, and you've got a winner on your hands!
GET THE RECIPE
SUBSCRIBE AND FOLLOW
Get top stories and blog posts emailed to me each day. Newsletters may offer personalized content or advertisements.
Learn more