Amber Lee Ettinger, a.k.a. Obama Girl, is a sexy symbol of the Internet's power in this election. She feels lucky that in a small way she's part of a bigger story -- "that the Internet is changing the way people can participate in politics."
My interview with Amber revealed that we will be hearing more from Obama Girl. With a follow-up to her breakout video hits, "I Got a Crush... on Obama" and "Mike Gravel Lobbies for the Obama Girl Vote," she's ready to take on McCain Girl with a new video. And for the upcoming presidential election she has made a pledge: "Definitely voting, definitely Obama." While Amber is an expert on Obama's "crush-worthy qualities," she isn't supporting Obama for his looks. She discusses this, her thoughts on political issues, her plans for the future, some potential new political crushes, and more in the following Q&A: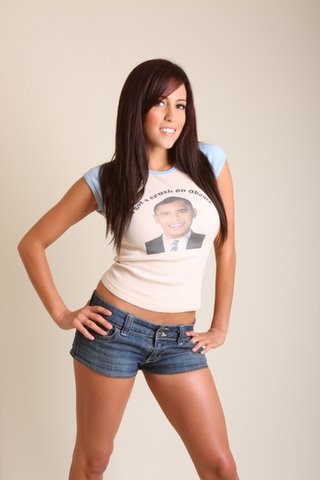 Are you Republican, Democrat, Independent, or Other?
I'm registered as a Democrat.
Which best characterizes your interest in politics?
A) Political junkie
B) Somewhat interested
C) Could care less
D) Other
Well, when I first did the original "Crush on Obama" video, I wasn't a political expert, and I'm still not. But doing these videos has definitely opened my eyes to the political world and I've loved that aspect of the project.
Of the following three issues, which do you think is the most
important right now?
A) Economy
B) Health Care
C) Iraq
They're all important. But from people who I talk to, they're nervous about the economy.
Beyond those three issues, what other issues are important for you this presidential election?
I'm kind of an environment person. So I'd like to see a President who cares about preserving the planet.
Are you planning to vote in the presidential election? If so, who do you plan to vote for?
Definitely voting, definitely Obama.
Regardless of who you support, which candidate do you think will be the next President?
Well, I hope it's Senator Obama. But in the past year I've heard so many predictions. "What am I going to do after Obama loses?" Then it was, "Can you believe Obama's going to win?" Then when Hillary Clinton came back, it was, "Can you believe Hillary is going to win now?" So I'm staying away from predictions.
Historically, looks have played a role in presidential candidates' success i.e. John F. Kennedy, Bill Clinton. How much do candidates' looks play a role in who you vote for?
They don't play a role in who I vote for... John McCain and Barack Obama have such different views on things, it's hard to imagine anyone would decide based on who's cuter.
What gives Obama his sex appeal?
Well he's definitely got some crush-worthy qualities. He's a natural leader and inspires people. I think he has shown a lot of integrity in his campaign. He's dedicated to his family. He's extremely bright. He's funny. And he looks good in basketball shorts.
What kind of guy is your type?
Aside from guys running for President? I think some of those qualities above -- you know ... a sense of humor, honesty, intelligence, delegate leads!
Who do you think is the sexiest living politician besides Obama?
Oh, let's give the nod to Mike Gravel. The guy learned the Soulja Boy dance for us in a Youtube video we did together. That was hot.
How does it feel to be named "Hottest Woman on the Web"?
Bizarre? E! named me the "Hottest Woman on the Web." I felt very honored and flattered ... I still can't believe it sometimes. The whole year has been a whirlwind. Some people like our videos, some people can't stand them. But people definitely are still watching them, so that's fun.
Who do you think is the hottest political pundit?
Female? Have to go with Ms. Rachel Sklar [The Huffington Post's own]. Male? Anthony Mazzerilli is a radio show host in Philly who's been good to us ... and he's cute. Stephen Colbert ... so sexy.
Sex and politics have been linked throughout the ages with sex scandal after scandal. Do you think if a candidate has had affairs, voters should factor that in to their decision about who to vote for?
I wouldn't presume to tell people why they should vote for a candidate. I know personally that's not a factor at the top of my list. But the fact Senator Obama and his wife are obviously such a great team together... and they value their family so much... that's something I really admire about both of them.
What was your job before this all happened?
I went to FIT [Fashion Institute of Technology] for Fashion Design. Workwise ... same as it is now -- modeling and acting. I got an email from Ben Relles who produces these videos and he basically said, "It's a video kicking off a humor website and will take about 6 hours to shoot."
What are your career plans now?
Definitely continuing to stay busy with acting and modeling. I'm also working on a jewelry line right now with my mother, who is my biggest inspiration. She's an author and owns a vintage clothing and jewelry store in Hazleton, PA called Remember When. I have my own song I'm putting out this summer, I'm excited about. And there should be more from Obama Girl, most likely trying to bring down the new McCain Girl that came out last week!