THE BLOG
10 Ways to Nourish Your Inner Zen: Part Two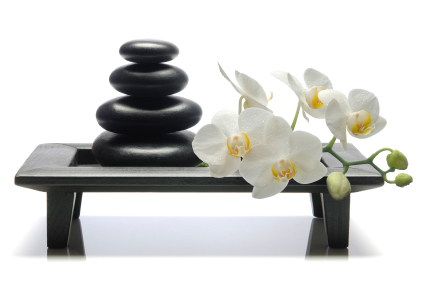 "The time to relax is when you don't have time for it." -Sydney J. Harris
Last week, I discussed five methods I find useful when trying to nourish my inner Zen. The first five methods from Part One are listed below.
1. Breathe
2. Ask Powerful, Thought Provoking Questions
3. Replace "Uhm" with "Om"
4. Relax
5. Simplify
Now, let's discuss the final five methods!
6. Create a Calm Atmosphere
It's no secret that our physical space can make a strong impact on our ability to relax. Yet I find that there is no specific recipe for creating that calm atmosphere. Each individual tends to gravitate towards different types of atmospheres depending on what best supports creating the room we need to allow our minds to unwind and encourage our nerves to relax. You may want to create this atmosphere during the day while at work, in the morning, or in the evening. Clearly, you should personalize your space to accommodate different goals. I find that lighting makes a tremendous difference in a space. When it's storming, you may require different light than when the sky is filled with sunshine. In the evening, candles and softer light tend to serve as triggers for me to begin calming my mind. Music also provides benefits whether I want to take a break during the day or head toward the end of my work and shift mentally to a calmer state. Below are a few resources that provide specific examples and ideas for creating your own personal sanctuary.
-> 10 Ways to Relaxify your Workspace
-> Candles You Can't Live Without
-> Gaiam Life Meditation Rooms: Virtually enter a calm atmosphere
7. Go on a Virtual Vacation
Create your own virtual vacation by locating sites you want to explore. Spend time visiting different web sites and bookmark the sites you would like to explore further (such as the web site of a beautiful hotel in a tropical location). Then, whenever you need to "escape," you are ready to depart at a moment's notice on a virtual vacation. Below are a few personal favorites, but the Internet is endless; you'll have little problem finding several that will become your personal favorites!
-> Etsy (try searching by location to find local artists in different areas of the world)
-> Flickr or Webshots (photo sharing communities)
-> Travelistic (online travel videos)
-> Chowhound (food-lovers worldwide gather to discuss the best in food across the globe)
8. Create Kitchen Zen
Anyone who knows me is well aware that I have zero kitchen knowledge! Yes, I can boil water but beyond that, my expertise slims down fast. I consider myself very lucky to know a food guru, Whitney Ahneman, of Witty Nutrition! Whitney's words of wisdom on kitchen Zen:
Forget multi-tasking and allow yourself to focus on just one thing, the task of cooking a meal. Taking your time, enjoying the whole process of cooking and not just looking for the end result helps to create a nice ambiance. When looking for recipes, stick within your comfort zone, but feel free to try something new. And remember, "A happy cook is a good cook!" Switching gears here... let's talk tea! Tea can be very calming; I just love sitting back with a nice cup of tea! The cardinal rule of making tea is to boil the water and not microwave it. Even if you're making iced tea I'd recommend doing this and seeping the tea in the hot water, and then cooling it down. In terms of flavor, there are a couple of different routes to go. If you're just starting out, buy a variety pack so you can learn about the different flavors and what you like best. If not, you can buy loose tea and mix the flavors in the infuser for how you feel that day. Tea can completely ascribe to your personality and mood. I know I go through phases where I drink one kind every day for weeks, and then I'll change it up. The bottom line for both of these is to make food and drink a temperate, peaceful component to your day. It's meant to be enjoyed.
9. Appreciate Your Surroundings
Take the time to appreciate where you live. We all take it for granted but really, it represents the very scenery that should be looked at through fresh eyes. The next time you look out the window or walk down the street, instead of focusing on getting from point A to point B, take a step back and appreciate the area in which you spend your time--regardless of the weather!
10. Create a Personal Treasury
In Part One, I offered a download you can utilize to establish a personal treasury of the resources, thoughts, and tips that are most beneficial to you. I kept it simple so that you can tailor it to fit your specific needs. This "knowledge treasury" can serve as a printable inspiration board. Of course, with so many wonderful resources online and off, it is easy to become overwhelmed. To begin to nourish your inner Zen, try to focus on the resources and sources of inspiration that are the most powerful for you. There are a few tips within the document that will help you determine which resources are the most capable for you. My favorite part of the document is page three: a knowledge treasury (printable inspiration board). I love having the ability to print a structured inspiration board since it allows me to create a new inspiration board anytime I choose. In fact, I plan on creating a new one each month. You'll notice that I attached my printed document to a large piece of card stock so that I can add visual inspiration around the perimeter of the board. So just have fun...and draw outside the lines!
-> Download Personal Treasury Document
-> See my personal inspiration board as an example!
---
Great discussion happening on my facebook page! You can join in by going to: www.facebook.com/clrsimple2
MORE:
Inspiration
,
Space
,
Nutrition
,
The Inner Life
,
Vacation
,
Relaxation
,
Living News
,
Tea
,
Digital Downloads
,
Carolyn Rubenstein
,
Whitney Ahneman
,
Witty Nutrition
,
Living
,
Zen
This Blogger's Books and Other Items from...