When I was growing up, my French Poodle, Touche, would make a face on command, that we endearingly called "Little Teeth." It used to crack me up because he looked like he was smiling. He would bear all of his teeth and stick his tongue out. You would think that, as an adult, I would grow out of a childish delight like this...no way!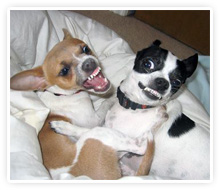 To this day, I still love "smiling" animals. I can be in the worst mood, but show me a photo of a dog with "little teeth" and it can change my demeanor in an instant. In fact, in my office for many years, I had what was endearingly called the "fang board." It was a bulletin board with a huge collection of animals "smiling," many of which were contributed by my employees. I had hundreds. And, on the home front, my son has taken responsibility for teaching our dog, Noah, to smile whenever they wrestle together. It never gets old.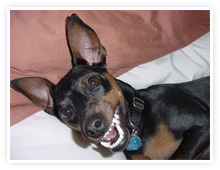 So, why am I telling you this? It's because I'm amazed at how great ideas are often born from the simplest life experiences. In our continuing effort to spread the word about fighting animal cruelty, encouraging people to rescue and raising money for Best Friends Animal Society, we are constantly seeking new ways to draw attention to the cause. Who knew that this childhood pleasure could turn into that "tipping point?!"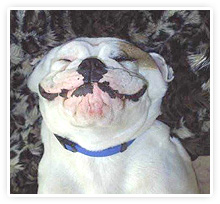 We came up with the idea to make a video to raise awareness about animal cruelty, but we didn't want to do the typical cages and violence theme. Our effort is all about making positive change. The concept became showcasing "happy" dogs and cats, and the message was to "help us keep the animals smiling." As I found more and more hilarious photos, my brother/partner, Dan, kept hearing me hysterically laughing from my office and joined the effort. Soon, we had narrowed hundreds of photos down to our top 20 and the 60-second SMILE video was born.
Beyond our wildest expectations, the video took off and has now been viewed well over 100,000 times. Who knew?! So, what do you do when you have a successful "film?" You make the sequel, of course. I love my job!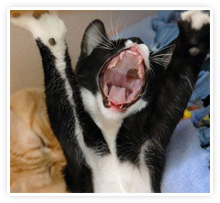 This time, however, we're out to spread the joy. We want all the animal lovers out there to help us find the next precious pup or kooky kitty superstars. And so, we have just launched the SMILE2 Photo Contest. Between now and June 30, 2009, anyone can send us photos of their dogs or cats "smiling" or making a funny face and, if we like what we see, their "fur kid" will be posted on the I'm Tired of... SMILE2 website and could ultimately grab one of the 20 spots in the upcoming SMILE2 video, which we know is going to be huge!!
We've got a phenomenal panel from I'm Tired of... and Best Friends Animal Society (including some of the stars of National Geographic Channel's "Dogtown"), who can't wait to judge our contestants. And, we're posting all the qualified entries on our SMILE2 website for everyone to see and chat about! We also have prizes for the winners and a grand prize for the top dog and cat.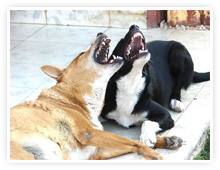 Now, not only do I get to spend a good part of each day looking at all the precious faces and laughing, but you can get a nice dose of my "happy place" too. We launched just a few days ago and the entries are pouring in. We're posting all the candidates on the SMILE2 website. I recommend you visit every few days, especially when you're particularly stressed or that little dark cloud is following you around. I promise...there's nothing like a little goofiness to take the edge off. And, if you have a "smiling" pet or know someone who does, send their photos our way. Of course, in the spirit of what we're trying to achieve, this is all about spreading the word on the fight against animal cruelty and the importance of animal rescue, just in a positive and fun way. Go ahead... Smile!