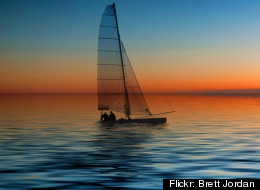 The stress and strains of our always-connected lives can sometimes take us off course. GPS For The Soul can help you find your way back to balance.
GPS Guides are our way of showing you what works for others in the hopes that you can find out what works for yourself. Whether it's photos that relax you or make you smile, songs that bring you back to your heart, quotes or poems that balance you or meditative exercises that help de-stress you, we all have tricks that we use when we get bent out of shape. We encourage you to look at the GPS Guide below, visit our other GPS Guides here, and share with us your own personal tips for finding peace, balance and harmony.
How do I find peace and serenity in my busy lifestyle? As a nutritionist and as a mother, I've found a few ways that really help me to relax -- without reaching for a dessert or a high-calorie treat.
Living in LA allows me to enjoy the beauty that is the ocean! I can easily recharge with a quick trip to the beach for a long stroll. Walking along the beach as the waves crash at my feet offers a sense of calm that you can't get anywhere else.

On a pedicure or a blow out -- every girl loves to be pampered. My favorite quick treat is either a mani/pedi or getting my hair styled at my favorite salon.

On the slim chance that I have a few hours to myself on the weekends, I take advantage of them by the pool. While reading a good book, I can soak up the sun for a light glow and a quick burst of Vitamin D.

Nothing catches my attention like a great mystery series. My daughter and I love shows that we can really think about and try to guess what's going to happen next.

Nothing is more important to me than my family and friends. My family is located in LA, so I'm able to enjoy family fun whenever I can. My nieces loves to get in the kitchen and whip up dinner with me.
For more by Carrie Wiatt, M.S., click here.
For more GPS guides, click here.
Follow Carrie Wiatt, M.S. on Twitter: www.twitter.com/Dietdesigns