As a child of the '70s, I considered Han Solo the epitome of manhood.
Fiercely independent, yet secretly sentimental. Skeptical, but willing to believe in magic if he saw it with his own eyes.
Secure enough in his own skin to pursue a princess, but not above taking a wide-eyed farm boy under his wing. Best friends with a Wookiee.
A lovable scoundrel who posed as a mercenary, but who deep down realized that the best things in life are free.
In short -- the ideal dad.
And while Obi-Wan Kenobi was a superb mentor and (spoiler alert!) Darth Vader achieved redemption in the end, it was Han Solo who taught me the most about how to be a good dad.
Here are just a few reasons why I believe General Solo, who had not fathered children with Leia Organa by the end of Return of the Jedi, still might be the finest movie father figure in the history of this or any other galaxy:
1. When the kids get difficult, try redirection.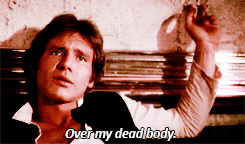 (And if you must leave a mess for someone else to clean up, tip well.)
2. Trust your instincts. Even if things seem hopeless.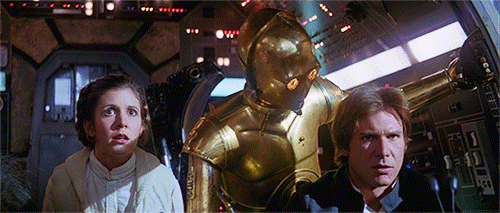 3. If you don't like what's being said, change the conversation.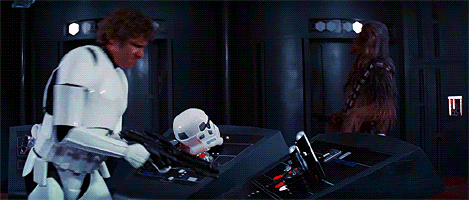 (To be fair, Don Draper also teaches us this lesson.)
4. Give praise where it's due -- but don't overdo it.
5. Make a smile your default expression.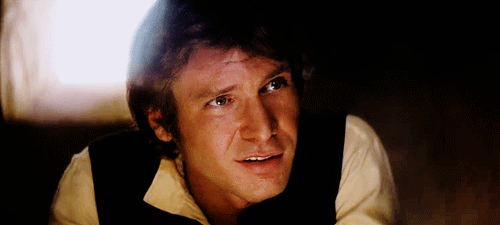 6. Learn to work with your hands.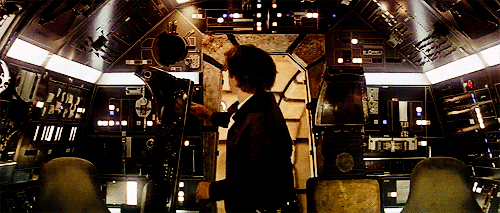 7. When all else fails, bluff.
(But if they call your bluff, know when it's time to cut your losses.)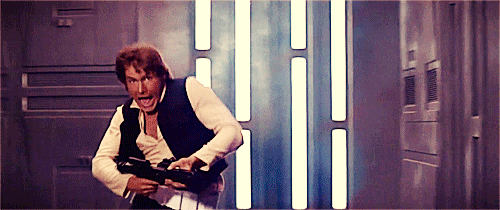 8. Give them room to succeed or fail (but a little help now and then can't hurt).
9. Never let them forget how much you love them.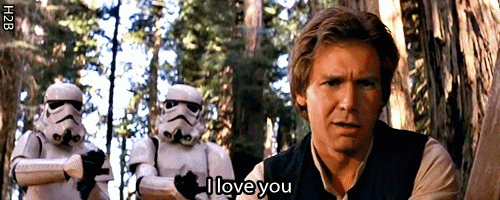 All gifs from giphy.com or imgur.com.
A version of this post first appeared on Carter Gaddis' personal blog, DadScribe. Follow Carter on Twitter at @DadScribe or find him on Facebook.
Like Us On Facebook |

Follow Us On Twitter |

Contact HuffPost Parents

Also on HuffPost:
Inspiration Behind Celebrity Baby Name Choices
After what seemed like the longest pregnancy ever, Jessica gave birth in May and named her daughter Maxwell Drew -- "Drew" is the singer's mother's maiden name.

Hudon's fiance, singer, Matthew Bellamy tweeted, "For those wondering, Bingham is my mum's maiden name and Bing Russell was Kurt's dad," after the couple's son was born in July 2011.

After giving birth in June 2011, the singer told Hello! magazine that Willow is her favorite tree -- she grew up near one.

E! reported that Cannon proposed to Carey in "The Moroccan Room," of their apartment inspiring their boy's name. Scott is Nick's middle name and his grandmother's maiden name. Moroccan's twin sister, Monroe, was named after Marilyn Monroe.

The model told Australia's Daily Telegraph that her son, born in January 2011, was partly named after her first boyfriend, Christopher, who died in a car accident when he was a teenager.

Magician Penn Jillette explained to Piers Morgan the logic behind his daughter's unusual name: Moxie is the brand of a beverage, and CrimeFighter was a suggestion from a staff member (inspired by a line in Penn's book). She was born in February, 2009.

Lopez explained to People in 2008 that her twins' middle names were inspired by family: David is her father, while Maribel was the name of ex-husband Marc Anthony's sister, who passed away.

After giving birth in 2008, Alba told People that her friend suggested the name. "We were having a girl's night, and one of my friends said, 'If I ever had a girl -- but I'm not having any more kids -- I will name her Honor,'" she said. Marie is Alba's middle name.

In 2004, the actress told Oprah that she chose her daughter's name because, "apples are so sweet, and they're wholesome, and it's biblical."
Follow Carter Gaddis on Twitter: www.twitter.com/DadScribe