I knew seeing Sophia Loren on the red carpet at the Academy Tribute was going to be a great and fortunate moment in my life, but I had no idea this iconic role model could still inspire me to feel good about being a woman now, at my age, the same as she did when I was a young girl.
The 76-year-old Loren still carries her statuesque frame with confidence, beauty and knowing that she's still got that unmistakable sex appeal, that has served her well as a movie star of the highest caliber. It's a quality that inspires women as much as men.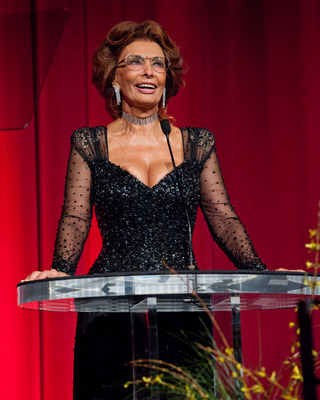 On Wednesday May 4, 2011, I attended "An Academy Tribute to Sophia Loren" at the Samuel Goldwyn Theater in Beverly Hills. The guest of honor proudly walked the red carpet with her adoring sons, Carlo Ponti Jr. and Edoardo Ponti. Loren looked radiant as she smiled and teased the eager photographers, who clearly wanted to capture the longevity of Loren's beauty on film.
Walking with Loren on the red carpet were Christina Ricci, Lorraine Braco, Eva Mendez, Debra Mazar, Rob Marshall and many other A-list stars.
Academy Tribute To Sophia Loren
The theater was completely full as Billy Crystal, the host of the evening, confessed his teenage crush on the screen goddess and kept the crowd laughing all night with his razor sharp wit. Tom Hanks reminded all in attendance via video, that we [the audience] were very lucky to be able to say we shared a room with the legendary star. Special guest, John Travolta announced, "Sophia Loren was the most delicious thing to come from Italy."
But It was former Versace model and actress Jo Champa's speech that really reached me personally because she spoke from the heart about Loren being her own role model and a role model for women all over the world.
I realized Loren embodies a strong feminine archetype that transcends age and effects woman just as much as the me who are enamored with her beauty, mystique and talent.
In fact, I later spoke to 83-year-old actress Estelle Harris, most know for her role on Sienfield as George Costanza's mother, and she voiced the same feelings I had about Loren's role model status.
"The young people of today should take a look at this lady. She didn't have the perfect start in life and yet she became a queen," Harris said.
"Queen" is a great word to describe this woman who received a 3-minute standing ovation and then once composed, emotionally thanked her late husband, Carlo Ponti for all she had achieved.
"He gave me the courage to follow my passion but also believed in me, when I didn't," Loren said tearfully from the podium.
Film clips were shown throughout the evening of Loren's most memorable performances including, Marriage Italian Style, Two Women and Houseboat.
Later, she sat down in a lively Q & A with Crystal, who brought immediate laughter when he asked, "So, why isn't there any good pizza in LA?"
When Crystal asked if any of the clips she saw during the presentation left her feeling less than perfect in her acting abilities Loren replied, "No Beeeleee, because you showed the best ones!"
50 years ago Sophia Loren never dreamed she would actually win an Academy Award for her heart wrenching portrayal of a wartime mother in the film Two Women, so she stayed home in Italy instead of attending the Oscars. After all, a win would mean breaking ground as the first "Best Actress" winner for a foreign language film, but in 1961, that's exactly what happened and it's when America first fell in love with the Italian beauty.
I grew up in a predominately Italian-American neighborhood in San Jose, CA and as a little girl, my friends and I looked to Loren as a role model. We all looked a lot more like Loren than Debbie Reynolds or Elizabeth Taylor, so we admired her sex appeal, which seemed like an attainable commodity in our little world.
"The tribute brought tears to my eyes -- I'm rarely speechless," Beverly Hills resident, Fran Wittson said.
"As an actress I am never content. Everything is a big story and you hope the roles will be the story of your life. I was born for this and I become sick if I don't work for a year or two," Loren said at the end of her Q & A.