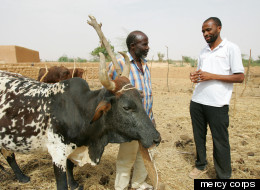 This blog is part of a series organized by The Huffington Post and the NGO alliance InterAction to call attention to the crisis in the Sahel, a region in sub-Saharan Africa where more than 18 million people face starvation and 1.1 million children under the age of 5 are at risk of dying from acute malnutrition. Click here to read more of HuffPost Impact's coverage of the Sahel and here to find out what InterAction members and others are doing in the Sahel.
The hunger crisis is devastating families across the Sahel, and our emergency response work in Niger -- creating income through cash-for-work projects, supporting nutritional screening centers -- is crucial to averting famine this year.
But so are long-term solutions that help people withstand the cycles of drought and hunger that plague this region.
Mercy Corps believes in helping people survive -- and thrive. In communities where we have has been working since the last hunger crisis in 2010, you can see the impact in thriving vegetable gardens, full wells, healthier livestock and smiling faces. As these images from my trip this year show, Niger is a vibrant, resilient country.
Climate change and encroaching desert are making droughts increasingly severe in this landlocked nation. Mercy Corps is training farmers on new techniques to increase their harvest yields, even in times of little rain.

Families eat fresh produce from the village vegetable gardens that Mercy Corps helped them establish. They also sell surplus in the market to feed others and generate income to pay for health services, school fees and new supplies to expand their gardens.

Communities get the tools they need to build and repair wells, providing a water source for their vegetable plots.

Women in the villages of Tillaberi sing while tending their crops.

Market day remains busy, as people from the surrounding villages come to the central town with whatever they still have to sell.

Mercy Corps worked with dairy farmers and female business owners for the past two years to increase their productivity and connect them with better markets.

With our support, three dairy cooperatives more than doubled the daily milk output of their herds.

Milk is an essential part of the diet here; it is especially important to keep children healthy without staple grains to last through the lean season this summer.

Milk production can only be sustained if livestock are kept healthy.

Abrahim Kemou supports nine children with his herd of cattle, which were vaccinated through Mercy Corps' program that has improved the health of 18,000 animals.

Abrahim is optimistic that his family will weather the food crisis with the healthy cows they can rely on for milk -- and can sell if they need money for food.

With more fresh milk available, Mercy Corps provided small grants to 2,556 businesses processing, selling, storing and transporting the dairy products.

Most the business owners are women, many of whom discovered even more lucrative methods to produce and sell yogurt.

Support to women entrepreneurs has been one of the greatest successes of the dairy market program. They have grown their businesses and can afford to feed their families despite the hunger crisis.

With funding from the Gates Foundation, Mercy Corps has also provided 370 goats to vulnerable women in the hard-hit Tillaberi region.

Santou Hamidou is breeding the two goats she received in December. Selling the babies will allow her to buy food for her six children as the hunger crisis worsens over the summer.

The Gates grant also provided Igue Moussa with four chickens that Mercy Corps trained her to care for. A widow who has been living with her brothers, Igue was able to buy a goat with her poultry business profits, and then sold that for a large profit, as well.

"This has changed my life. I can earn money to meet my needs. I can help my children, and I am no longer dependent on my brothers' charity."

With income from her chickens, Igue is even able to share food with her neighbors as they are struggling to survive the desperate circumstances in Niger.

These smiles make it clear: A little help can go a long way. As Mercy Corps is actively responding to urgent needs, we continue to strengthen the foundation upon which families can rebuild for a better future.
All photos courtesy of Mercy Corps.
Follow Cassandra Nelson on Twitter: www.twitter.com/mercycorps