Since the opening of Breaking Dawn coincides with the holiday shopping rush, you can be sure that Twilight-themed gifts will be in high demand. From maternity t-shirts to contact lenses, here's a gift guide sure to warm even a vampire's icy heart.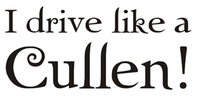 "I Drive like a Cullen" Bumper Sticker
When you possess eternal life and unfathomable wealth, it's hard to get worked up about speed limits.
($4.99)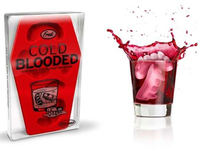 Vampire Ice Cube Tray
Get your drink on - vampire style. These fang-shaped ice cube trays will ensure that your cocktails will have some bite.
($7.99)
Edward's Baby Maternity Tee Shirt
If you have timed your pregnancy to coincide with the release of Breaking Dawn (Part I,) you're in luck!
($25.00)

Edward Cullen Contact Lenses You may not have Edward Cullen's bone structure, but for less than $30.00 you can buy his eye color. ($29.99)

Life Size Twilight Stand-Up Figures
Trust me, a simple old-school poster really pales in comparison
to a life size stand up Taylor Lautner.
($34.99)

Twilight Face Glow
If you've read the book, you'll know how Bella finally gets her glow. For a similar look, try Fresh's Twilight Fresh Face Glow.
($36.00)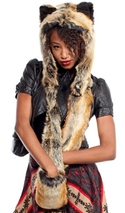 Spirit Hood
Now you can proclaim your "Team Jacob" status and stay toasty warm at the same time.
($129.00)
Bella's Wedding Gown Although Bella's dress is designed by Carolina Herrera, Twilight Bridal by Alfred Angelo will be reproducing her bridal look for the masses. (Fun Fact: In 1950, Alfred Angelo sold a replica of the wedding gown Elizabeth Taylor wore in the original "Father of the Bride movie.") ($799.00)
Guided Breaking Dawn Tour of Forks, WA
What's the ultimate gift for a Twilight fan? How about a visit to Forks, Washington? Local residents, Travis and Rianilee Belles will help you make the most of your visit. They offer a guided tour of Forks which includes stops at the Swan House, the Cullen House, Forks High School and more.
($39 for the tour + $800 for airfare and accommodations)
Bella's Engagement Ring
The Brits may have Kate, but we have Bella. The new Mrs. Cullen's engagement ring should be just as popular.
($1,979)
SUBSCRIBE AND FOLLOW
Get top stories and blog posts emailed to me each day. Newsletters may offer personalized content or advertisements.
Learn more