Each May our mailboxes are flooded with advertisements for the perfect gift for Mom: perfume, jewelry, bath products, and the like. Yet most moms want things money can't buy, such as a quiet morning to read the paper, a day off from wiping countertops and folding laundry, or a precious hour free of sibling squabbles.
Giving Mom these simple pleasures is a great way to honor the mother in your life and the mother of us all, the Earth. By skipping the floral arrangements flown in from South America and the gifts shipped from overseas in non-recyclable packaging, you can cut down on your family's consumption of natural resources while providing Mom with what she wants most: love, and a little peace and quiet.
The children and men in our lives, however, are not born knowing what moms need most. One of the best pieces of advice that I received as a young mother was that I needed to train my husband and kids to celebrate Mother's Day, or risk receiving a belated card and wilting bouquet of roses on the following Monday. (Or be presented with breakfast in bed only to be stuck washing the dishes.) If you are a mom, don't be afraid to let your loved ones know that the best Mother's Day gifts are planet-friendly and from the heart.
Here are a few gift ideas that honor Mom and Mother Earth:
Do Mom's chores for a day. Young children can make beds (if a bit sloppily) and fold laundry. Older kids can clean the house using plant-based castile soap and vinegar instead of strong cleaning products.
Coupons for hugs, back rubs, and quiet time together are always appreciated.
Help the kids make homemade gifts using materials from around the house. For example, make a bird-feeder from an empty gallon-sized milk container.
Handmade cards are treasures that mothers will save for years. Make them from scraps of paper that would have been tossed out.
If your children simply must buy a gift, help them shop for items made by local artisans.
For moms that crave fresh flowers, look for organically grown varieties from nearby nurseries. You can search for flower farms by zip code at www.localharvest.org.
If Mom is a coffee-drinker, give her some shade-grown, USDA-certified organic coffee. Be sure to give her time to drink it without interruption.
Make breakfast in bed a real treat with whole-wheat waffles and real maple syrup instead of the high fructose corn syrup (HFCS) variety. Dad and the kids do the dishes!
Stay local. Instead of getting in the car to go somewhere, take a family bicycle ride in your neighborhood or walk to a nearby park.
On Mom's special day, the best gifts are ones that are good for our Mother Earth.
Catherine Zandonella is the author of Green Guide Families: The Complete Reference for Eco-friendly Parents.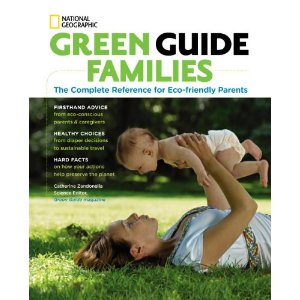 SUBSCRIBE TO & FOLLOW THE MORNING EMAIL
The Morning Email helps you start your workday with everything you need to know: breaking news, entertainment and a dash of fun. Learn more