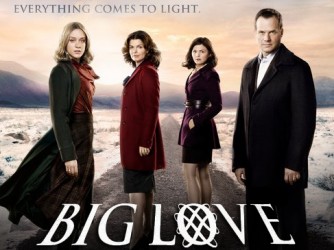 As HBO's Big Love heads into its fifth and final season, series creators Mark V. Olsen and Will Scheffer are turning their attention back to the bread-and-butter themes that have made their show so compelling: faith and family.
Gone are the non sequitur plot turns of last year's frenetic season (that included, improbably, black market parrot trading, eugenics and Native American casino gambling). The soul of Big Love has always dwelled in the living room(s) of the fictional Henrickson family, composed of a husband, three wives and too many children to count.
While the show is "about" a modern-day polygamist Mormon family in Utah, it is really about something much more universal. Once you get past the sexual and emotional complexities of the Henricksons' unconventional living arrangements, what remains is a sensitive and articulate portrayal of the nature of belief.
"It's about the [family's] struggle to understand their faith," Scheffer told TV Line when asked about the theme of Big Love's final season. "That question of faith becomes a very centralized theme for the entire season."
Added Olsen: "It's the ultimate chickens coming home to roost. The bargains and deals that [the three wives] made in their lives, with their identities and how they came into this marriage, are all tried by fire. All of the characters have a journey this season, a journey that
[bookends] where they began the series five years ago.
Season four concluded last year with Bill Henrickson (Bill Paxton) and his three wives -- Barb (Jeanne Tripplehorn), Nicki (Chloe Sevigny) and Margene (Ginnifer Goodwin) -- publicly "coming out" as polygamists, on the steps of the Utah state capitol, after Bill's successful election as a state lawmaker.
If the premiere episode, which aired on Sunday (Jan. 16), is any indication of what is to come, season five will explore what happens after the closet door is thrown open and the family walks out into the unforgiving light of day.
How will they live their faith now that their true identity is no longer a dirty little secret?
The curtain has been yanked back, revealing the man (and family) behind the carefully crafted public image. The Henricksons are terribly vulnerable, isolated and battling doubts about coming out of their closet, the veracity of their beliefs in "the principle" (divinely ordained plural marriage) and the strength of their terribly human faith.
Their family is quite literally under attack. Their children are bullied and beaten. Bill is spit upon by a constituent and ostracized by his colleagues in the legislature. Margene is fired from her job hawking costume jewelry on a home shopping network -- a job that gave her a sense of power, independence and self-worth -- because she violated a morals clause in her contract by revealing the truth about her family.
Barb, who was excommunicated from the Church Jesus Christ of Latter-day Saints (thus losing her salvation) a few seasons back because of her polygamy, is flailing spiritually, trying to figure out what's true about her faith, family and commitment to both.
Only Nicki, the family's resident fundamentalist, seems relatively unfazed by the family's public persecution. Having spent most of her life isolated on a crazy polygamist compound, Nicki's natural disposition is a siege mentality. In a fashion, her innate legalism and paranoia are a comfort in these desperate times.
Each of the spouses faces fundamental questions about their faith and their identity.
What are they willing to sacrifice to stay true to their faith?
How do they know what they believe they're hearing from God is true or a figment of their imagination?
What value is blind obedience if their spiritual leader is headed in the wrong direction?
Who are they truly meant to be in relation to their family, on their own and in God's eyes?
What if everything they believe is wrong, a lie, a terrible mistake?
These are questions that all believers must answer at some point in life, whether they were simply raised in a faith tradition, embraced it as their own or rejected it altogether.
How Scheffer and Olsen will have their characters answer these questions is what will keep me coming back each Sunday night this season to watch. The final episode of Big Love is set to air on March 20.
This column originally appeared via Religion News Service.
(Cathleen Falsani is the author of Sin Boldly: A Field Guide for
Grace and the recent book, The Dude Abides: The Gospel According to
the Coen Brothers.)
SUBSCRIBE TO & FOLLOW THE MORNING EMAIL
Start your workday the right way with the news that matters most. Learn more