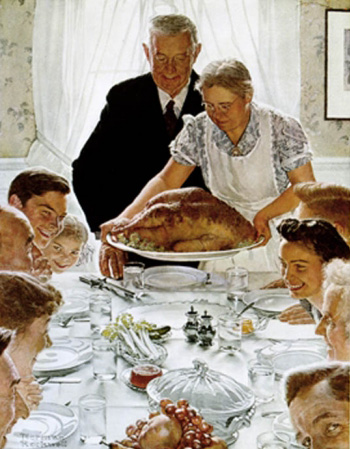 It probably wasn't the last Thursday in November, and there was no pumpkin pie.
The "turkey" was more likely a goose, duck or even a crane. And there were no potatoes -- sweet, mashed or candied -- on the menu for the first Thanksgiving feast in 1621.
So say various historians and the folks at Snopes.com, who make it a point, especially this time of the year, to try to separate fact from mythology when it comes to what is arguably America's most beloved national holiday.
When it comes down to it, though, very little actually is known about the meal 50-odd English settlers shared with about 90 of their Wampanoag Indian neighbors over three days one autumn 387 years ago.
Only two primary sources exist, giving the briefest of accounts of that Thanksgiving festival: Edward Winslow's Mourt's Relation and William Bradford's Of Plimouth Plantation, according to the Pilgrim Hall Museum in Plymouth, Mass.
Winslow, who wrote his account in 1621 in a letter to a friend, had this to say:
"Our harvest being gotten in, our governor sent four men on fowling, that so we might after a special manner rejoice together, after we had gathered the fruits of our labors; they four in one day killed as much fowl, as with a little help beside, served the Company almost a week, at which time amongst other Recreations, we exercised our Arms, many of the Indians coming amongst us, and amongst the rest their greatest king Massasoit, with some 90 men, whom for three days we entertained and feasted, and they went out and killed five Deer, which they brought to the Plantation and bestowed on our Governor, and upon the Captain and others. And although it be not always so plentiful, as it was at this time with us, yet by the goodness of God, we are so far from want, that we often wish you partakers of our plenty."
Bradford, writing 20 years after Winslow, in a text that was essentially lost for nearly 100 years, said:
"They began now to gather in the small harvest they had, and to fit up their houses and dwellings against winter, being all well recovered in health and strength and had all things in good plenty. For as some were thus employed in affairs abroad, others were exercised in fishing, about cod and bass and other fish, of which they took good store, of which every family had their portion. All the summer there was no want; and now began to come in store of fowl, as winter approached, of which this place did abound when they came first (but afterward decreased by degrees). And besides waterfowl there was great store of wild turkeys, of which they took many, besides venison, etc. Besides, they had about a peck of meal a week to a person, or now since harvest, Indian corn to that proportion. Which made many afterwards write so largely of their plenty here to their friends in England, which were not feigned but true reports."
Whatever was served at that first Thanksgiving, one thing is certain: Two disparate groups of people sat down for a meal. They shared no common language, culture, or even skin tone. But they shared a meal and, perhaps, attempted to span the seemingly unbridgeable cultural chasm that separated them -- if only for a few days or hours.
The "pilgrims" and the Indians did share an understanding of God -- a creator and provider God from whom all blessings flow. They might have called that God by different names, but when food, fish, crops and fowl appeared in abundance after a long, hungry winter, they thanked their God.
Whether you believe in God or not, Thanksgiving is a wonderful opportunity to hit the cosmic pause button and take stock of your blessings, or graces, or plenty. And it's also a time to build bridges, if only for the span of a dinner party.
So this week, sit down at a table and give thanks.
Whether you're digging into a 20-pound Butterball, a roast tofurky, green bean casserole, chestnut-stuffed pheasant in port wine sauce, or a Big Mac and fries, take a few moments to acknowledge the food on your plate. Remember the people who raised the food you're eating, those who prepared it, trucked it, stocked it, plucked it. Thank the bird. Thank the beans. Say thank you.
Then look at the people at the table, whether it's one or 100. Look into the other person's eyes. Ask them what they're thankful for and listen, patiently, until they've said what they really wanted to say. Listen with your heart, if you can locate it under all the mashed potatoes.
Think about what you are thankful for. Is it a friend? A lover? A child? Is it the job you still have, or the opportunity for a career do-over? Is it a healed relationship, a reconciliation, or a graceful parting? A song? A flower? An election? Winning the coin toss for the drumstick? The fact that, despite all the darkness, you still see a flicker of light? That you're still breathing?
Whatever it is, find it; acknowledge it, and be thankful.
For even in the worst of times, we Americans live with a surplus of blessings.
Remember what Winslow said all those years ago: "We are so far from want that we often wish you partakers of our plenty."
This Blogger's Books and Other Items from...
SUBSCRIBE AND FOLLOW
Get top stories and blog posts emailed to me each day. Newsletters may offer personalized content or advertisements.
Learn more