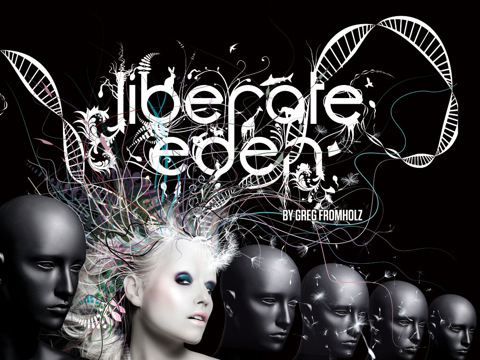 "The man who can articulate the movements of his inner life," the late Christian apologist and author Henri Nouwen said, "need no longer be a victim of himself, but is able slowly and consistently to remove the obstacles that prevent the spirit from entering."
Throughout the ages, how Christian believers have chosen to articulate their inner lives has had many manifestations in literature, music, architecture and other artistic endeavors.
As a means of communicating and wrestling with his inner life -- his journey of faith -- Greg Fromholz, an American expatriate youth worker for the Church of Ireland in Dublin, wrote a book titled "Liberate Eden," but traditional publishing houses found that his work was a bit too iconoclastic for their tastes.
"It is just too different to be Christian," one publisher pronounced.
Undeterred, 40-year-old Fromholz, a native of Michigan who has lived in Ireland for the last 21 years, decided to take his book, a spiritual memoir of a kind that he describes as "theo-poetics," in a wholly unconventional direction.
This spring, Fromholz, who directs the Church of Ireland's 3Rock Youth program, published "Liberate Eden" in a digital-only format for iPad, iPhone and iPod. The text of the book, written in lyrical, daringly self-revelatory prose, is interspersed with music and video of the author -- sometimes speaking, sometimes not.
In a video clip that accompanies the chapter "Sleepwalker," Fromholz awakens at 7 a.m., puts on a blindfold and goes about his day. The video concludes with the author running through the streets of Dublin on a rainy night, still blindfolded.
"He is comforted by his lack of sight," Fromholz writes. "We have become so arrogant, cocky and comfortable, believing ourselves to have cornered the market on faith, or invented the Starbucks of Christendom. We first need to, indeed must, shake ourselves free from the belief that we have all the answers and need to acknowledge that God is much bigger than our churches, our egos and us.
"Do we possess the message of Christ or does it possess us? Repeat after me: I do not have all the answers. ... What a sense of freedom, a beautiful void, a sensual vacuum that is created from not knowing," he writes. "There are some who stir from their sleep, awoken by the gentle breeze of the Spirit and who hear the whisper, see and are stirred from the slumber into response. There are those who reach past their blindfolds."
The communication theorist Marshall McLuhan famously said "the medium is the message." How the message is delivered is as much a part of the message as what is literally articulated.
In that sense, new media -- smart phones, the Internet, social networks and the like -- are for believers seeking to express their inner lives in the 21st century what stained glass windows were in for the church in the Middle Ages.
Fromholz gets this. His digital "Liberate Eden" presents a message in a new medium, allowing readers to interact with the story and ideas through the written word, yes, but also through music and film -- the global language of our younger generations.
Scrolling through "Liberate Eden" on my iPhone earlier this week, I felt as if I had had an experience more multifaceted than simply reading a book. It engaged my senses in multiple ways, embedding the words of the message into my imagination in what became for me a digital meditation.
Church also is a medium that should be a living, breathing work of art, changing and transforming as societal needs and sensibilities evolve. That's not to say the message of the Gospel should -- or even could -- change. But how it is expressed and presented needs to be dynamic, lest it grow lifeless and stale.
"Church must be a place that does not suppress hunger but rather creates it," Fromholz says. "A place that does not hide its limited knowledge of grace but projects it. A place with no walls and only open gates. The church must be a wild deer in the urban centers. The mess should be on God's apron. Justice is blind and equal -- surely grace should be that and much more."
Another passage from the book describes an exercise Fromholz led in a church where he invited the congregants to write words that they felt described themselves on a glass pane with a big black marker.
Liar. Alone. Lost. Abused.
The words we use to describe ourselves are emblems of our emotional and spiritual scars. "Eternal tattoos," Fromholz calls them. They can obscure the light, warping the image in the reflection.
When the congregation finished inscribing their sacred graffiti, Fromholz smashed the glass with a baseball bat.
"The beauty of broken glass is that it makes a sound, it crunches beneath our feet," he says. "If we listen closely, we will hear the crunch of broken glass under the feet of others and we will realize that we are all human, that we were human even before we were Christians. ... Jesus became human to be the way; we must remain human to show the way."
"Liberate Eden" is extraordinary, a new paradigm and iteration both in message and medium. It is tangibly "outside the box," a thoroughly contemporary ode to the life of faith walking in the path of Jesus whose life and message is all about radical mercy and eternal freedom from the things of our own making that keep us penned in, boxed and tethered.
In the flickering pixels of a video screen, "Liberate Eden" becomes words with a heartbeat, movement and breath, giving a contemporary face to an eternal story.
SUBSCRIBE TO & FOLLOW THE MORNING EMAIL
The Morning Email helps you start your workday with everything you need to know: breaking news, entertainment and a dash of fun. Learn more