Harry is a legendary lothario/sixty-something/music mogul and the guest at a Hamptons dinner party of his twenty-something girl friend Marin, her successful yet skeptical mother Erica and aunt Zoe who teaches women's studies at Columbia University. After being grilled about his media status as an elusive escape artist (as in "escapes" the matrimonial noose), Zoe breathlessly makes the following observations:
"Look at what we have here with you and Erica. Harry, you've been around the block a few times, right? You're what? Around sixty, never been married, which as well all know, if you were a woman would be a curse, you'd be an old maid, a spinster. Okay, so instead of pitying you, they write articles about you, celebrate your never marrying, it makes you illusive and ungettable. You're a real catch. Then take my gorgeous sister here...
She is so accomplished, the most successful woman playwright since Lillian Hellman. She's over fifty, divorced and still sits in night after night after night because the available guys her age --forgive me for saying this-- want girls that look like Marin so the whole over fifty dating scene is geared completely towards men leaving older women out and as a result that makes the older women more productive and therefore more interesting, which, in turn, makes them even less desirable because as we all know -- men, especially older men, are threatened and deathly afraid of productive and interesting women.
It's just so clear. Single women, as a demographic, are about as * (insert expletive) a group (generation) as can ever exist."
Perhaps you recognize the scene from the 2003 hit romantic comedy Something's Gotta Give (Columbia Pictures). Written and directed by Nancy Meyers, the film resonated with literally millions of women of a certain age everywhere -- women who are single, perhaps divorced, empty nesters, attractive, accomplished, smart...and alone. Women, who like wine, get better as they get older. (And since I deplore the labels of middle age, cougar, menopausal mamas, you name it -- I will call them the * generation).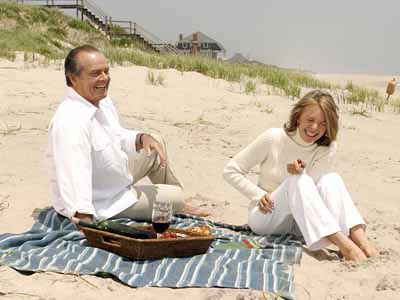 Meyer's keen observations make her films a statement on the general state of affairs of this emerging demographic. While SGG dealt with the old-as-time older man-younger woman factor, her films The Holiday (2006) addressed the single life of thirty-forty somethings while What Women Want (2000) portrayed what would happen if a man was allowed to think like a woman. And all dealt with the classic career woman trifecta - single, sexy and successful.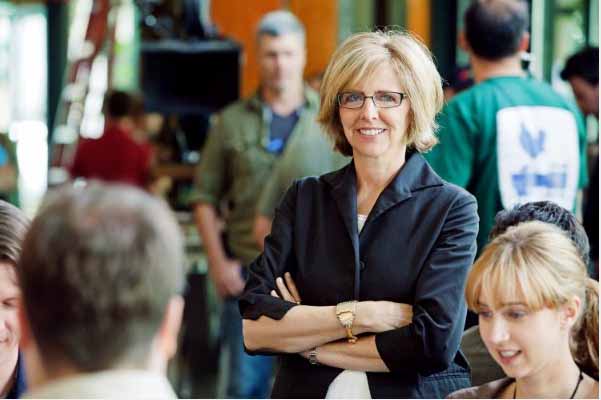 Her latest entry is the upcoming Christmas release It's Complicated (Universal Pictures) which casts Meryl Streep as a bakery/restaurant owner involved in a love triangle with her ex-husband Alec Baldwin and her architect played by Steve Martin. This time the premise is somewhat different as Meyers' started with the notion "What if a woman lost her husband to the younger hotter woman he had an affair with, then ten years later, he realized his mistake and began to have an affair with her, his ex-wife?"
Streep notes the film takes into account the "forgotten women who don't see their lives played out the way they do in this film. There are no movies in which a women, ten years happily divorced, reignites a relationship with her ex. This is not a common occurrence in movies...or in life." Perhaps this will start a trend - men returning to women/ex-wives of their own age?
(And speaking of age, I'd love to see Meyers address the new math (as explained by a man I know) in her next movie: a seventy something man is dating a mid fifties woman because his cut off age is fifteen years plus (thus forgoing women his own age). So does that mean a woman of seventy has to date an octogenarian of eighty-five? And is this math really practical? The gold standard age wise for most men I know is the younger the better -- and I know some that would date a fetus if she would return his calls.)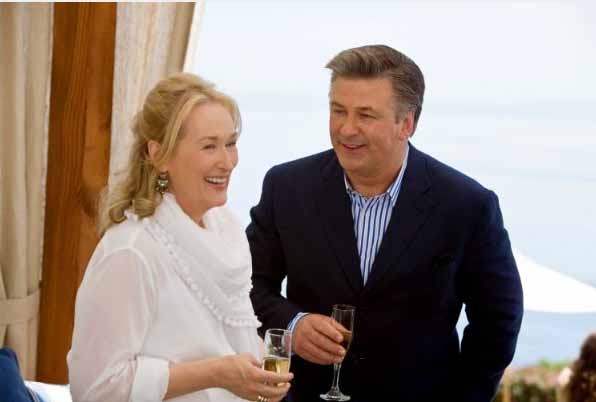 The success of a Meyers film clearly lies in the fact she strikes a chord in women (and perhaps men as well if they would admit it). The witty dialogue, the fantasy settings from Manhattan to Montecito and the male/female dynamics and dilemmas a generation of Baby Boomers (another word I loathe) will continue to face make her films such a hit with moviegoers. And perhaps the note that sings the loudest for women? In the end of a Meyers movie, they can and do have it all. For many, it's a concept that is only on the big screen.
For more on the design of the film -- an important component in the formula of her movies-- see my interview with Meyers for Traditional Home.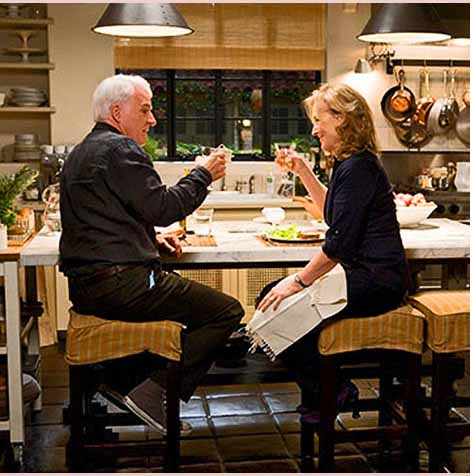 SUBSCRIBE TO & FOLLOW LIFESTYLE
HuffPost Lifestyle is a daily newsletter that will make you happier and healthier — one email at a time. Learn more