Greetings gentleman. I would like to cordially welcome all y'all to my spanking new column. This is one of the greatest honors I've had in my short career. My very own column! Mama is proud. Another honor recently bestowed upon me was the title of Colonel. How in the Sam Hill did a 34-year-old man in Harlem get such a title?
Back in April I was down in Louisville working on a snappy little story for Garden & Gun Magazine. One afternoon one of the fine ladies from the tourist bureau took me to Colonel Sander's wife's restaurant for lunch. While it was amazingly awful (canned, processed and gelatinous!) we did have a hearty discussion about the Colonel.
Me: How did Harland Sanders become a Colonel?
Kentucky Belle: Oh, Governor Ruby Laffoon commissioned him a Colonel in 1935.
KY Belle: Because of his fabulous fried contributions to our great state!
Me: Well how do I become a Colonel? I'm writing wonderful things about your state (self-righteous? Nah).
KY Belle: You don't worry your little head, Sugar. Let's just see what happens.
With that she cheered me with her iced tea (sweetened of course) and we moved on.
About a month later I received a massive envelope in the mail. When I opened it I had to sit a spell. I had been commissioned a Colonel of Kentucky. With this I received a handbook and links to the Kentucky Colonel's website. Yes, it was scanned and on Facebook in less than 15 minutes.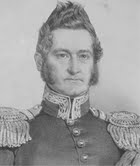 The Kentucky Colonels originated in 1813. After the war of 1812 Governor Isaac Shelby asked one of his top officers, Charles S. Todd to be his Aid-de-Camp and to remain in the capitol. He was given the rank Colonel.
Nowadays, 'Colonel' is simply an honorary title bestowed by the sitting Governor. I had a chance to speak to bend the ear of the man who commissioned me a Colonel, Governor Steven L. Beshear, "The Honorable Order of Kentucky Colonels is an important tradition in our state. The individuals named Kentucky Colonels have proven themselves to be fine ambassadors of the hospitality and spirit of the Bluegrass state. The Kentucky Colonels represent outstanding service, goodwill and fellowship, attributes that reflect well on Kentucky and her citizens."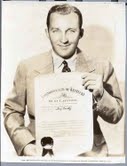 Famous Colonel's include Bing Crosby (pictured), Elvis Presley, Muhammad Ali and ahem, Phyllis Diller. The Kentucky Colonel's are now a brotherhood (even though Carol Channing and Mae West are Colonel's) that dedicates a great amount of time to charities in Kentucky and other places. They brought major relief funds to the Gulf during Katrina and offer grants to homeless shelters, orphanages and families who are less fortunate.

But don't think Colonel's don't like to 'get happy'. The annual reunion barbecue the Sunday following the Kentucky Derby is a throw down par excellence as is their annual party at Churchill Downs on Derby Day.
I'm looking forward to keeping company with all y'all in this new column of mine about the finer things in a Gentleman's life.
SUBSCRIBE TO & FOLLOW LIFESTYLE
HuffPost Lifestyle is a daily newsletter that will make you happier and healthier — one email at a time. Learn more