My friends always roll their eyes when I tell them I am heading to some exotic locale. They just know I am going to come back in full local drag. After India I was wearing turbans, after Egypt I was in countless caftans and now that I have just arrived back from Dubai, I am obsessed with the kandura, the traditional white robe worn by men in the Middle East.
(Your Faithful Author in his Kandura, Oman)
Mother and I had hardly settled into our room when I was already heading out the door to the Mall of the Emirates. No, I wasn't interested in the indoor ski slope; I was on the hunt for local looks. Sure enough, I found Al Madani Tailoring in the sprawling mall and asked to try on some kanduras.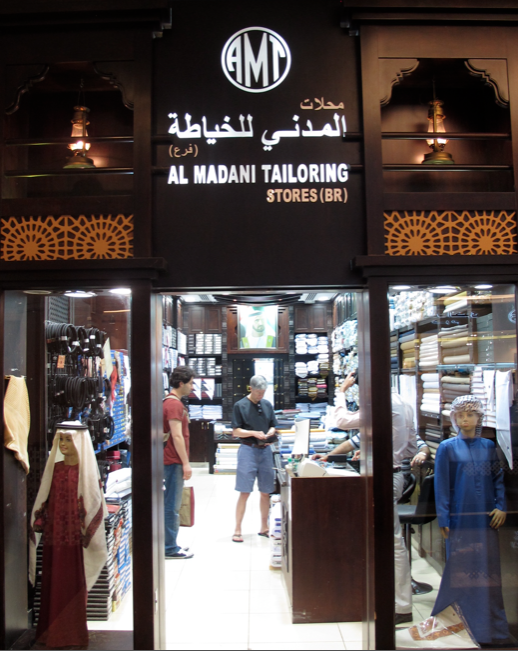 The kind store manager measured me and found the perfect floor-length white tunic. He then plopped a ghutrah and egal on my head and asked for my camera. Hmmm... he must get a lot of whiteys in here playing dress-up.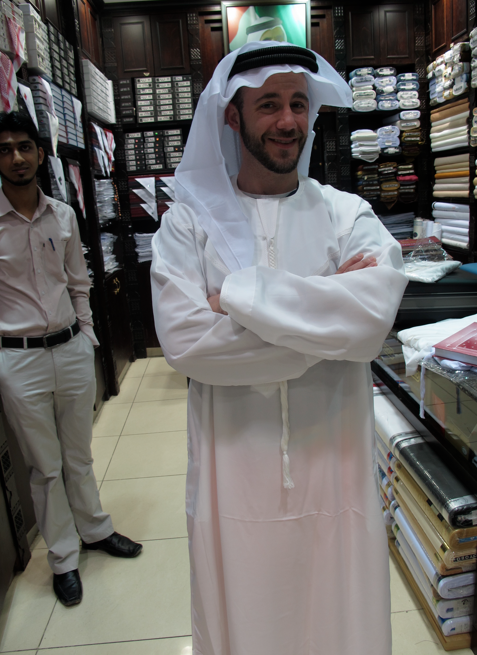 (Do you have this in neon?)
Of course, my mother did have a laugh and take my picture but when I asked for the price of buying four kanduras he was rather shocked. I wanted to buy one? Yes! I want to stroll around my home in a kandura. Why, at Art Basel in Miami last December I only wore caftans for the whole week. More men should try them. They are beyond comfortable, easy, elegant and perfect for the summer heat.
I was fascinated how the women in the U.A.E wore their abayas. You could always see some Louboutins peeping out underneath and a Balenciaga bag swinging from their arm. But the men were all in their kanduras, no western wear in site. How come? How were they not affected by having 520 of the coolest shops under one roof and yet they still buy the same thing?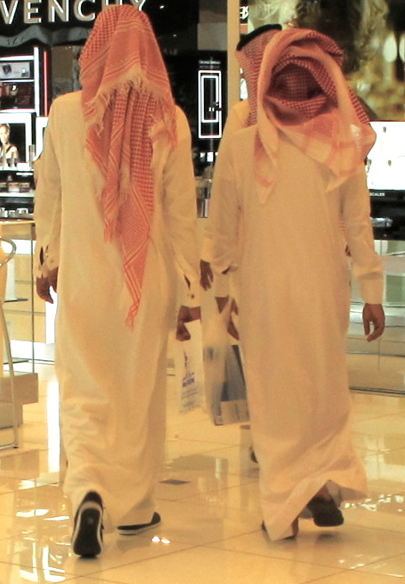 Once I got back, I was curious to find out. I emailed some friends who live in Dubai for assistance and they put me in touch with a wardrobe stylist who worked on Syriana named Mustafa. He was a fountain of information! He explained that the kandura is the official dress of the Emirates but other countries have their own version of the kandura, also known as a dishdasha, thawb, throbe or suriyah depending what country you are in.
Since the official color of the Middle East is white, most menswear in the area reflects this. White is also necessary because of the harsh heat. And the length of the kandura is also necessary for sand storms. That goes for abayas as well.
The kandura originally hails from Iraq but penetrated other cultural costumes over the years. Each country made them their own in their special way. In Qatar they have shirt collars, in Kuwait and Oman they wear their own headgear. But being forward thinkers, Dubai is the only place you can see men wearing all the styles. Mixing and matching is considered fashionable. Well done boys!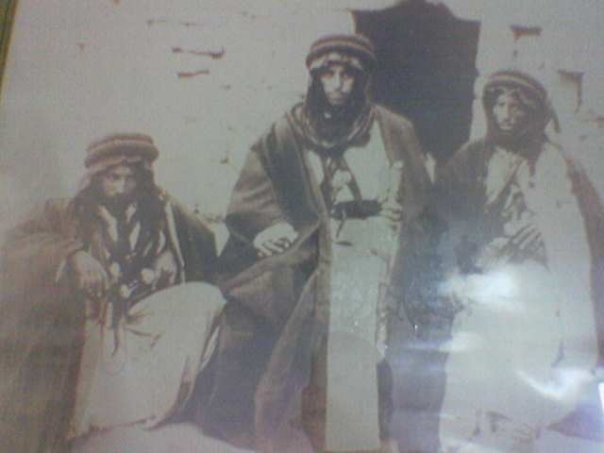 (Mustafa's Great Grandfather in his Kandura, 1897)
Mustafa also explained that when he heads to Europe or anywhere out of the Middle East, he is sure to wear western clothing. Sadly, this is because most of the world doesn't understand the garment and it makes them feel uncomfortable. "Any man in a white robe is thought of as a terrorist in America," he deadpans. But when he travels, say, to Lebanon, he feels totally comfortable in his kandura. He reminds me that people don't know Dubai like they know New York even though Dubai has the tallest building in the world!
So I am calling on all my men in America (you too, Europe!) to give a kandura the old college try. Wear one to a party, to a dinner or out shopping. Let's educate the world that these handsome robes aren't the signs of terror but of terribly good style.

This article was originally published in the Summer 2011 issue of Antenna Magazine
SUBSCRIBE TO & FOLLOW LIFESTYLE
HuffPost Lifestyle is a daily newsletter that will make you happier and healthier — one email at a time. Learn more